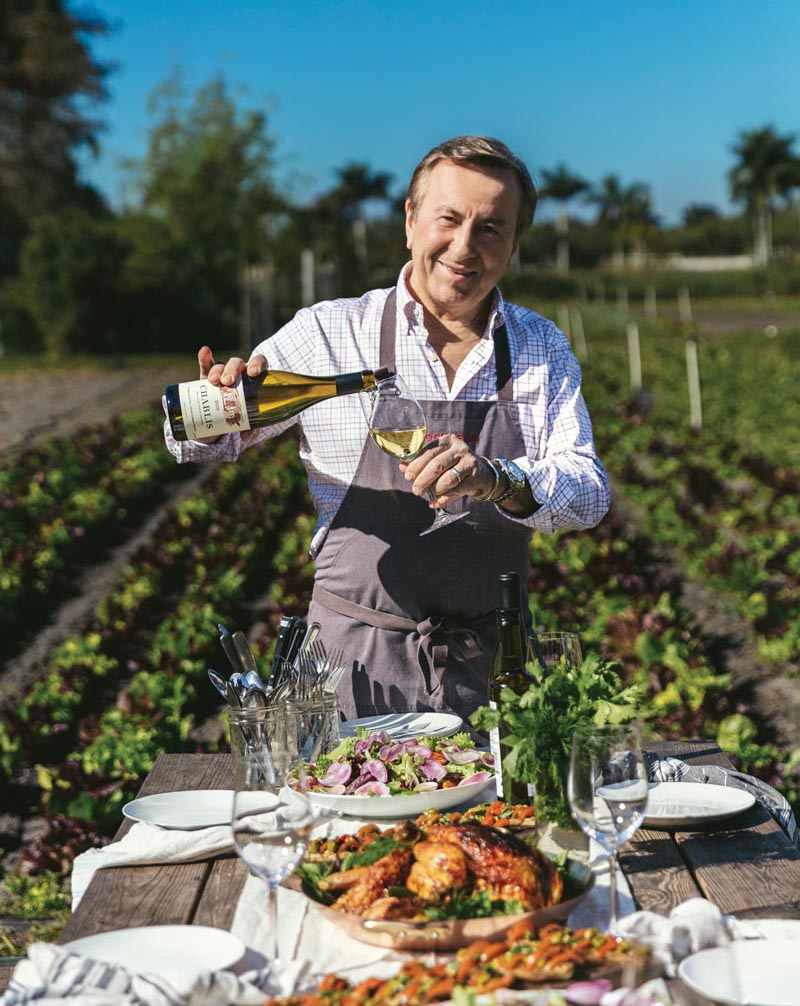 When Daniel Boulud enters the Café Boulud dining room, there's a change in the atmosphere. His stride is long and confident, his smile on. He waves, shakes a few hands. Heads turn and dining is momentarily interrupted out of respect, even awe. A woman who's clearly not a foodie asks her companion: "Is that a celebrity?" He answers with deep nods: yes.
Though he's not a tall man, Boulud has the stature of a giant in the universe of haute cuisine. Those who appreciate nuanced cooking and the ability to turn the gifts of the earth into culinary art count the French-born chef among history's greatest. Not only has he earned a multitude of Michelin stars—currently holding two for his flagship, Daniel, and one for Le Pavillon, both in New York City—Boulud also has created an international restaurant empire with locations in the United States, Canada, Singapore, and Dubai. That includes the Palm Beach iteration of Café Boulud, which recently celebrated 20 years with a Rio-themed fete attended by the who's who of local glitterati.
Boulud spends most of his time in New York City, where he has nine restaurants, but comes to Palm Beach often to work with his culinary team and catch up with friends in the local food scene, including former Café Boulud chefs whose careers he's helped develop. During Boulud's most recent visit to Palm Beach, we tagged along for a day at the farm, on the water, and in the kitchen, and got a taste of the superstar chef's robust personality and his recipe for success.
6:30 a.m.
Morning Motivation
Between phone calls, meetings, and the demands of kitchen life, Boulud's schedule is formidable, so he begins the day by centering himself. In Palm Beach, that means a trip to the beach to watch the sunrise and walk along the sand before the crowds descend. This morning he practically has the beach to himself. He listens to the soothing sound of the waves and watches nature's light show as the sky changes from lavender to guava to saffron. The scene brings him the calm he needs to face the day, and a breakfast picnic prepared by his team (including his favorite avocado crush and eggs) fortifies him for a morning with his produce purveyors in Loxahatchee Groves. He returns to The Brazilian Court to shower and dress, and in a flash he's ready to go. At 68, he has energy that most 30-year-olds would envy.
10:30 a.m.
The Earth Giveth
Boulud's BMW 760i arrives via a dirt road to Holman's Harvest and parks next to a tractor. The Holmans—Marty, Liza, and their four young children—welcome him to their 15-acre farm and take him on a tour. They begin by showing him their planted rows of salad greens. They grow everything in soil because the flavor is superior, Liza explains. "We believe these methods lead to vegetables with intense flavor: arugula with more kick, tomatoes that don't taste watery, mustard greens that taste like mustard."
Marty brings Boulud some sorrel to taste, and the chef nods his approval. Together they pick some greens and herbs for a salad that will complement the lunch that Boulud and his executive chef, Dieter Samijn, have prepared for the family.
Boulud straps on an apron and sets a rustic picnic table for lunch. He lays out a linen runner, places silverware in mason jars, and uncorks a couple of bottles of Chablis. In lieu of a centerpiece, he fills glasses with herbs. "The good thing about herbs is you can have them handy and take what you want," he says. 
The family sits down to a small feast of roasted chickens, an abundant salad, roasted eggplant with tomatoes, and a frangipane tart with strawberries and whipped cream. Boulud serves everyone personally. A different chef might rely on his staff to do that, but Boulud has no such affectations. He grew up on a farm himself and has never forgotten the values of self-reliance and providing for others.
"We had a farm outside of Lyon," he tells the kids as they pick at the strawberries with tiny fingers. "We had 20 cows, 40 goats, duck, squab, turkey, you name it. We made our own cheese and charcuterie and wine, and everything we raised or made, we sold at the farmers market on Thursdays."
The very first Café Boulud was established at that farm. "Every 5 miles, there was a social hub," Boulud says of the French countryside. "Whoever was a good cook and wanted to do more business opened a café. The locals came during the week, and the Lyonnais came on weekends. It was the entertainment of the time."
Boulud's parents, who will be 95 this year, took pride in the food they were growing and serving. His father would drive 200 miles to Toulouse to get the seeds of a small, purple garlic that is considered the best in France, or to Bresse to buy chicks of the famous breed so he could raise superior chickens.
"My father cared about bringing a perfect ingredient to the table of another," Boulud says. "My parents had a sense of excellence in the most basic way. They took pleasure in making people happy. That has a lot to do with why I'm in this business and enjoy transforming [ingredients] and creating things."
He holds up an eggplant. Two generations of Holmans listen attentively as he states his mantra: "Everything starts with very good products." 
4 p.m.
Fishing and Feasting
Between lunch and dinner service, chefs have a few hours to exhale ahead of the next onslaught. This time is often precious and, according to Boulud, should be spent in good company. In that spirit, he plans a sunset fishing outing with some of his best Palm Beach pals: chefs Rick Mace, Clay Conley, Pushkar Marathe, and Dieter Samijn, and Rod Mitchell of Browne Trading Company. 
The group meets at the Sailfish Marina in Palm Beach Shores and boards Hit 'n Run, the 80-foot fishing boat owned by Byron and Laura Russell of food service distributor Cheney Brothers. Mace, the owner of Tropical Smokehouse and a 2023 James Beard Award semifinalist, unwraps a Florida-style spread: barbecued pork spareribs, spicy wahoo dip with bread-and-butter jalapeños, Caribbean slaw. Boulud enthusiastically digs in and praises the food—a high compliment from a chef of his stature, yet hardly surprising. 
"Chef has been a great supporter of Tropical," says Mace, who worked as executive chef of Café Boulud for almost eight years, an experience he calls "the finishing stage of my classical training." He speaks highly of Boulud's generosity. "He continues to include us in all his local mentions when he's interviewed and always sends people our way."
While they try their hand at fishing off the aft deck, the chefs talk shop. Boulud asks Marathe about his famous tandoori chicken. Marathe, owner of Stage and Ela Curry Kitchen and also a 2023 Beard semifinalist, says the secret is the tandoor (he hangs his chickens in the cavity) and waxes rhapsodic about the glories of a wood fire. 
Since nothing is biting, Boulud regales his friends with stories from France. "We went sea urchin–fishing when we were young," he says. "We had a cooler on the beach, and we put the white wine in the rocks, in the cold water. We cracked open the sea urchins and ate them with a spoon." 
For a chef, every road leads to food, so the story becomes a good segue to the pan bagnat Samijn has prepared. This traditional Niçoise sandwich is stuffed with tuna belly, avocado, tomato, basil, hard-boiled eggs, and olive oil, and is "the perfect sandwich you eat in Saint-Tropez on a day trip on a boat," according to Boulud. Conley, who, in addition to Buccan, Grato, and Imoto owns the Buccan Sandwich Shop, shows particular interest. If Palm Beach is lucky, maybe he'll introduce his own version of it next season.
"The exchange of ideas is the core of our friendship," Marathe says.
It's a little after six, and the golden hour cues the boat's return to shore. There is cooking to be done, people to feed. The chefs decamp to their respective restaurants, invigorated by the camaraderie.
7 p.m.
Kitchen Exponential
It's the week of Café Boulud's twentieth-anniversary celebration, and the restaurant's kitchen is an extraordinarily busy place. In addition to the daily dinner service, the team is prepping the charcuterie, raw bar, and Ora King salmon for the big night. 
When intensity levels are so high, it's easy to come unglued, but Boulud is composed and that rubs off on his team. He quietly tastes and recommends—a bit more butter here, less salt there—and never fails to praise when a dish is just right. 
"When chef Daniel is in Palm Beach, he always takes a lot of time to talk to the sous chefs and cooks, and even to the dishwashers," says Samijn. "That can be about little personal things or a story he tells, or to adjust a certain dish they are preparing. Sometimes it's tough [for them] to accept criticism, but in the end, they pull themselves up to it and get better."
Developing budding chefs has long been part of Boulud's manifesto. In his book Letters to a Young Chef, he extols the value of mentorship: "Work with a master. Learn to think like the master. And one day the master will have the confidence to ask you to move his or her work forward."
Café Boulud alum Mace, who counts the chef among his mentors, says: "He's been instrumental in my success. I can't really express the gratitude toward the years of mentorship and all the work that's gone into bringing my career to this stage."
Despite such tributes, Boulud stays humble. "It's not about becoming a great chef," he says. "It's just becoming a good chef and becoming a chef that will impact the next generation and becoming a mentor yourself one day."
11 p.m.
After Hours
One might think that, after an exhausting night of food service, a chef might go home and put his feet up. 
Not this chef.
Boulud changes out of his whites and heads to La Sirena to wind down with his longtime friend, chef Marcello Fiorentino. The West Palm Beach restaurant has closed for the night, and Fiorentino greets Boulud at the door. The two chefs and Fiorentino's wife, Diane, have a glass of wine at the bar while the team cleans up, then head to the back of the house for a bite to eat.
"What should we have?" Fiorentino asks.
Boulud eyes the piles of pasta and asks his friend for some olives. Fiorentino brings big, green Cerignolas, which Boulud slices lengthwise. "If you cut three cuts, you waste less," Boulud instructs. 
"He loves to make me look bad," Fiorentino jokes.
They agree that anchovies are always a good idea, as are capers and garlic, so the impromptu concoction becomes a version of puttanesca. Boulud picks up a big spoonful of butter to French up the dish. "Unfortunately, Marcello is Italian," he says. 
They rib each other incessantly, but there is great love between these two. Fiorentino remembers the first time he met Boulud, in 2002, at a dinner hosted by the Palm Beach Post's then–food critic Paul Reid. "If a guy is playing bars and meets Dylan or McCartney, it's a big deal. For me it was the same way," he says of his first impression. "But he was a down-to-earth, humble guy."
"From early on, we developed a friendship that really grew," Boulud says. "We never missed an occasion to get together. I love and admire what he does. He works very hard for his family and for his customers."
When they finish cooking, they go through a door at the back of the kitchen and up a flight of stairs to the wine room, which is set for dinner. Fiorentino presents the platter of pasta puttanesca with broiled langoustines to hearty applause.
"There are olives in this," Diane says. "Yum."
"Don't say 'yum,'" Fiorentino says. "It was his idea."
Boulud piles on: "Diane, if you want the recipe so Marcello can make it for you again, let me know."
They laugh and clink glasses. Boulud thanks them for their friendship and hospitality, and they all dig in. They stay late into the night, eating, drinking, and telling stories. There's a delightful je ne sais quoi in the air. It must be the magic that Boulud always brings to the table.
Quick Fire
Always in his refrigerator: Champagne and chocolate
Favorite thing to cook at home: Crepes on Sunday morning with the family, a tradition I grew up with. 
Pantry staples: Olive oil from Provence, Le Saunier de Camargue Fleur de Sel, and a box of spices from La Boite
Guilty pleasures: Gummy bears and potato chips
Would travel 1,000 miles for: A home-cooked meal made by any friend and world-renowned chef while drinking wine together.
Favorite comfort food: Soup
Person he'd love to dine with: My wife more often.
Chef he admires most: There are too many, but to name one, my mentor Michel Guérard and his three-star Eugénie-les-Bains in France. He is 90 years old and still as inspiring and relevant as when I was a young chef. 
Social media, love it or hate it: Depends on the day, but I'm getting better at it! 
What success means to him: Knowing that I have passed down my knowledge to the younger generation, so they can continue to grow and become leaders themselves.   
Marcello and Daniel's Pasta Puttanesca with Langoustines
Ingredients
4 cloves garlic, sliced

1

/

2

tsp. crushed red pepper flakes, more if you like it spicier
5 large green Cerignola olives, sliced
4 anchovy fillets, chopped
1 pint tomato sauce
1 tbsp. capers
1 pound of pasta, preferably fettuccine
12 langoustines, split lengthwise
Coat the bottom of a sauté pan with a good quality extra-virgin olive oil and heat. Add sliced garlic and crushed red pepper flakes, and cook over medium heat until garlic is soft but not brown. Add sliced green Cerignola olives and chopped anchovies, and sauté for 1 to 2 minutes. Add the tomato sauce and capers, and simmer. 
Cook the pasta al dente. While the pasta cooks, broil the split langoustines for 1 to 2 minutes. Add cooked pasta to sauce and toss. Top with langoustines. Sprinkle with sea salt and drizzle with olive oil after plating, depending on taste.
Story Credits:
Daniel Boulud's wardrobe: Hive for Him, West Palm Beach
Grooming: Deborah Koepper, Deborah Koepper Beauty, Palm Beach
Transportation: 2023 BMW 760k Drive x, BMW of America
PBI also extends a warm thank you to Byron and Laura Russell of Cheney Brothers for use of Hit 'n Run; Rick Mace, Tropical Smokehouse; Dieter Samijn, Café Boulud; the Holman family; and Marcello Fiorentino, La Sirena, for production support. 
Facebook Comments