BY KRYSTIAN VON SPEIDEL
In a resort town where artistic talent is appreciated and sought out, a young Brit is making a name for himself painting his way into Palm Beach homes.
Aldous Bertram was born and raised outside Cambridge, England, in a historic estate that sits at the center of his small village. The 31-year-old hails from an illustrious family of academics and explorers—his grandfather was a member of the last expedition to explore Antarctica by schooner in the 1930s. If that isn't enough to endear envy, Bertram is strikingly handsome, a trait he appears to treat with the same self-deprecating grace as he does the sudden interest in his work as an artist. He also speaks with the proper English private school accent that makes reading a cereal box sound like a Shakespearean sonnet.
Although everyone in the family seemed destined for lives as engineers, doctors, and architects, Bertram surmises his artistic bent comes from an ancestor who was briefly the business partner of William De Morgan, the famed English tile designer. He also credits his mother, who Bertram says spent vacations painting and has managed to fill the family home with a lifetime of watercolors and pottery. A consummate doodler, Bertram's childhood involved crafting imaginary worlds.
"I was always making things," he says. "I went to Windsor Castle and saw Queen Mary's dollhouse, which is the best in the world." The model made a deep impression on him, and he immediately set out to create his own masterful recreation of an imaginary Georgian house in miniature form.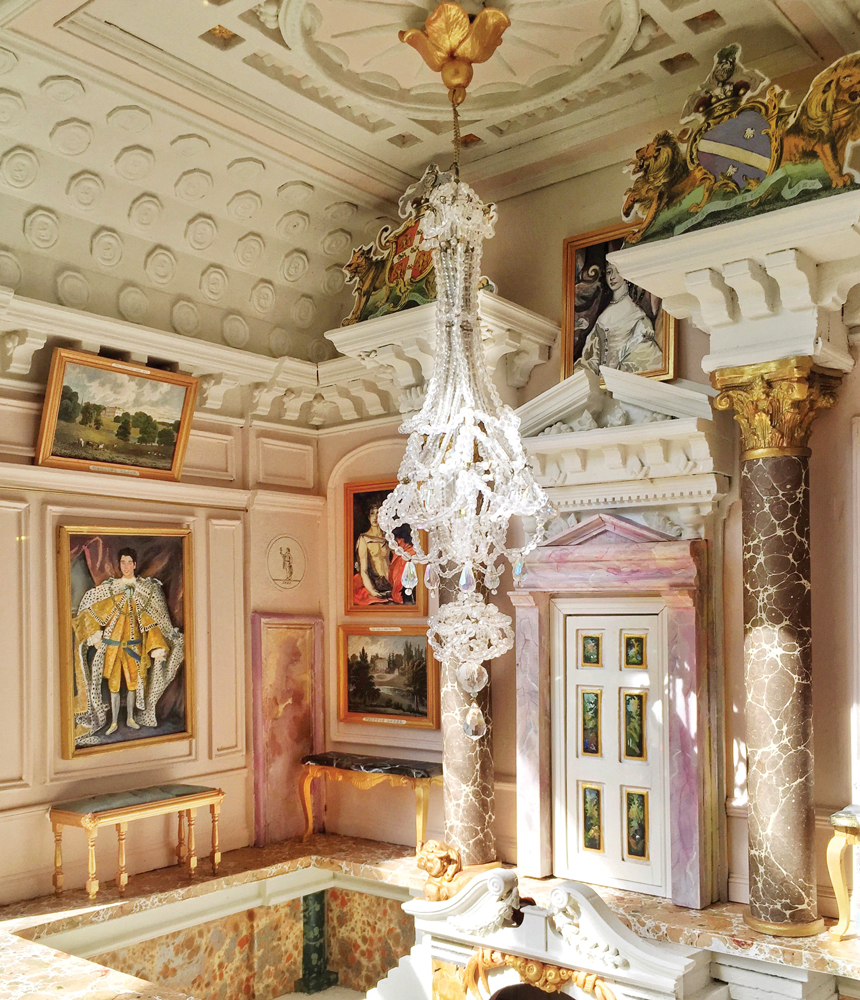 Bertram, photographed above at The Society of the Four Arts, honed his talents by crafting dollhouses and now makes large-scale works for Palm Beach homes.
---
Continued on page 2.
The result is nothing less than extraordinary. Every room in Bertram's detailed dollhouse has been painstakingly built and carved by hand. Inside, paintings are miniature recreations of ones he spotted on weekend jaunts to historic houses, which also served to inspire the interiors.
There are no figurines in the house, however. "Dolls would ruin it," Bertram says. "They're always out of proportion, ugly and gross, and never fit in the chairs." He's built other dollhouses since the first—to which he continues to add and expand—that are available at Harrods in London. He has also recreated rooms in miniature sizes for clients who wish to display their favorite spaces in other residences.
Bertram's work includes miniature rooms and houses as well as watercolors and murals.
The first dollhouse—which proved to be a 15-year-long passion project—didn't interrupt Bertram's studies. He holds a doctorate from the University of Cambridge, where he studied under the renowned architectural historian David Watkin and focused on the Chinese influence on eighteenth-century English country houses. Upon his leaving the cosseted world of academia, Bertram deadpans, "I was nearly 30, totally washed up and unemployable, with no work experience, a useless PhD, and a doll's house." A series of internships ensued: a brief foray at an auction house, a month at an interior design magazine, and a two-week stint at a landscape firm. Work as a salesman of high-end wallpaper lasted only four months; Bertram was keener to design the paper than to sell it.
His wanderings through an employment wasteland culminated with accepting a position as a private family tutor on Lyford Cay in the Bahamas. The job didn't pan out, but a friendship with the family's decorator, Amanda Lindroth, did.
Renowned for sublime interiors that marry luxury with tropical ease, Lindroth immediately spotted Bertram's artistic talents. "He's extraordinarily attractive and extraordinarily funny," she says. "He loves beauty, balance, and history and is very comfortable to be around."
---
Continued on page 3.
Bertram's endeavors on his dollhouse prepared him for what came next. Lindroth put him to work designing and painting a mural in her Addison Mizner–designed pied-à-terre off Worth Avenue, an unremarkable white box with soaring ceilings. What he'd spent years making in miniature, Bertram was now tasked with creating in the exaggerated scale of a room-size mural.
Following an initial panic attack over a daunting task, Bertram approached the project with his unflappable enthusiasm. "I'd lie awake at night imagining what I was going to paint the next day," he says. "If I can do it in my imagination, I know I can do it in reality."
The result, completed last fall, is a chinoiserie fantasy only guests of Lindroth's parties—many of whom spill out onto an adjacent courtyard—are privy to viewing.
"We find Bertram to be completely enchanting and [feel] blessed he's come into our lives," Lindroth says. He's proven adept at making himself indispensable to her design team and creates extraordinarily detailed watercolor renderings of rooms she's designed for clients. The paintings are themselves beautiful keepsakes of the design process.
"Everything we've ever thrown at Bertram, he's aced," Lindroth says.
Recently, Bertram completed a mural commission for Palm Beach resident Beth Dowdle. Painted over the mantel of her living room, the mural touches upon the usual Bertram themes of a world inhabited by exotic birds, Ming vases, and beautiful renderings of coral (palm trees have proven another specialty). The chinoiserie influence is undeniable and extends to an intricate cartouche of an idealized Chinese paradise, painted in exacting miniature.
"He's very humble about his talent," Dowdle says. "You don't have to spend much time before realizing what a charming and wonderful person he is. Bertram's work is based on his great scholarship. It has a bit of folly and fantasy mixed in with a great deal of knowledge of eighteenth-century Europe."
She likens Bertram to a modern-day Oliver Messel, a renowned English theater set designer who went on to gain even greater fame as Princess Margaret's decorator on Mustique, where he designed more than a dozen homes. Messel was 55 when he switched careers; at only 31, Bertram is certainly on course to outshine his fellow Englishman—only on a different island.
Facebook Comments