Nestled within a small box wrapped in white and secured by a green satin ribbon is a young girl's hope for her mother to be whole again. Fully present to experience every moment, whether it's playing with her daughters or picking flowers from a field. And free of the crippling depression robbing her of life's joys.
Today, 14 of those boxes sit atop china plates, surrounded by delicate white flowers—gardenia, jasmine, lily of the valley, and tuberose—that foretell what's inside: Hope, a scent Audrey Gruss created to support her Hope for Depression Research Foundation. She's hosting an elegant white tea for close friends at her oceanfront Palm Beach home to introduce the fragrance, which was inspired by her mother's love of white flowers and launched last fall at select Saks Fifth Avenue stores and online.
Gruss' mother suffered for nearly 50 years from depression, a mood disorder that can include the inability to feel pleasure, a lack of interest in daily activities, fatigue, impaired focus, changes in eating and sleeping habits, and a loss of hope.
The mother of three (Gruss has two younger sisters) was named Hope.
"She was hospitalized for the first time when I was in high school," Gruss recalls, adjusting a glistening vase of gardenias shortly before her guests arrive. A silver tower of white and green macarons awaits on the flower-lined table, along with heaping bowls of white Jordan almonds. "But back then, people called it a 'nervous breakdown.' Her illness never changed her ability to give love, but it was very difficult because she couldn't do as much with us. She wasn't fully present."
Gruss' mother, who began showing signs of depression in her 30s, eventually became stable after new medications, such as Prozac, were introduced in the 1980s. "There were many different medications over the years, and she became very well-balanced and able to function, but there were also side effects," Gruss says. "She had a full life, but she never returned to being the talented and energetic mother we knew. The drugs never fully brought back her joy."
Hope was 85 when she died in 2005, and Gruss started the Hope for Depression Research Foundation a year later. "It is my life's work to help find a cure for this disease, and today's tea brings together so many things my mother loved: friends, fragrance, and the white flowers that were so special to her, tied with a green ribbon," she says. "The ribbon represents the crisp, green note that gives the fragrance its distinctive smell, like after a light rain. Fresh and sweet and delicate."
Each package of Hope, The Uplifting Fragrance, includes an insert with Gruss' mother's story, plus information about depression and its warning signs. "It's another way to get the message out and raise awareness," says Gruss, a former advertising and marketing executive who's married to New York financier Martin Gruss. In addition to Palm Beach, they have homes in New York City, Southampton, and London.
A hundred percent of net proceeds from the fragrance line, which includes two sizes of perfume spray, a hand and body creme, and a scented candle, go to the Hope for Depression Research Foundation. Through Gruss' efforts, the organization formed the Depression Task Force in 2010 to unite pioneering scientists from top universities in the United States and Canada. Seeking to accelerate breakthrough research, task force members share ongoing results in real time at a centralized data bank at the University of Michigan.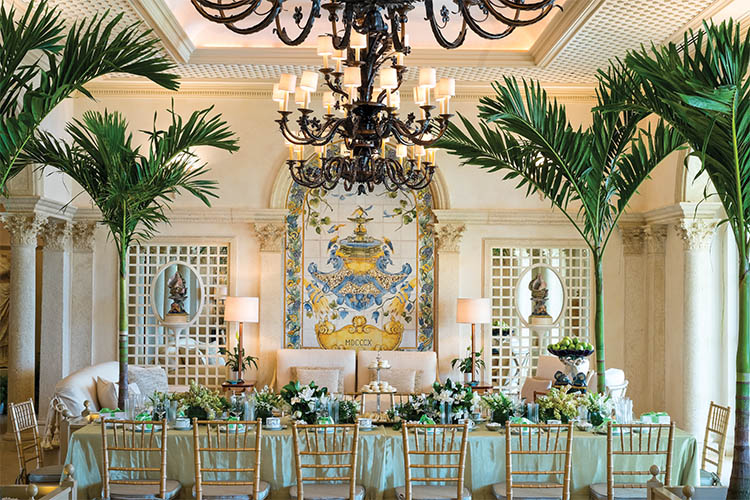 "Researchers typically work separately, make a discovery and publish it, and then present it at a conference," says Gruss, who earned a bachelor of science degree in biology from Tufts University. "But this adds years to the process of other scientists learning about it. I wanted to foster collaboration, not competition, and the Depression Task Force does that. In order to receive funding, they have to work together and share ideas in real time, and this strategy has led to great strides in determining what causes the disease."
If there's one myth Audrey could dispel about depression, it's that it is a disease, she says, not a character issue or a sad spell that can be overcome through force of will.
Tea guest Judith Giuliani, a registered nurse and wife of former New York City Mayor Rudy Giuliani, agrees. "The important thing to know is that depression is a medical illness, and help is available," she says. "I think it's wonderful that Audrey has brought depression and related mood disorders to the forefront. She has pushed the discussion forward."
Today's intimate gathering, during which Gruss announced that Hope will be available at Palm Beach stores Mary Mahoney and Mildred Hoit, is among other events and public appearances Gruss has scheduled to promote the perfume and the reasons behind it: to honor her mother and raise awareness about depression.
"I'm pretty sure there's not another company that's done what Audrey is doing as far as tying fragrance to philanthropy," says guest Susan Meyer, a former cosmetics executive and wife of investment firm founder and polo enthusiast Joe Meyer. "It's incredibly difficult for a private individual to create a fragrance and get it out there, from grassroots to retail, especially when the motive is about giving back, not about business.
"But Audrey has done it so elegantly. People can be afraid to talk about difficult things like depression, but she's putting a bright light on it. A gorgeous white light, like sometimes people talk about in a spiritual sense. White light, white flowers, white tea: It all ties together beautifully. And if I'm going to buy [a] fragrance anyway, and I like several options, why wouldn't I choose the one that's helping other people?"
With her corporate executive skills and understanding of marketing, Gruss has steered countless donations to education, science, and the cultural arts through her role as president of the Audrey and Martin Gruss Foundation. Over the last 20 years, the couple has given, and raised, hundreds of millions of dollars for numerous causes.
But it is today that the graceful Palm Beach hostess, luminous in a crisp Giambattista Valli dress with a white flower brooch from Van Cleef & Arpels, is promoting the issue closest to her heart: the story of her beloved mother's battle against mental illness.
"I think all of us here in Palm Beach, as well as in New York, are extremely proud of Audrey and what she's doing," says guest Mary Ourisman, former ambassador to Barbados and the Eastern Caribbean. "Depression is a very hard thing to deal with and not a subject everybody wants to talk about. But she has watched what it's done to
other people."
Gruss is smiling this balmy afternoon as her friends sip tea and delight in coconut cake served on a table adorned with the four white flowers found in Hope, The Uplifting Fragrance. She shares with her guests the journey of creating the scent and how it will raise money for ongoing research.
Because of her efforts to remove the stigma of depression and bring awareness to the disease, perhaps many others—those suffering like her mother once did—will experience happiness, too.
Facebook Comments