If you love great cars, love great food and wine, love great coffee, the place to be this past weekend was The Palm Event, held on the manicured lawns of the PGA National Resort & Spa.This was the third year for this celebration of world-class classic and exotic automobiles organized by the untiring Kevin Ream to help raise money for Wheels for Kids.
More than 100 cars were on display, many from the remarkable collection of Palm Beach enthusiast Larry Wilson. Headliners included  his spectacular 1954 Maserati A6GCS Spider racer, a rare 1966 Ford GT40, and searing-yellow 1954 Jaguar D-Type that raced at Le Mans in '57.
"I love this event and have been bringing my cars from the beginning," said Larry. "It's a fun way to spend an afternoon, talking to like-minded people. And it supports a great charity."
Impossible to miss on the PGA green was the fire-truck-red 1941 Cadillac Convertible Sedan of Palm Beach Gardens collector Mel Lipschitz and partner Barbara Romano. It's one of just 400 built.
"This car has been on my bucket list for 30 years," explains Mel. "Back in 1941, my father bought my mother a new red '41 Cadillac just like this. I remember her every time I drive my car. And every time it breaks down, I feel she's teaching me a lesson."
Scott and Amy Angelo's gorgeous metallic dark blue 1966 Jaguar E-Type Series 1 coupe also conjures-up fond memories for these owners of Oceana Coffee in Tequesta. It was their award-winning brew that was the "official" coffee of The Palm Event.
Oceana Coffee's Scott and Amy Angelo and their 1966 Jaguar E-Type coupe
"This was my dad's car," says Amy. "Back in 1966, his dad bought him the car as a graduation present and it has been in our family ever since. It has given us such great memories. Every time I get in the car I think of going to the hardware store with my mom and dad, me squeezed in the tiny back seat."
For Kevin Hutchings, of Palm Beach Gardens, his outrageous 1982 Excalibur roadster has become his Beatles Sgt. Pepper tribute car. He and wife Karen love nothing more than dressing-up in hippy '60s 'gear' and cruising this huge 1930s Mercedes-inspired droptop around Palm Beach.
"It's just a lot of fun. I love collecting Beatles memorabilia and, to me, this car is something the Beatles in their Sgt. Pepper's Lonely Hearts Club Band era might have driven. It's very psychedelic."
Steve Silver and his well-know artist wife Apollonia, have owned their German hot-rod 1969 Mercedes-Benz 300SEL 6.9 for almost 30 years, and spent most of that time restoring it from the ground up.
"Not many people know about the 300SEL 6.9, but in its day it was probably fastest, most-powerful sedan you could buy. The car is almost 50 years old, but when new could go from zero-to-60mph in around 5.0 seconds. That's fast."
Lovers of vintage Mercedes were certainly in for a treat, courtesy of Sidney Vallon and the seven magnificent Mercs he brought along from his Palm Beach Classics showroom. Without a doubt, star-billing went to his fully-restored white 1963 190SL roadster that Sidney was selling on behalf of a client for $225,000.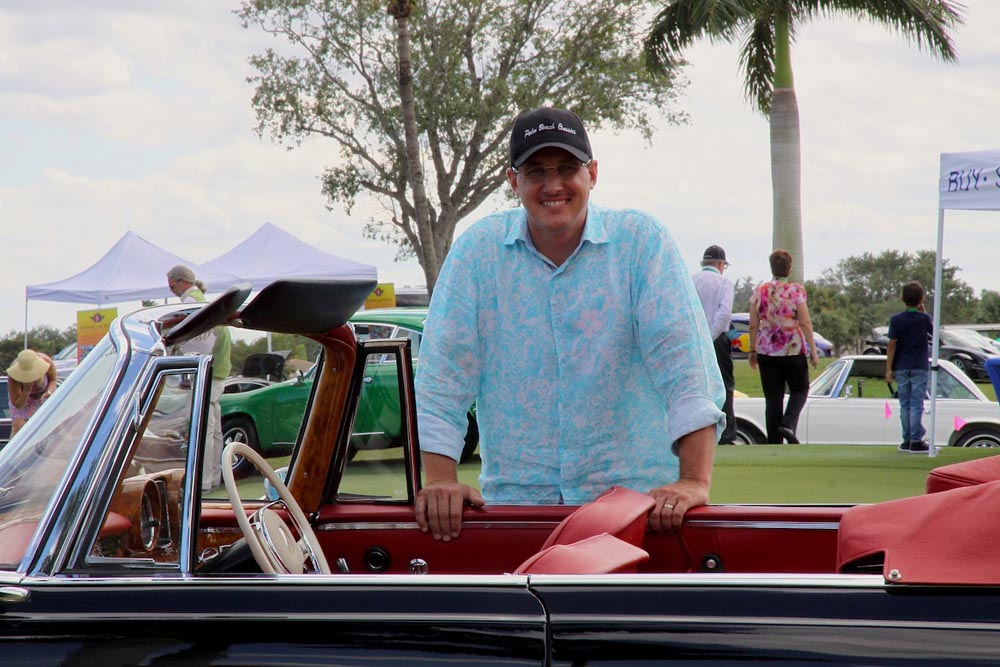 "The car has a great history," he explains. " The owner was in the army when he bought the car in Georgia. He then shipped it to California when he was posted to the West Coast. Then when he was sent to Japan, he had it flown out for him to drive. When he got back he had the car totally restored. There is none better than this."
For lovers of early Chevy Corvettes, a highlight of The Palm Event would have been the sight of Bob Oatman's lovely 1954 model. Bob, from Juno Beach, bought the immaculate Polar White convertible a couple of years ago and it has been winning awards ever since."This is my first time at The Palm Event and it is, without doubt, the nicest car show I've been too. Great hospitality, great people and a great charity to support," said Bob.
Facebook Comments