After working with star chefs such as Charlie Trotter and Norman Van Aken and serving as an instructor at the Florida Culinary Institute, Lisabet Summa joined Big Time Restaurant Group in 1994. She's now the corporate culinary director, responsible for the success of the group's 18 restaurants. Before the opening of her new namesake eatery, Elisabetta's Ristorante, on Atlantic Avenue in Delray, she found time to reflect on her life in the kitchen.
PBI: What's the culinary philosophy at Elisabetta's?
Summa: We're aiming for the integrity of flavors that comes through in home-style, family Italian dining. We kept some items from the Louie Bossi menu, but we've added a number of new, vegetable-focused dishes. The Italians have a word for it: simplice, or simple—using fresh, high-quality ingredients in an unfussy manner. It's not an easy thing to do well because you have to resist the temptation to overdo it and make it complicated.
Do you have a more personal feeling about Elisabetta's than the other Big Time restaurants?
My partners came up with the idea. It was their way of taking their hat off and thanking me for sticking by them for all those years. Now the ball's in my court, and I have to show everyone what I can do. Fortunately, I have a great team—Louie Bossi is a partner and Kevin Darr is our executive chef. He has an amazing work ethic and is very creative.
What's the best thing about being a chef?
You start each day with a clean slate, and you get to do something very gratifying: You're making wonderful food for people in the dining room who are eating, drinking, and enjoying their lives.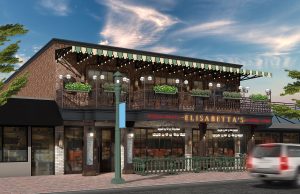 How is Elisabetta's different?
We took an old building and completely renovated it with the goal of filling all your senses. We want the guests to feel they've been transported to Europe. It's an intimate, cozy space, but some of the decor is fanciful: there's a baby blue, Neapolitan pizza oven downstairs, and you can dine on the balcony among the live oak trees. I think it turned out to be absolutely beautiful.
Who were your major influences when you were starting out?
I worked with Ralph Scamardella early on (he's now a partner with the Tao Group), and that was a turning point. He's both incredibly talented and incredibly humble, and his humility had a big effect on me. In terms of inspiration, some of my biggest influences are people I never met. I might have read their cookbook or eaten in their restaurant years ago, and the experience never left me.
How do you view your role now?
Mentorship is the most important part of what I do. I'm surrounded in the kitchen by young people who are trying to figure out what to do with their lives. It's crucial to get to know them and listen to their stories. We sit around and peel potatoes together and talk about life, careers, and the future.
Facebook Comments