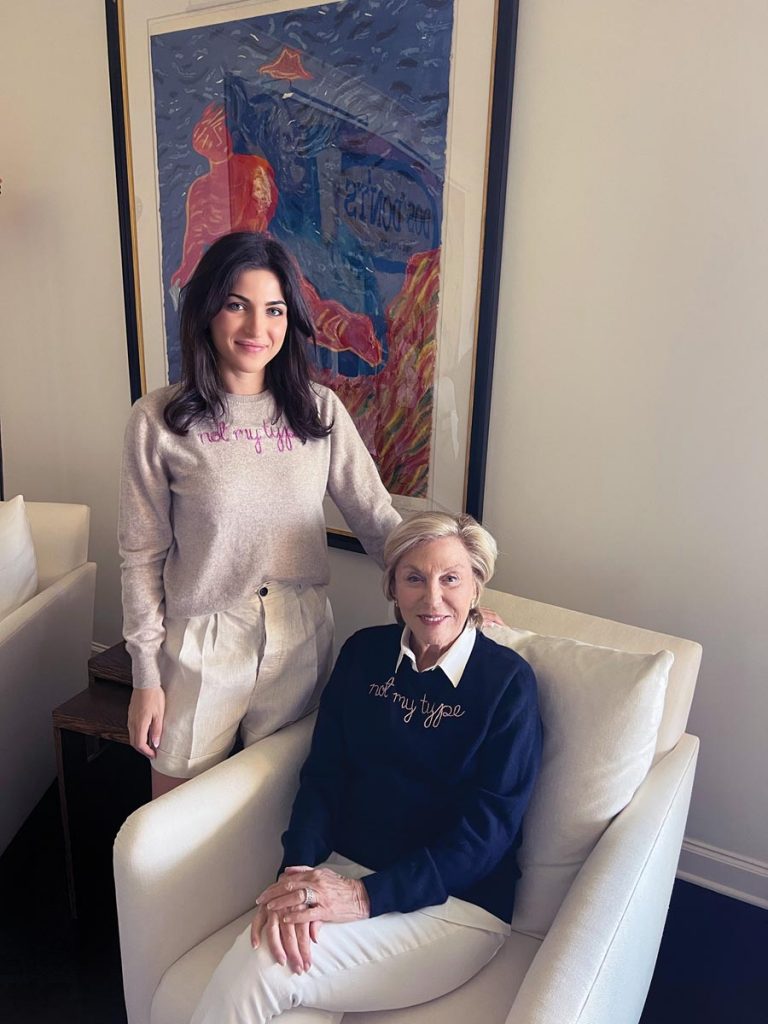 There's a lot of thumb-stopping content on the internet today, not all of it as wholesome and hilarious as Excuse My Grandma, a podcast and series of viral videos on Instagram and TikTok covering one Palm Beach grandmother-granddaughter duo's camaraderie and intergenerational differences in life and love. 
Gail Rudnick, 81, has been married for 60 years; her granddaughter Kim Murstein, 27, is still looking for the one. "During the pandemic, I was completely remote for my work in television news, so I decided to leave New York City and live with my grandparents in Palm Beach," Murstein says. "My grandma got a front-row seat to my dating habits, and we decided to start a podcast to talk about it." 
Shortly thereafter, they began creating videos on social media. Their first one was a joke about Murstein's dating life. "She gave the advice, 'Date someone who wants you.' And I said, 'Not my type,'" Murstein recalls.
Ever since, Murstein has wintered in Palm Beach with Rudnick, and Rudnick spends the rest of the year in New York with Murstein. They've been surprised by how deeply their antics resonate with their audience. "People find our dynamic extremely relatable and love how it reminds them of a relationship they have or had with their grandparents," Murstein shares.
However, there are many things they don't see eye-to-eye on. "We try to have open dialogue and communication to share each other's sides even if we don't agree, and we want to inspire that in other families as well," says Murstein. 
Would she date someone if Grandma Gail didn't approve? "I have, more than once," Murstein admits. "But I think once I settle down, she has to like my permanent partner." 
She Said/She Said
Do you believe in love at first sight?
Kim: Absolutely! I am a dreamer, so I'm waiting for that knowing glance from across the room. 
Gail: No, I think you have to know somebody before you realize you really love them. You can feel an attraction, but that doesn't necessarily mean love. 
Describe your ideal first date.
K: I'm a big activity date person—a show, live music, golf! 
G: Eating in a beautiful setting, looking out at the sunset, and sharing a glass of wine. 
Is an age difference a significant concern in a relationship?
K: I would say keep to a 10-year or less age gap. 
G: Not really, as long as the gap isn't too large. It also depends on what stage of life you're in. 
What gives you the ick in a relationship?
K: Texting "hehehe" instead of "hahaha."
G: Somebody who eats with his mouth full.
Is it okay to have separate beds/rooms?
K: As hard as it is to have a permanent sleepover, I would find it strange not to share a bed. 
G: When you get older, sometimes it's necessary because someone snores too loudly, but not when you're young, because usually no one snores.
Who's your celebrity crush?
K: Lil Dicky
G: Paul Newman
Facebook Comments