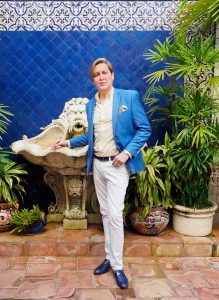 After studying fashion merchandising and design at The Art Institute of Atlanta, fashion and jewelry designer Harrison Morgan launched his eponymous label. Within six years, he had opened his own Manhattan showroom, sold to every major department store, and seen his creations worn by A-listers. Though he was born in Miami, raised in Atlanta, and lived in Manhattan for most of his life, Morgan also has deep ties to Palm Beach, having vacationed here for decades and sold his collection at local trunk shows. Five years ago, he made Palm Beach his primary residence at last and married interior designer Guy Clark. Together, they enjoy exploring Europe and visiting their lake house in upstate New York. Morgan serves on committees for the Cancer Alliance of Help and Hope, Center for Family Services of Palm Beach County, and 211 Helpline and supports the Compass Foundation and Darbster Foundation.
---
Style icon: Bill Blass, the master of American chic
Collects: We own at least 60 paintings by artist Hunt Slonem.
Sentimental jewelry: My diamond engagement ring, designed by my husband.
Wardrobe essentials: Gucci or Hermès loafers, a sports jacket, and pocket squares. I enjoy working with Terry at Cremieux in The Royal Poinciana Plaza to select ensembles with a relaxed sophistication.
Book he wishes he'd written: The Age of Innocence by Edith Wharton
Dish worth every calorie: Most definitely the ravioli Capresi in lemon sauce at Da Paolino in Capri under the lemon trees.
Beloved bite: Veal Milanese from Café Sapori
Best give he's received: My 18-karat gold Panthère de Cartier watch is great for day or evening.
His happy place: Hotel Villa Cimbrone, perched 1,200 feet above the Amalfi Coast in Ravello, Italy
His idea of R&R: Each year we go to Mykonos, Greece, to lie on the beach and do nothing.
Shops local at: J.McLaughlin always has timeless classics with a colorful twist.
In his beach bag: An EltaMD broad-spectrum sunblock from Pure Skin Collagen Boutique in West Palm Beach and a chilled bottle of rosé
Top song from his teen years: "Could It Be Magic" by Donna Summer
Historical figure he identifies with: Oscar Wilde. His last name says it all.
Last great read: Dancing with the Devil: The Windsors and Jimmy Donahue by Christopher Wilson
Best advice: "Don't overthink it—just do it" has served me well in all my businesses.
Favorite drink: A Pink Slipper, combining rosé, tequila, agave, and lemon, which I was introduced to last summer at Club 55 in Saint-Tropez.
Ideal last meal: Probably wouldn't have much of an appetite, but my favorite is a bacon cheeseburger.
Karaokes in the car to: "Oh! Look at me Now" by Frank Sinatra
Binge watches: Queen of the South on Netflix. Definitely not my usual thing—gory but riveting.
Board game he dominates: When we're at the family compound in Maine, we play Monopoly after dinner until the sun rises.
Guilty pleasure junk food: French fries are my go-to addiction.
Signature accessory: Any one of my Hermès H belts, which I collect.
Next goal: Collaborating with my husband on the Morgan-Clark fine jewelry collection. I am also designing an exclusive fashion collection for Coastal Girls Co. on Via Bice.
Words to live by: Never postpone joy.
Facebook Comments