If you were that really cool kid back in 1968, you rolled up at school in a brand-new Ford Shelby Mustang GT500 KR.
And when the girls asked, you told them that KR stood for "King of the Road." With a 7.0-liter big-block Cobra Jet V-8 cranking out close to 400 horsepower, the KR was the fastest, most potent Mustang your daddy's money could buy.
Fast forward to 2023. If you're a car lover with means and you remember wishing you were that kid in school with the '68 Shelby KR, you'll be salivating at the brand new "King of the Road" being built by Orlando-based Revology Cars.
And when we say "new" it's exactly that. This is not some concours-quality restoration based on an original 55-year-old rust-bucket Mustang.
Revology's Shelby GT500 KR is fresh from the ground up, with an all-new steel body, modern Ford running gear, and assembled with a single-minded focus on quality and craftsmanship.
"The trouble with restored '60s cars is that they might look cool, but they still drive like a '60s car, with '60s reliability. We build cars that are fun to drive, and are designed to be driven," said Revology founder and CEO Tom Scarpello during a recent visit to Revology HQ to try out his brand-new KR.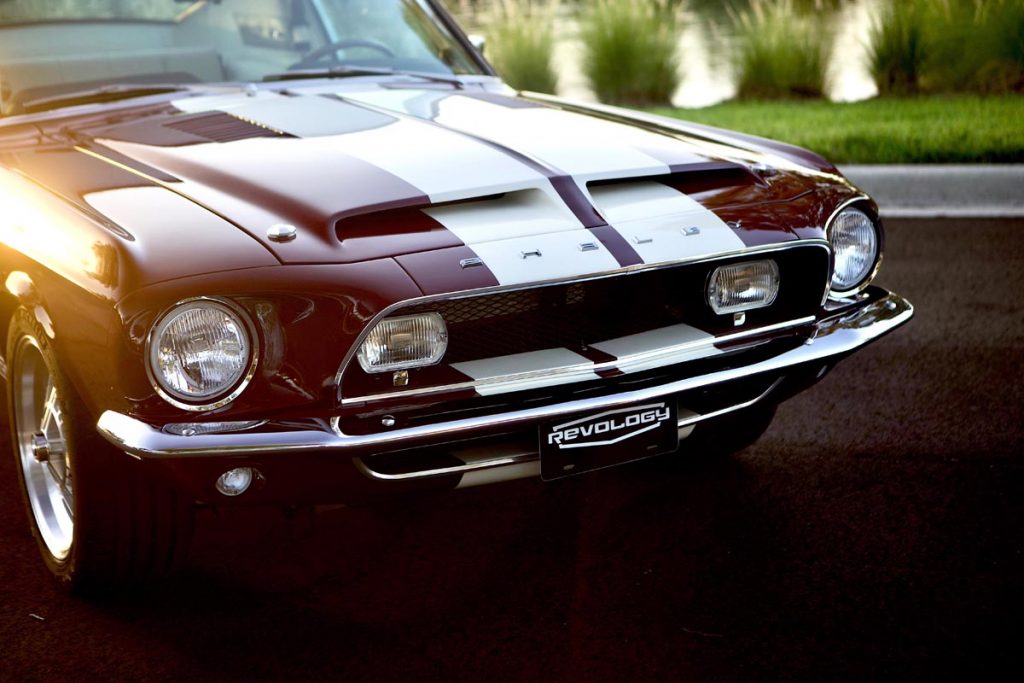 Back in 2014, Scarpello set-up Revology to realize a dream of building new versions of Ford's classic Mustang, rather than simply restoring them, or creating so-called "restomods," using new parts in old cars.
Today, Revology operates out of a sprawling, 51,000-square-foot, state-of-the-art facility on the outskirts of Orlando where, on an iPad-controlled assembly line, a workforce of 94 hand-builds five or six cars per month. So far, he's delivered more than 170 cars.
Part of Scarpello's success comes down to restricting what the company offers, keeping Revology's line-up strictly limited to the 1966 to 1968 Mustang, in convertible, 2+2 Fastback, and Shelby GT350/GT500 forms.
As you might expect, he charges for perfection. Prices range from just under $250,000 for a '68 Mustang GT 2+2 Fastback, to $320,000-and-up for this latest GT500 KR. With options, few cars go out the doors for less than $350,000.
See this new KR in the metal, its cherry-red Royal Maroon paintwork with Wimbledon White Le Mans stripes gleaming in the searing Florida sun, and you can't help but be wowed.
Looks-wise, Revology's KR is a near photocopy of the original. It features the same distinctive, angled grille opening, the same lightweight glass fiber hood with those air-gulping nostrils, the same unique rear lights. The only minor visual difference comes in new 17-inch alloys instead of the original's 15s, as well as LED lights.
Pop the hood and here's where everything changes. Squeezed tightly into the engine bay is a supercharged, Roush-tuned Ford 5.0-liter Coyote V-8, packing 710 horsepower and 610 pound-foot of torque. It's mated to a 10-speed automatic, with the option of a six-speed Tremec manual shift.
Fire-up the big V-8 and listen to the lovely "whoomph" as it ignites, then immediately settles into a delicious throaty burble. Hello 1968.
At the first hint of an open road, standing on the throttle sees this new KR surge forward with a soul-stirring soundtrack of induction roar, supercharger whine, and V-8 bellow. It's loud but not excessively so, and at 75 miles per hour-plus cruising speeds, it's positively hushed.
Red light goes to green, and off the line this pony can really giddy up. Car and Driver recently clicked the stopwatches on a Revology GT500 with the same engine as the KR and recorded a 0-to-60 miles per hour time of just 3.7 seconds. That's almost half a second quicker than the latest 2024 Mustang Dark Horse. Impressive.
Scarpello and his team have done a remarkable job creating a modern-day '68 Shelby that has all the style and visual drama of an original KR, but with the latest mechanicals to easily make it a daily driver.
As the Revology boss likes to boast: "We don't build them like they used to."
Facebook Comments