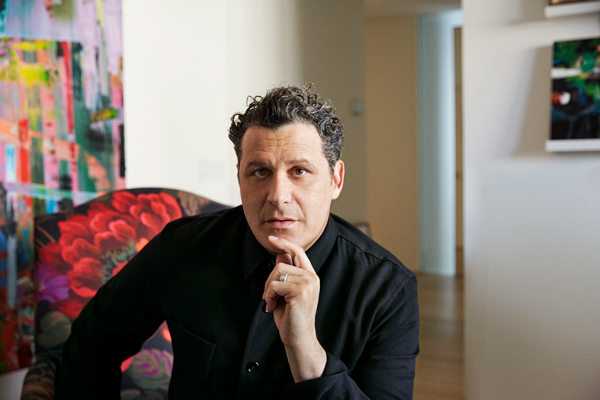 Fashion designer Isaac Mizrahi has worn many hats during his decades-long career. He launched his eponymous brand in 1987 and went on to earn four awards from the Council of Fashion Designers of America while also garnering worldwide acclaim for his bold-meets-classic creations. Blessed with a colorful personality and an irreverent sense of humor, he has become a household name through his numerous television appearances, including as a judge on Project Runway: All Stars. Mizrahi, who was raised in a Syrian Jewish family, will visit the Levis JCC Sandler Center in Boca Raton on March 13 to discuss his upbringing as well as his new memoir, I.M. (Flatiron Books, $28.99). PBI caught up with this chic renaissance man to discuss where he's been and where he still plans to go.  
PBI: What drew you to fashion design and what was the first thing you ever made?
Mizrahi: My father was a children's wear manufacturer and my mother was (and still is!) incredibly stylish and obsessed with clothes, so the topic of clothing was always important in our house. The first thing I designed was a skirt and shawl for my mother. It was made of double-faced wool, rust heather on one side and plaid on the other. I was styling my mother and sisters from a very early age; they were always seeking my advice.
How do you feel your aesthetic has evolved over the years? What separates the Isaac Mizrahi of 1987 from the Isaac Mizrahi of 2019?
I don't take fashion nearly as serious as I used to. I don't really believe in fancy, expensive clothes anymore. What hasn't changed is the quality of the clothes I make. And I don't believe that can be measured by what it costs.
Your clothing is known for blending classic silhouettes with bold, unexpected elements. How does this dichotomous marriage capture your own personality?
I bore very easily so I like things that are surprising or make me think. That's what keeps me inspired and it's reflected in my design.
What has being a judge on Project Runway All-Stars taught you about yourself as a designer?
I'm not sure I can say what it is has taught me about myself as a designer necessarily, but I have really loved encouraging all of these young designers. My critiques aren't about getting a sound bite. It means a great deal to me to inspire them and push them.
What's one piece of advice you wish every young designer knew?
To not listen to advice! If they truly love what they're doing, they have to stick to their guns.
What's your fashion forecast for 2019?
I'm not the biggest trend follower, but I think you can expect to see a lot of pleated pieces this year. And more and more flats—dressier flats, too. And I LOVE a flat so I hope big, giant heels will fade away.
What historical figure would you most like to create an outfit for and why?
I wish I could have dressed one of the early fabulous Hollywood movie stars, such as Jean Harlow or Irene Dunner. I've always been fascinated by those chic Old Hollywood movie stars.
You're visiting Boca Raton to speak at the Levis Jewish Community Center. How has your relationship to Judaism shaped you as a designer?
As a child growing up in the Syrian Jewish community, fashion was a big deal for the women. An obsession really. What the women wore to temple was way more interesting to me than anything else and that influenced me at a young age.
You'll also be discussing your new memoir, I.M. What compelled you to pen a memoir at this moment in your life?
I'm at a transitional point in my career where I am working more and more in entertainment. I still love working in fashion and it's a big part of my life, but I'm yearning for more work in television, film, and theater, so it just felt right to look back fondly but also look forward with excitement. You'll see that arc in the memoir.
Facebook Comments