Environmental awareness is all the rage in the modern push to go green. By now, we've long known to reduce, reuse, recycle, and lighten the ecological footprint we leave behind.
But it's not just the big, bold moves that make a difference. Our food choices—the ways we choose to nourish our bodies every day—have a ripple effect on the world around us, too. Every element of your plate can be eco-friendly (or not), from the garnish atop your meal to the pottery it's plated upon to the menu you reviewed to make your selections.
As plant-based options have become more widely available (and palatable) in recent years thanks to innovations in animal-free "meats" and the evolution of alternative milks, the conversation on eco-friendly eating has evolved along with it, with more consumers considering the environmental impact of what they ingest and food-industry producers striving toward more sustainable practices.
Ever at the vanguard of trends, Palm Beach County boasts numerous ways to eat green.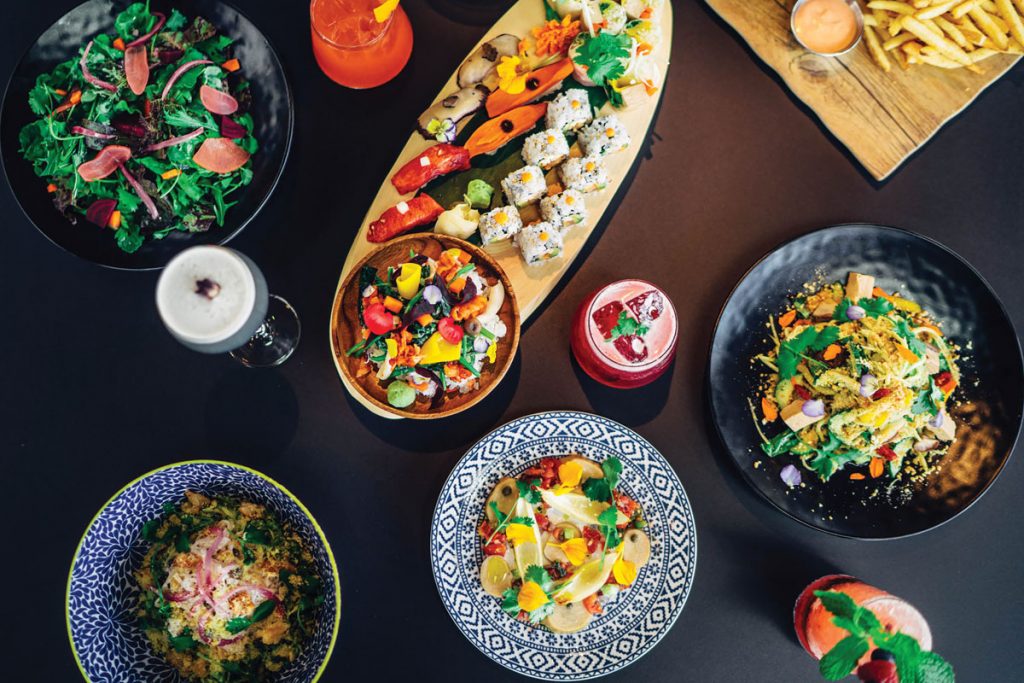 Take the soon-to-open Planta at Rosemary Square as one example. Led by chef David Lee and restaurateur Steven Salm, Planta fills a void in the upscale full-service plant-based dining market. With locations already in Toronto and Miami, the restaurant features a 100 percent plant-based menu in the name of sustainability. Its founders point out that veganism is arguably the most eco-friendly diet on the planet, since just one day of eating animal-free can save 1,100 gallons of water, 30 square feet of forest, and 20 pounds of carbon dioxide.
"At Planta, our mission is to change the way the world views plant-based dining," explains Salm. "Our goal is to make an impact on the planet by taking animals off the plate and committing to using high-quality, traceable ingredients sourced from ethical suppliers."
In some parts of the world, the mentality tying ecological responsibility to eating is well established, as the owners of Delray Beach eco-conscious bakery Sugar Chef point out. "We are French but also lived many years in Scandinavia under Swedish eco-standards," says Marie Roth, who runs Sugar Chef with her daughter. "There, 'eco-friendly' is the lifestyle."
The duo makes indulging with a clean conscience easy, crafting sweets uncompromised by ingredients like refined white sugar, which is highly processed and carbon-heavy. "We try to use less sugar or alternative sugars, focusing on flavors from natural sources," she explains. They prioritize ingredients that have endured minimal processing and have not been chemically altered or grown with additives—think unbleached flours, purées of local in-season fruits (organic when possible), and products from humanely raised animals. They rely on local resources and suppliers, incorporating Pascale's Jam, for instance, and chocolate from bean-to-bar chocolate factory 5150 Chocolate (both Delray Beach–based artisans). "We also like to use herbs we grow ourselves and fruits from our neighborhood, such as mangoes, bananas, and avocados," she says.
Emphasis on earth-friendly food was popularized under the farm-to-table label. Happily, the trend that restaurants like Boca Raton's Farmer's Table pioneered locally lives on. Gary Rack's Farmhouse Kitchen, with locations in Delray and Boca, serves farm-fresh food amid reclaimed, refurbished decor and cooks without butter, cream, or excess fat. At District Table & Bar in Port Salerno, dishes are based on what's available from local providers, including fresh eggs from Pasture 714, honey from Stuart's Hani Honey Company, and seasonal produce from CoLab and Kai-Kai Farms—and an on-site garden supplies many of the herbs in their dishes and cocktails. District Table also implements solutions to mitigate food waste, transforming excess fruit into syrups for drink specials, for example, or preserving and pickling vegetables until the chef is ready to reimagine them in a new dish.
Food waste is a true lose-lose problem for restaurants and the planet. To solve it, The Chesterfield Palm Beach recently partnered with UK-based Winnow Solutions, an intelligent-waste-management company with a goal to save $1 billion worth of food waste by 2025. The company employs artificial intelligence technology to help kitchens (like executive chef Gerard Coughlin's at The Leopard Lounge & Restaurant) reduce unnecessary food waste using a smart system that automatically captures a photo and weight of discarded food, which the AI learns to recognize over time, producing analytical data to help refine menus.
Reducing food waste isn't just an ethical move—it also has bottom-line benefits. Users of Winnow Solutions cut food costs 2 to 8 percent and see a typical return-on-investment between 200 and 1,000 percent within the first year.
In the same way, eating clean is a win-win, resulting in better health for Mother Earth and her inhabitants. Honoring the environment by supporting local purveyors and incorporating sustainable practices makes for happy bellies and a happy planet, too.
Facebook Comments