The Junior League of Boca Raton, which launched in 1971 as a Junior Service League, is celebrating its 50th anniversary this year. Since the organization's founding, members have provided more than one million hours of community service and commit to donating $250,000 annually to community projects.
The organization will celebrate the milestone on Thursday, September 23, at 7 p.m. at the Addison in Boca Raton. Co-chairs for the 50th Anniversary Celebration are Debbie Abrams and Elizabeth Kelley Grace. Honorary co-chairs are Anne Vegso, Marina Morbeck, and Betsy Eisenberg. Program chairs are Nicole Mugavero and Anne Costello.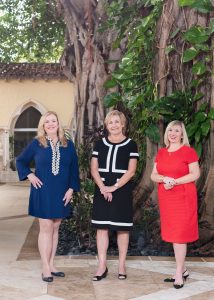 "The Junior League has made an enormous difference in our community over the past 50 years," said Jamie Sauer, president of the Junior League of Boca Raton. "This 50th Anniversary Celebration will honor the past-presidents and recognize the many women who have been members of the Junior League and the critical work they have done for our community."
The 50th Anniversary Celebration will include a seated dinner, open bar, a raffle, and entertainment. Tickets are $171 and can be purchased here.
The Junior League of Boca Raton is made up of more than 600 highly motivated, educated, and influential women, committed to promoting voluntarism, developing the potential of women, and improving the community through effective action of trained volunteers.
A few key projects of the Junior League include founding the Boca Raton Historical Society, restoring Singing Pines, founding and maintaining the Vegso Community Resource Center, supporting In the Pines housing, and founding the Junior League of Boca Raton Diaper Bank.
Sponsorships are available. For more information, contact Marcy Bloom at Philanthropy@jlbr.org or visit jlbr.org.
Facebook Comments