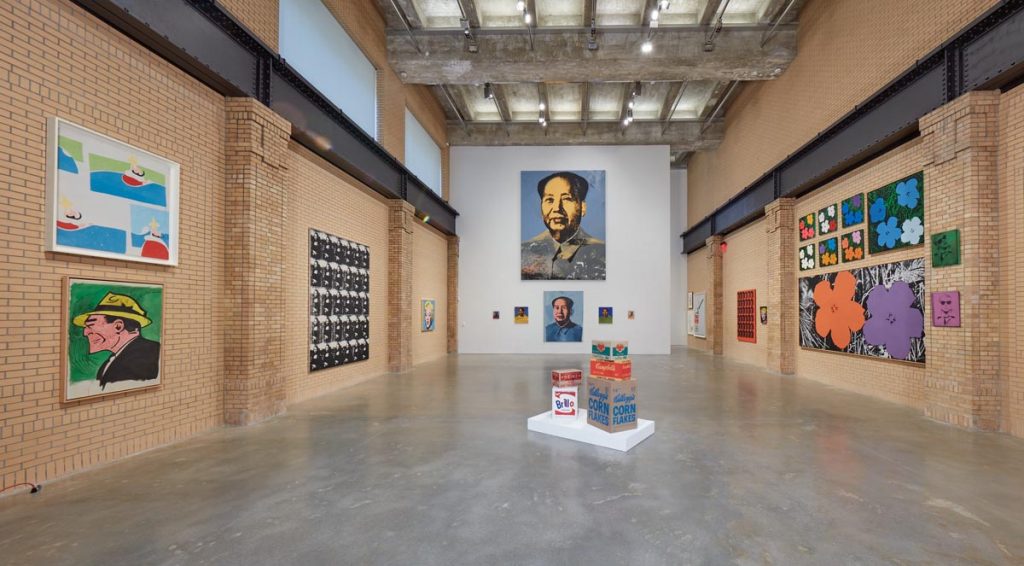 At The Brant Foundation East Village's pre-opening dinner of "Thirty are Better than One" held May 5, artist Jeff Koons, actors Matt Dillon and Owen Wilson, "starchitect" Peter Marino, The Metropolitan Museum of Art director Max Hollein, and SNL creator/producer Lorne Michaels, among other New York creative mavens, perused the more than 100 works by Andy Warhol on exhibit. Art dealer Tony Shafrazi made a toast and averred that this would be "the most significant, inspiring, and thought-provoking exhibition of Andy Warhol in 60 years."
In 1963, a then-16-year-old Peter M. Brant met Bruno Bischofberger (the Swiss art dealer who was later pivotal in launching the career of Jean-Michel Basquiat) and told him he wanted to collect impressionist art. Bischofberger told Brant that he was not "rich enough to buy impressionist art" and suggested he instead collect modern work. When Brant was 20, he began collecting Warhol's work, and met Warhol a few years later in 1969.
Warhol founded Interview Magazine in 1969, which Brant later backed and purchased. Brant went on to collect Warhol's work for five decades. Brant and Warhol influenced each other, and that effect can be seen across the artist's work on display, which spans the beginning, middle, and end of his career.
Warhol, a pointed observer and social critic of the saturation of media within society who was noted for his fascination of repetition through his reproductions of ordinary items including soup cans, captured the zeitgeist of American culture unlike any other artist of his time, even his peers in the Pop movement. As if on cue, as the meta narrative continues, the ever-present Warhol now appears in Brant's East Village foundation, a converted Con Edison substation remodeled by architect Richard Gluckman. This exhibit is like walking into a conversation between Brant and Warhol, one they might have had at Warhol's Factory five decades ago.
This is Brant's first exhibit of Warhol in a decade. Included in the blockbuster exhibition is Brant's first Warhol purchase, 1962's Campbell's Soup Cans (Crayon and pencil on paper), and The Last Supper series from 1986, the last work Warhol made before his death in 1987. Big Campbell's Soup Can with Can Opener (Vegetable), the only soup can painting with a can opener, is being shown for the first time since 1989, when it was in the Museum of Modern Art's "Andy Warhol: A Retrospective."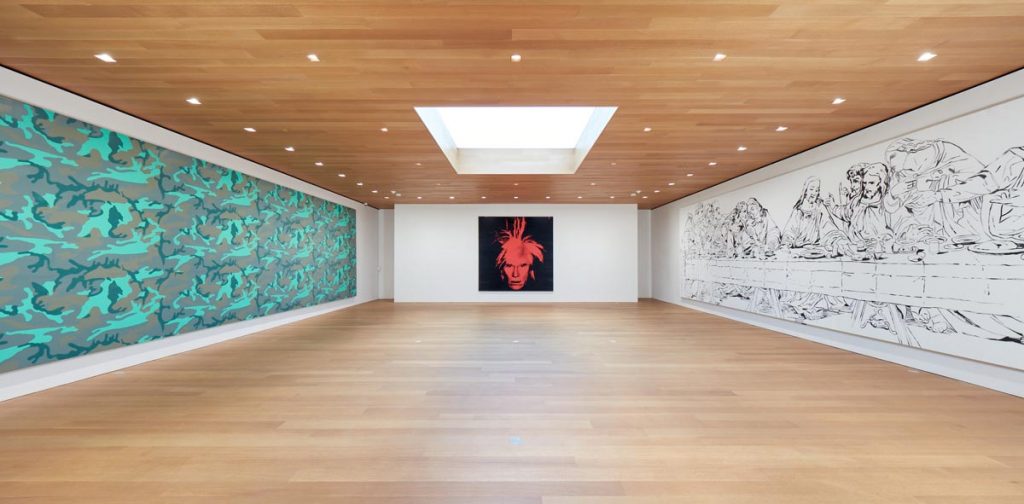 White Disaster (White Car Crash 19 Times), which sold last year at Sotheby's New York for $85.4 million, a record for a Warhol painting, makes an appearance as well. Few knew who purchased it, prior to this exhibit. Brant independently acquired 12 individual works of Electric Chair and presents them here as a grid. Lesser-known works in the show include a pastel-hued folding screen Pin the Tail on the Donkey that Warhol made for a Tiffany's window in 1954.
An evocative moment in the exhibition is when Warhol's 1981 Dollar Sign is juxtaposed against the floor-to-ceiling view of the East Village. Here we see Warhol's subtle wink to the culture of consumerism and materialism, in a neighborhood formerly known for generations of workers and manufacturing.
An enormous 1973 portrait of Mao (measuring 177 inches by 137 inches), which Brant gifted to The Metropolitan Museum of Art in 1977, is on loan for the exhibition. Chairman Mao, back on the drawing board of Chairman Warhol.
In his 1975 manifesto, The Philosophy of Andy Warhol, the entrepreneurial artist wrote: "Making money is art and working is art and good business is the best art." Something to ponder while strolling through this exquisitely crafted, wondrous exhibition.
On view through July 30, "Thirty are Better than One" opened to the public May 10.
Facebook Comments