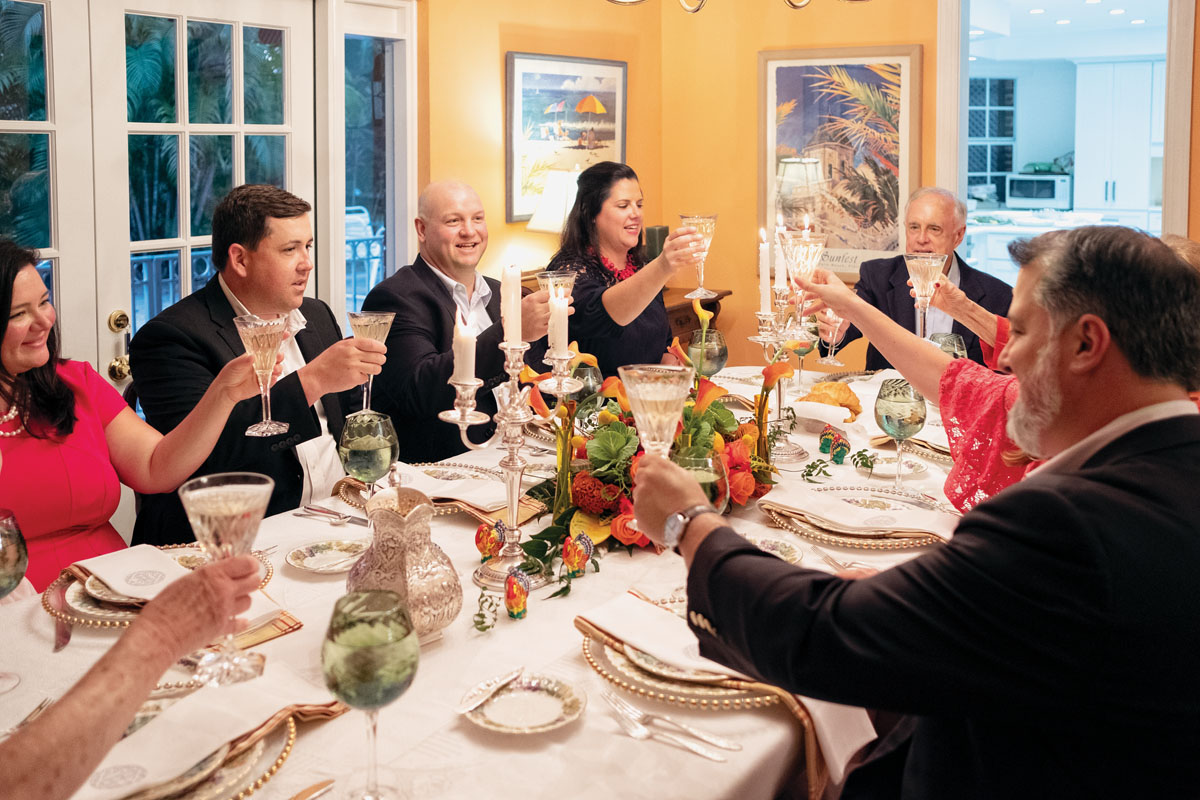 Two hours before guests arrive for Thanksgiving dinner at Penny and Alan Murphy's house, the kitchen counter is crowded with traditional dishes in various stages of preparation, a bouquet of spices and roasting root vegetables perfumes the air, and the hostess tends to the table, layering Royal Worcester "Vine Harvest" china with oversized linen napkins.
She stands back and admires the composition. "These napkins date to the 1920s," she says with a touch of nostalgia. "They're embroidered with my grandmother's initials. The china, that was my mother's. She got it on a trip with my dad."
Incorporating family history into the dinner table is a privilege and a pleasure for Penny, whose grandparents founded Pioneer Hardware and Furniture Company in Lake Worth. Her father, George Greenberg, evolved the business into Pioneer Linens, the venerable linen purveyor on Clematis Street in downtown West Palm Beach that the Murphy family still owns and operates.
For Penny, setting a table with beautiful linens is a given. For this Thanksgiving celebration, she has chosen the monogrammed linen tablecloth that matches the napkins, along with a second, red-and-gold-plaid napkin to add a pop of color. The latter, sourced at Pioneer, is a modern addition to counterbalance all the heritage pieces. In the spirit of mixing old and new, Penny has finished her table with flowers, in fall harvest colors; a tooled silver water pitcher and sterling flatware passed down from her grandmother; and little chocolate turkeys wrapped in colorful foil. There's a story to that, she says.
"When I was growing up, we'd go to my grandmother's for a formal dinner," she recalls. "For dessert, she always had these little ice cream treats in the shape of a turkey, which she bought from the local Alfar Creamery on Flamingo Drive." Since that dairy is no more, Penny has continued the tradition with the turkey confections, sourced from Hoffman's Chocolates.
Penny's table-setting strategy usually begins with the plates. "I'm lucky because in my family I was the only girl, so I ended up with all the china from both grandmothers and my mother," she says as she walks over to a wall of cabinets and opens doors to reveal a multitude of patterns. "I have everything from traditional blue-and-white to pottery. I don't even know how many sets of china I have. It's kind of obscene."
Once the china has been decided, Penny often works with her daughters, Camille
Kubicek and Marissa Adriaanse, to assemble the mise-en-scène. Camille and Marissa also contribute to the meal. "Marissa always makes the cornbread," Camille says. "I bring the potatoes au gratin every year. It's tradition—though that's evolving, just like our family."
Last year at the Thanksgiving table, each member of the family said what they were grateful for. The Murphys' son, Alan Jr., and his wife, Amy, announced—to everyone's joyful surprise—they were expecting their first child. This year, Alan Murphy III, nicknamed Trey, joins his parents for his first Thanksgiving, alongside Elsie Virginia Kubicek, the 9-month-old daughter of Camille and her husband, Jesse.
In September, the Murphys also got a new son-in-law as Marissa and Lodewicus Adriaanse were married at the family home. Event guru and longtime family friend Bruce Sutka officiated the ceremony.
As her children and grandchildren arrive, Penny is in seventh heaven. The conversation bounces around a variety of topics, from business to friends to babies to football. Sometimes, they sneak in a reminiscence or two.
"I like having the children at the table and teaching them good manners," Penny says. "When my kids were little, I used to tell them I would pay them a quarter when they'd shake hands, look someone in the eye, and say, 'Nice to meet you.'"
"You used to pay us to be nice?" Camille chimes in.
Penny feigns defensiveness. "Hey, manners were important to me."
The newlyweds show up last. Marissa holds a cast iron skillet with the traditional cornbread. The recipe goes back four generations and is, as she tells it, "the best cornbread I've ever had."
Penny finishes up her masterpiece, a spiced sweet potato casserole. "My mom started the tradition of making these sweet potatoes with orange and a little rum. It's something we have every year."
Though she cherishes such rituals, she's also implemented a few of her own. For example, she doesn't host her celebration on Thanksgiving Day due to the demands of the retail business.
"About 10 years ago, we began celebrating the Sunday before Thanksgiving because we were so busy with Black Friday and Small Business Saturday," she says. "I come home the Friday night before and set my table, on Saturday I cook all day, and on Sunday we have Thanksgiving in the middle of the afternoon. It's the working girl's Thanksgiving."
She also didn't enjoy the turkey-cooking part of the festivities. "I decided to eliminate all the things I didn't like about Thanksgiving," she adds. "SandyJames [Fine Foods & Productions] does the turkey. The best part is, I can get up late on Thursday morning and I have all these leftovers. I feel like I've mastered it."
As everyone takes their seat at the table, Penny seems pleased with one more perfect Thanksgiving in the books. She confides in a guest: "This year, I'm going to say I'm thankful that all my children are living here. Most people don't have that. I'm so blessed they're all here and we can be together." «
Facebook Comments