Prince sang about "Purple Rain," guitar legend Jimi Hendrix gave us "Purple Haze," while Whoopi and Oprah starred in The Color Purple.
Then there was cowboy crooner Sheb Wooley's catchy "The Purple People Eater." But we won't go there.
Yep, purple is cool. And for the arrival of BMW's latest, lovable Z4 drop top roadster, it's being offered in a particularly deep, plummy shade of purple called Thundernight Metallic.
It's one of the highlights of this 2023 Z4, which also gets a slightly wider and taller front grille with a new hex-pattern insert, new foglights, new 19-inch alloys, and more standard equipment.
As before, the Z comes in two flavors. There's the sDrive 30i at $55,745, with a punchy 2.0-liter turbo four-cylinder under the hood packing 255 horsepower.
Step up to the Z4 M40i, starting at $66,295, and you get BMW's sublime turbocharged 3.0-liter straight-six with 383 horseys. Both engines are mated to a quick-shifting eight-speed automatic.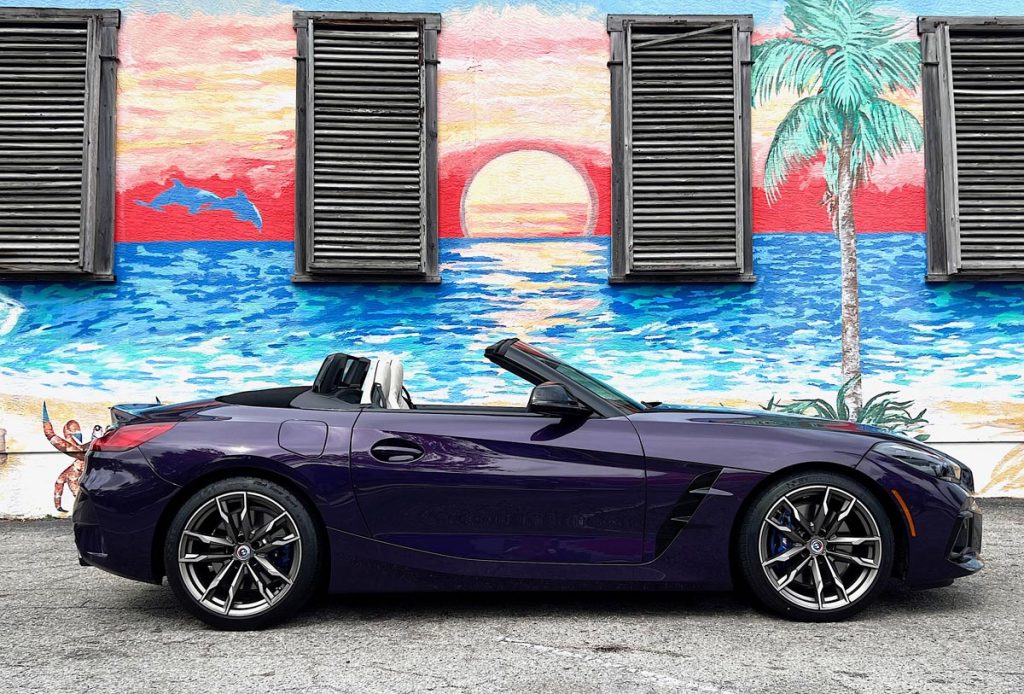 If you remember, the Z4 caused a stir back in 2018 when it first debuted. To split development costs, BMW teamed-up with Toyota for its new Supra two-door coupe.
Both Z4 and Supra still share the same engines, suspension, and electrics, though only the BMW gets the convertible top, while the Supra is the only one to be offered with the option of a six-speed stick shift.
I know, I know; Florida in the summertime, is not exactly conducive to top-down, sun-on-your-face, wind in your hair convertible driving.
But in the grin-inducing week I just spent with this Barney-the-Dinosaur-purple Z4 M40i, the top stayed down almost all the time, aided by icy blasts from the BMW's A/C, which could give a polar bear chills and put icicles on your eyelids.
And the Z still makes a terrific drop top. At the tap of a button, the thick canvas roof folds and stows in a speedy 10 seconds, and at speeds up to 31 miles per hour. Perfect for when that afternoon deluge hits.
Top down, you can cruise at 75 on I-75 with hardly any wind swirling around the cockpit. And with the top up, there's not a whistle of wind noise. Rearward visibility isn't bad either.
Inside, you sit way low and protected in hip-hugging sports seats, gazing out across that mile-long hood. Standing still, this pint-sized Bimmer feels like it's doing 100 miles per hour.
And it's packed with some cool tech. In front of the driver is a pin-sharp 12.3-inch digital instrument cluster, with a 10.3-inch touchscreen above the center stack. Navigation is now standard for '23, along with Apple CarPlay and Android Auto.
In BMW fashion, the quality of materials, the fit and finish, and the interior design is just terrific. I loved our test car's creamy-white Vernasca leather seats and salami-thick M-sport steering wheel.
There's practicality here, too. Pop the trunk and you get a best-in-class 9.9 cubic feet of luggage space, and over four feet of depth. And the space is the same whether the top is up or down.
Tap the start button and that 3.0-liter straight-six whoomphs into life. It's a truly lovely engine, with plenty of meaty low-end muscle for slingshot acceleration and swift passing, coupled with turbine-like smoothness and refinement.
Click the stopwatch and the Z can rip to 60 from standstill in just 3.9 seconds, with the eight-speed auto firing-off crisp, right-now shifts. And if you're in the mood, there are steering wheel paddles for D-I-Y shifting with a Sport drive mode for added fireworks.
Find a curvy backroad—difficult here in the Sunshine State, I know—and the Z dials up the fun factor. The steering is beautifully light and laser-precise, the grip from the 19-inch rubberware is superglue-grippy, with now-standard adaptive M suspension adding poise and balance. Braking is awesome.
Want to put a smile on your face, and a tingle in your fingers? This latest Z will do just that. Even in the color purple.
Facebook Comments