Drum-roll please. And maybe a little trumpet fanfare. All hail, Rolls-Royce Motor Cars has unveiled an all-new, all-majestic Phantom flagship. And it's marvelous.
After pouring over the official specs, drooling over the hi-rez photography, I'm pretty confident in proclaiming that the so-called 'Best Car in the World' just got a whole lot better.
I mean, what other car will let you commission your own piece of artwork and have it mounted behind glass on the dash?
But there's also true substance here. The car is all-new from the ground up, using a super-strong, super-light aluminum space frame platform in place of old-school steel. I-beams on the Empire State aren't this rigid.
The suspension is also new featuring the latest self-leveling air technology to deliver the smoothest, cushiest ride of any car to roll on four wheels. There are even cameras mounted in the windshield that scan the road ahead, searching out lumps, bumps and potholes, and adjusting the suspension to compensate.
And the company's focus on creating the most hushed car in the world is nothing short of obsessive.
There's 286 pounds of sound-deadening foam and felt padding packed on the insides of the bodyshell. Every window is double-glazed, and there's a double-skin of alloy within the floor. Rolls also worked with Continental to develop so-called 'Silent-Seal' tires incorporating a never-before interior layer of rumble-suppressing foam.
Overall, the new Phantom is said to be a staggering 60 decibels quieter at 60mph than the current model. Want to know what it feels like to drive down the road inside a padded cell while wearing Bose noise-cancelling headphones? Here's your chance.
No doubt Rolls-Royce also branded the old 6.75-liter V12 engine as much too vocal for this eighth-generation Phantom. So they built a new one. This new version now comes with twin-turbochargers – the previous version has no turbos – upping the horseys by 110 to 563-hp.
More relevant to the car's 'waftability' is the rise in torque to an impressive 664 pound-feet that gets delivered from a low 1,700rpm. Rolls engineers boast of 0-60mph sprinting in 5.9 seconds, but that would only come into play when escaping annoying paparazzi.
Naturally, every inch of the new Phantom's body has been re-sculpted and comes with some breathtaking visual details. The front fenders, with their more blade-like leading edges, and that circle of stainless steel around the windows – the largest, single-piece of hand-polished stainless on any car – are things of true beauty.
But if I'm disappointed with one element of this majestic machine it's the evolutionary styling. When the current-generation Phantom debuted on January 1 2003, it shook the world with its bold, dare-devil, revolutionary design. This car looks like a mild, though stunningly-executed, facelift.
Of course I reserve absolute judgement until I've actually seen the car in the metal and run my hands over its sculpted creases.
While the interior is also is a bit of a carry-over design-wise, again some of the detailing is breathtaking. Rolls-Royce talks of the experience of luxuriating in the back of this new flagship as 'The Embrace'. I wouldn't disagree.
As you'd expect, every non-glass surface is covered in the finest woods, hides, or knee-deep carpeting. If you loved the current car's shimmery Starlight Headliner, this new car has a bigger, more shimmery version.
As for that dashboard art, prepared to be wowed. The passenger side of the dashboard is now renamed The Gallery and it allows owners to commission artists to design pieces of exquisite art to fit the space. Anything from a gold-plated 3-D printed map of an owner's DNA, to oil paintings, to silk weaves.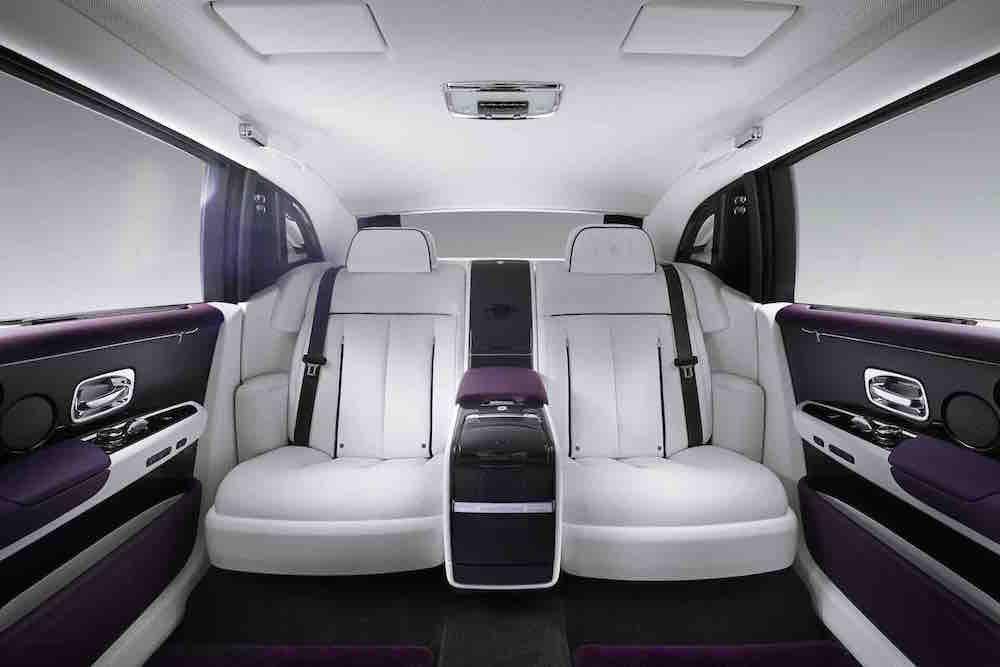 This all-new Phantom goes on sale early next year with the choice of standard and extended wheelbase models. No official word on pricing, but the conversation will likely start at a tad above the current car's 'base' price of $430,000.
Better stock-up on the Grey Poupon.
Facebook Comments