If anyone understands art's global influence and its role as a shaper of societies, it's former U.S. diplomat Michael Greenwald. But closer to home, art has become the language of love for Michael and his wife, Nolan.
The couple's sleek, all-white Palm Beach condo is a showplace for the colorful contemporary works they have collected together. Each well-curated piece brings joy and a history of how and why they chose it. For them, collecting is not just an investment, it's intensely personal. "With any art collection, it's important to have art you like because at the end of the day, it's going on your walls and you want to enjoy looking at it," says Nolan, an associate at Targeted Victory, a digital marketing firm focused on political and corporate issues.
Michael, now a director at Tiedemann Advisors, served for nearly a decade in a variety of    senior roles within the U.S. Treasury, as a financial diplomat and adviser in U.S. counterterrorism, counterterrorist financing, and anti-money laundering. His career took him to Europe, Africa, and the Middle East, where he established the Treasury Department's office in Qatar and worked closely with the government of Kuwait. He was appointed to the U.S. Treasury team that crafted sanctions against Russia, ISIS, and Al-Qaeda.
Michael says his knowledge of contemporary art literally opened doors and avenues of communication in his former line of work. "As a diplomat, I can't emphasize enough how much art helped me understand [a culture], particularly in the Mideast," he says. With its potential to interpret political issues and reflect a cultural attitude, contemporary art possesses the ability to shape opinion. "There's a powerful intersection between art and geopolitics," he adds.
The couple's own contemporary collection traces the story of their courtship and global travels. In their living room, artist Robert Wynne's textured glass message, Longing for the Future…, seems to float above an upholstered sectional. "This is the first piece we acquired as a married couple," Michael says. "Right before COVID, we visited the Leeum Samsung Museum of Art in South Korea and toured an exhibit of Joan Mitchell, Jean-Michel Basquiat, Edward Ruscha, and Richard Prince." Visits to museums both in South Korea and Japan inspired them to purchase Wynne's piece. "The phrase couldn't be more timely [during the pandemic]," he adds.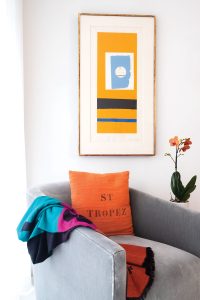 Dominating one wall of the dining area, Dinoco 2050 by Diego Medina contains phrases and words referencing the future and the past. Nolan favors art with a message. "I see art as a means of representing a time in history," she explains. "I always look for the deeper meaning, not just the aesthetic value." The couple purchased the piece when they were engaged, before they even knew where they would hang it, she adds. Michael met the artist in 2019 in Mexico City when he was attending the North American Meeting of the Trilateral Commission and forged a close relationship. They own two of Medina's pieces, and Michael likens his work to that of the late graffiti, neo-expressionist artist Jean-Michel Basquiat.
Another wall of the dining area is taken up by the more subtle, but no less powerful, Valium by Damien Hirst. "There's a time and feel to this," Michael says of the kaleidoscopic pattern of dots. "And we love the colors."
As burgeoning collectors, Michael and Nolan, both weaned on art thanks to their savvy parents, have been forging their own path as a couple. "When Michael and I met, we had different taste in art," says Nolan. "I like text art and I like it to be colorful."
Michael grew up around 1960s contemporary art and photography, like Jasper Johns and Jackson Pollock. "But as a couple we're discovering our own taste," he says. They admire more established artists, including Joan Mitchell, Helen Frankenthaler, Keith Haring, and Robert Rauschenberg—but also emerging artists like George Condo. Above all, they want their selections to reflect their shared aesthetic. "I liked how my parents collected together," he adds. "They always had stories and they would work off each other."
Nolan's parents, Alan and Noele Wein, collected more classical art, but gravitated toward modern over time, says Nolan. Michael's parents, Michael and Barbara Greenwald, have a private gallery of contemporary art in their home in Brookline, Massachusetts, where he and Nolan chose to hold their intimate family wedding reception during the COVID pandemic. "It was so special, as well as appropriate, to have our wedding and first dance there," Michael says.
The two met in Palm Beach. Nolan was living in Philadelphia at the time and Michael in Washington, D.C. They began dating and moved to a contemporary loft in New York City's West Village. A year later, Michael popped the question at The Four Seasons Hotel in Surfside.
The move from New York to Palm Beach happened quickly, aided by a little dose of serendipity. In February, just after their engagement, the couple was having breakfast in the West Village. As the news that the COVID virus had begun to emerge, they looked at each other and said "Jet Blue," jokes Michael, referring to nonstop flights from New York to Palm Beach International Airport. Arriving just in time to hunker down in quarantine with Nolan's parents for more than four months, they began the search for a place of their own. "Our plan was always to be in Palm Beach, but COVID sped it up," says Nolan. "We came to the conclusion that we could almost live a New York lifestyle in Palm Beach because we can walk to everything."
"Nolan knew exactly where she wanted to be," adds Michael. "She knew we wanted to be on the island and likely this building. Once we found the unit [in the Sun and Surf building] we made an offer in three days."
Equally confident in her design for the interior, Nolan says she envisioned a "colorful and comfortable" space. She removed the existing floor-to-ceiling mirrors so they would have blank walls on which to hang art. From there, she says, "we added our own touch." The all-white background is accented with pops of vivid colors in the furniture and art that complement or "talk to" each other, as she explains it. Adds Michael: "It has been fun to design this together. To see it all come together has been so rewarding for Nolan and me."
The couple easily established roots in Palm Beach. Both have been coming to the area since childhood—Nolan to compete in equestrian events in Wellington and Michael to play competitive tennis and to visit his grandparents and parents on the island. They walk everywhere—especially on the Lake Trail—play tennis, are members of The Society of the Four Arts Young Contemporaries, and support the Jewish Federation, Promise Fund, and Israel Tennis. Together, they enjoy prowling art fairs, galleries, and local museums. Normally world travelers, the couple didn't mind settling into local life during the pandemic. "We're optimistic about the future and starting our lives here," says Michael. "It's almost an ageless place. There are lots of young people and young families, and everyone is happy to be here."
Michael and Nolan herald the addition of several pop-up and permanent art galleries on the island. Michael works with his Tiedemann colleagues to counsel high-net-worth clients on art gifting and estate-planning strategies and, as a fellow at the Atlantic Council and Harvard Kennedy School Belfer Center for Science and International Affairs, he writes about the future of the art industry for Harvard Kennedy School. "The pop-ups have added vibrancy to this area," he notes. "When I talk to my clients in New York about investing in art, they think about Palm Beach differently."
This spring, Tiedemann hosted an event with Sotheby's in The Royal Poinciana Plaza for families navigating the contemporary art market. Michael sees Palm Beach as an international mecca, drawing new people every day, and says he looks forward to sharing his own knowledge and passion as a way to bring people together locally. "Art has a special way of doing that."
Facebook Comments