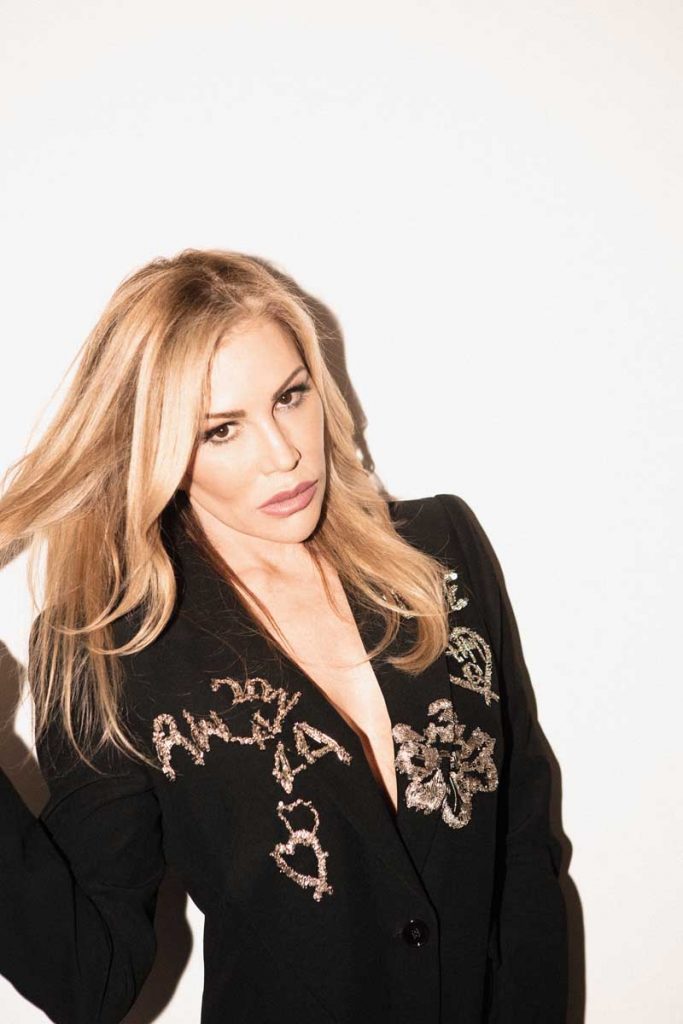 When Amy Phelan visited artist Marilyn Minter's New York studio in 2003, she was scouting contemporary works of art to add to her and her husband John's budding collection. But Minter was looking for something too: a muse for her next erotic series. 
"I was looking for a woman with full lips," says Minter. 
The stunning Amy fit the bill, and Minter spent a day photographing provocative close-ups of Amy's mouth dripping with jewels, sometimes covered with dirt. "The shoot was wet, sweaty, and we were shoving jewelry (real, supplied by Amy) into her mouth," Minter recalls. "If you know my work, you can imagine that it's very unpleasant being one of my models, but she was such a good sport. I've had plenty of people ask, 'When will this be over?' She never complained, and I really admired that."
Not only did the one-day photo shoot produce several works of art, but it cemented a nearly 20-year friendship. Amy still remembers the modeling experience fondly. "I had so much fun that day," she says. "John was there too, and we played music and drank wine. It was a great honor to pose for Marilyn."
That's the thing about Amy. She's an astute collector of world-class art and a committed philanthropist, yet she's approachable in a way that makes people instantly want to be her best friend. "She makes everyone feel comfortable," says Minter. "Her kindness means a lot, and she's incredibly gracious—the best version of what we think of Southern politeness. She's been a loyal supporter of mine since that first day, and she and John have been very good to the art world."
Indeed they have. Since beginning their collection in 2002, the year they married, they've supported art and artists while amassing more than 1,000 works, most of them on display at their residences in Colorado—a home in Aspen and a ranch in Rifle—and in their Palm Beach contemporary showplace on a lot spanning from the Atlantic Ocean to the Intracoastal. 
 Designed by architects Christopher Stone and David Fox of StoneFox Architecture and Design, the home's cool, white interior is the perfect backdrop for such artists as Minter, Lisa Yuskavage, Richard Prince, Jenny Holzer, Andy Warhol, Willem de Kooning, Jeff Koons, and Damien Hirst. In the entrance, visitors are met with a Jean-Michel Basquiat on one side and a Richard Patterson painting, Blue Minotaur, on the other. The collection is rotated regularly with pieces in storage. "It's like curating our own little gallery," Amy says.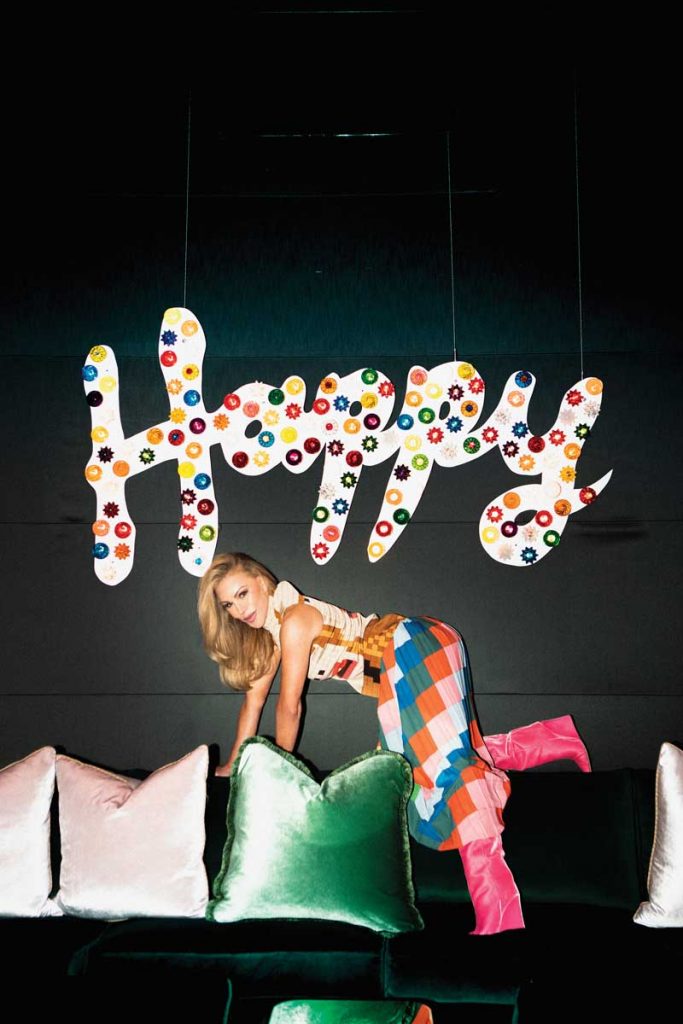 Home is also where Amy and John entertain, on both a large and small scale. As powerhouse players in the charitable world, the couple has chaired huge events in Aspen and Palm Beach. Earlier this year, they welcomed 380 guests to their Palm Beach home and raised a record $5.3 million for amfAR, the Foundation for AIDS Research.
 "Her very first words when we met to discuss the event were that she wanted to raise the most money for the organization and she wanted it to be a spectacular party for the attendees," says Kyle Clifford, amfAR's chief development officer. "She's 100 percent committed from start to finish. She and John have been supporters of amfAR for years. For this event, the first in Palm Beach, they not only gave a large donation, they allowed us to use their home, which makes it a lot more personal and shows their commitment to the mission."
 In addition to their own family foundation, the couple serves on a plethora of charitable boards and committees. To name a few, John is the chairman of the board of trustees at the Aspen Art Museum, where Amy is a national council member, and they are both members of the Tate North American Acquisitions Committee, the MoMa Contemporary Art Council, and the National Council of the Whitney Museum of American Art. In Palm Beach, they are members of The Society of the Four Arts and the Sailfish Club. Amy is also on the advisory board of Sarah Gavlak's New Wave Art Wknd.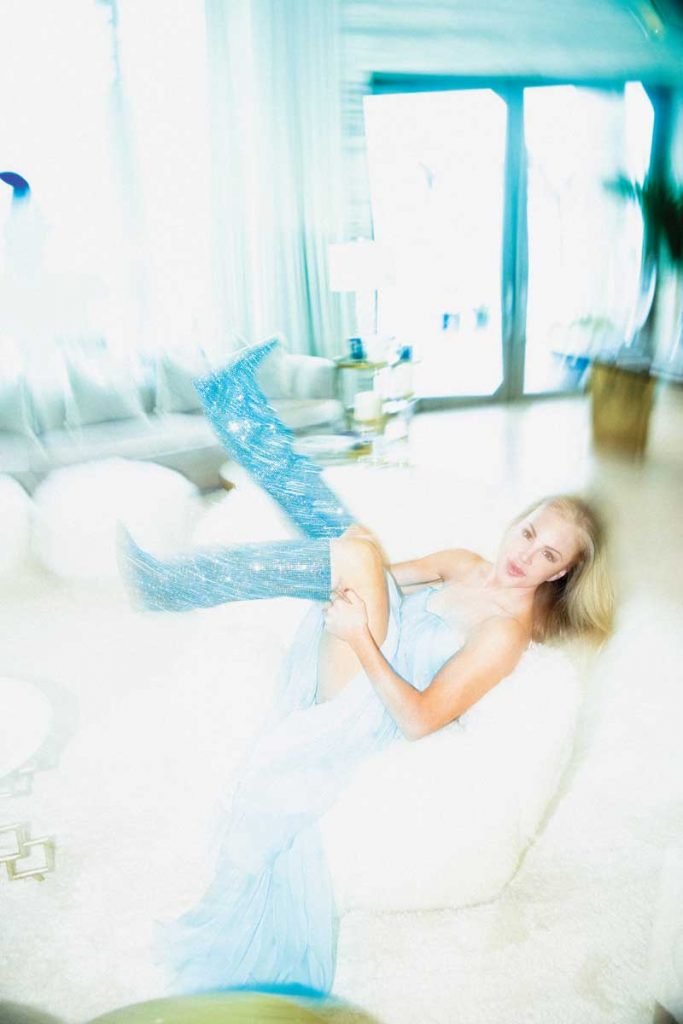 If this sounds like a lot of work, it is, but Amy goes all in when she commits. And while she shines in the spotlight, she works tirelessly behind the scenes on behalf of a cause. "I prefer giving to receiving," Amy says, adding that she donates both time and money. 
 "Amy understands philanthropy," says Clifford. "Words are easy, but Amy and John take action. Amy engages with everyone at events; she's warm and genuine and people are drawn to that. She takes what she does very seriously, but she has fun doing it."
 As art patrons, Amy and John have befriended many of the artists they've supported and believe art should be accessible to everyone. In 2008, after witnessing a family walk away because they couldn't afford the $25 per-person admission to a New York City museum, John paid the family's entry fee; he and Amy later launched an endowment providing free admission to the public. "My husband is amazing," Amy says. "Everything we do, we do together, but he is something else. With the free admission program, everyone has access to the same level of art." 
 But for as much as they've provided considerable backing to the arts over the years, Amy feels like she's learned much in return. "Artists put themselves out there," she says. "The work they make is so subjective. It's personal expression, and we should all put ourselves out there from time to time because when you do that, you grow."
Amy's journey as an art collector didn't begin until she met John. Growing up in Dallas in a house with "normal, hardworking people," her passions were cheerleading and dancing. While in college at Southern Methodist University, she won a coveted spot on the Dallas Cowboys cheerleading squad from 1991 to 1994, during the peak years of the team's popularity. "Things were just as exciting as they could be," she says.
 Exile on Jackson Street, a 2004 oil painting by Richard Patterson, immortalizes those years and captures all the exuberance and energy of Amy's personality. Patterson, a native of England, became a friend of John and Amy's and was enamored with the cheerleading culture, Amy explains. Following the tragic attack on the World Trade Center in 2001, he felt trapped in his apartment on Jackson Street and used the time to create the huge work, based on one of Amy's cheerleading trading cards. John gave it to her as a birthday gift.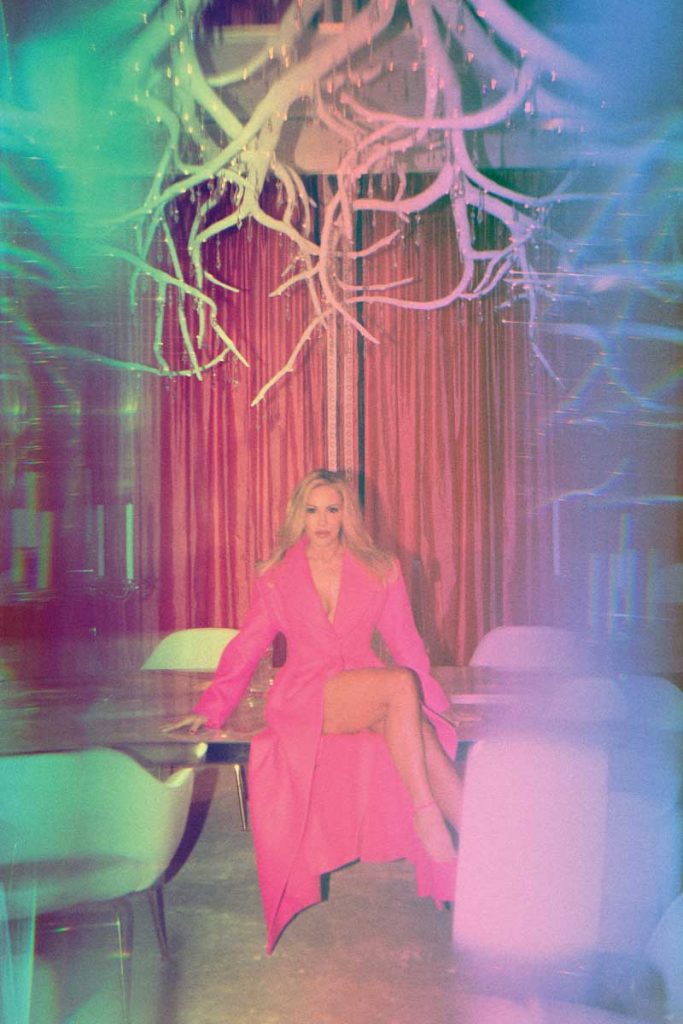 Before moving to New York, Amy worked as a management services and systems engineering consultant in Dallas. In 2000, she met John (co-founder of MSD Capital, the private investment firm for Michael Dell, the founder and CEO of Dell Technologies) on a blind date. The attraction was instant for both. "John's incredibly smart and funny and he's the nicest person I know," Amy says. 
 Though John had a head start buying art, he owned just a few pieces when the couple began attending art fairs and visiting galleries together. At first, they bought mostly modern works and "things that were easy to understand," Amy says. Among their early purchases were a drawing by Pablo Picasso and a painting by Willem de Kooning. That all changed when they came across a Thomas Ruff black-and-white photo of a nude that now hangs in their Palm Beach master bedroom. "It was edgy and sexy," says Amy. From then on, they began collecting contemporary works, many of them figurative. "I would describe our collection now as sexy, funny, and sometimes a little dark, but always with a sense of humor," Amy adds. 
 The couple doesn't consult an art advisor, instead relying on what piques their interest. "It's almost like dating; you know you're attracted to someone instantly," Amy says. "Art is similar. With some pieces, you get an immediate, visceral response, but other times you have to take it in for a while because the process behind what makes it a work of art is so complex and interesting. You have to take a moment, and maybe you find you can't stop thinking about it for some reason."
Nowadays, Amy considers herself a collector rather than a buyer. "Buying and collecting are two different things," she says. "In the beginning we were buying; it was more of a random activity—you see something you like and you buy it. Collecting is more purpose-driven with a longer-range vision. It's more of an intention."
When they have time off, the couple enjoys skiing, hiking, riding bikes, traveling, and spending time with family and friends. Daughter Makenzie, 26, was a studio assistant to their friend, photorealistic painter Richard Phillips, for two years and is now a full-time art history and psychology student at The New School in New York City.
Palm Beach, where the Phelans hunkered down during the pandemic, is becoming more attractive to art lovers, especially with so many galleries opening to cater to the post-COVID population boom, says Amy. "There have always been amazing art collections in Palm Beach, but it wasn't on anyone's radar. It's so exciting to see what's happening here."
No matter where they are and despite all the causes she and John support, cultivating her relationships with family and friends will always be Amy's top priority. "Life is all about experiences and being with people we care about, and if we can do both at the same time, that's the best," she says. "I'm super grateful for all of those things and my amazing husband, who opened this world for me."
Story Credits:
Fashion editor: Katherine Lande
Hair and makeup: Gina Simone, Creative Management, Miami
Facebook Comments