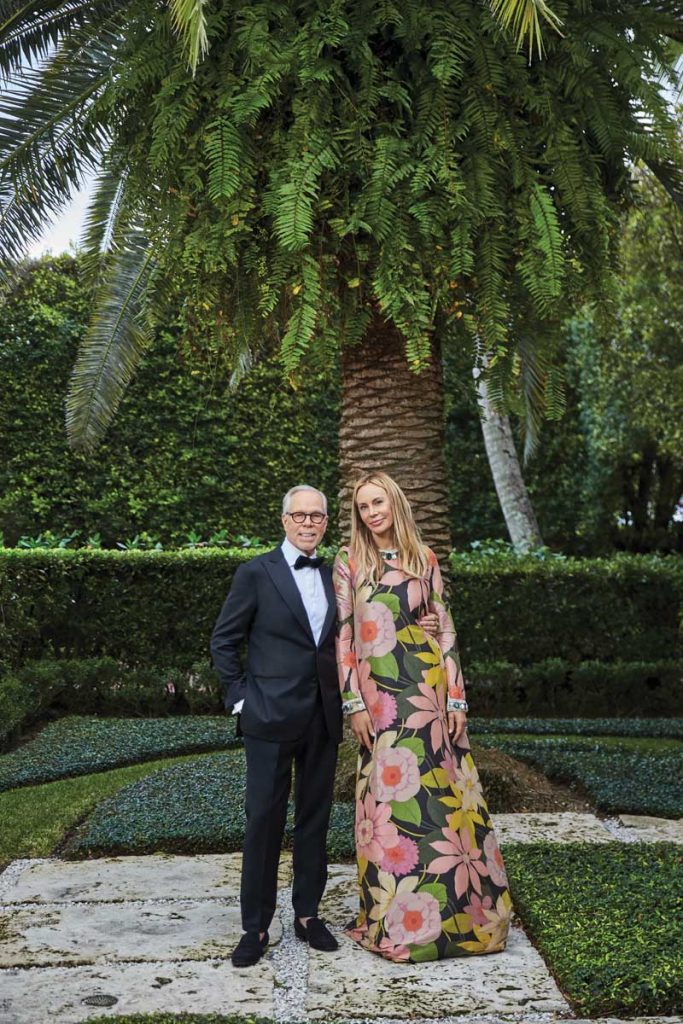 When Tommy and Dee Hilfiger first moved to Palm Beach in 2021, they bought an oceanfront residence they wanted to renovate, thinking they could wait things out in a hotel until the project was complete. COVID, of course, laid waste to those plans. Supply chain–related delays slowed down the home overhaul, and after a month of room service and tight living quarters, Dee says she'd had enough.
"You just can't live that way with a family," she adds. "You need a kitchen. I just wanted to make a salad, and I wanted some space, and I didn't want room service to walk in on me."
The Hilfigers bought a 5,000-square-foot Mediterranean abode on the Intracoastal to give them a sense of permanence while their other home was being completed. The couple has six children from their previous marriages, and a seventh, 13-year-old Sebastian, from their own. Family time is important to them, and due to their numbers, so is space. This home, though temporary, gives them a comfortable nest for work, play, and relaxation.
There was a time, not too long ago, when it was a little more complicated for the couple to go with the proverbial flow. Living in Greenwich, Connecticut, and commuting into Manhattan in order to manage their businesses while trying to maintain the family life they value was no small feat. They had a vacation home in Miami, but Dee says it was "a weekend fun thing" that lacked the sense of community they sought.
"We had so many friends in Palm Beach and it's just so beautiful," Dee says. Moving here, she notes, "wasn't really a difficult decision."
Now full-time Florida residents, they've been able to slow down and reimagine their day to day in a way that is still creatively rich but much more laid-back. They love the indoor-outdoor living, the candy-colored sunsets (with cocktails to boot), watersports, and rounds of tennis. On a breezy afternoon, they are at home and seemingly at ease in their new surroundings as they juggle interviews and their PBI cover shoot with Zoom calls for their respective businesses. 
After striking a pose for the photographer, Dee, a former model, excuses herself to take a call from Kris Jenner. The Kardashian matriarch is a close friend, known for her collection of Judith Leiber handbags, a brand that has become ever more glittering and playful since Dee became creative director in 2017. Meanwhile Tommy, the mastermind behind his namesake multibillion-dollar global lifestyle brand, ends another call and says he has to step away for a bit.
It's not a work crisis. He just needs to pick up Sebastian from school, which he does every day.
That's right. Tommy Hilfiger idles in the school pickup line just like the rest of us. That doesn't mean he's loosening his grip on his empire or becoming a retiree. If anything, he's reimagining his brand by collaborating with trendsetters such as the actress Zendaya, Formula One driver Lewis Hamilton, and, most recently, the floral-forward fashion designer Richard Quinn. Dee, too, is stepping into her own limelight, with Judith Leiber and Dee Ocleppo, her eponymous clothing and accessories brand she launched in 2012. The Hilfigers are easing into their Palm Beach existence, but they're doing so like a total power couple.
Not that they're into labels.
"We're really focused on our children," says Tommy, "so we're not thinking about a label somebody might put on us. We're also involved in quite a few charities. Those things are important to us, but we also like to just chill out or go out sometimes, but not all the time."
This may not sound like the talk of someone whose business was born from the music and fashion revolution of the late 1960s. Yet all revolutionaries change and grow with the times, staying true to their vision while adapting it to the era in which they find themselves. Tommy is no exception. He has gone from sourcing and selling groovy clothes in college towns, to creating a brand that is the very essence of American cool.
"Tommy is one of the last of the line of American designers who are household names," says Dirk Standen, dean of the Savannah College of Art and Design's school of fashion and former editor in chief of Style.com. "It's harder now to build those empires, but I think Tommy has remained relevant and at the forefront of popular culture because of his open attitude and curiosity about the world. The enthusiasm you get when you meet him is very much a part of who he is. Even today, he hasn't lost that willingness to work with other people and take on those influences and absorb them into the brand."
Tommy's done it in a way that hasn't felt forced either, Standen says. Whether he's incorporating NFTs or see-now-buy-now technology at his shows, the designer has taken a playfully curious approach to utilizing new technology within his business.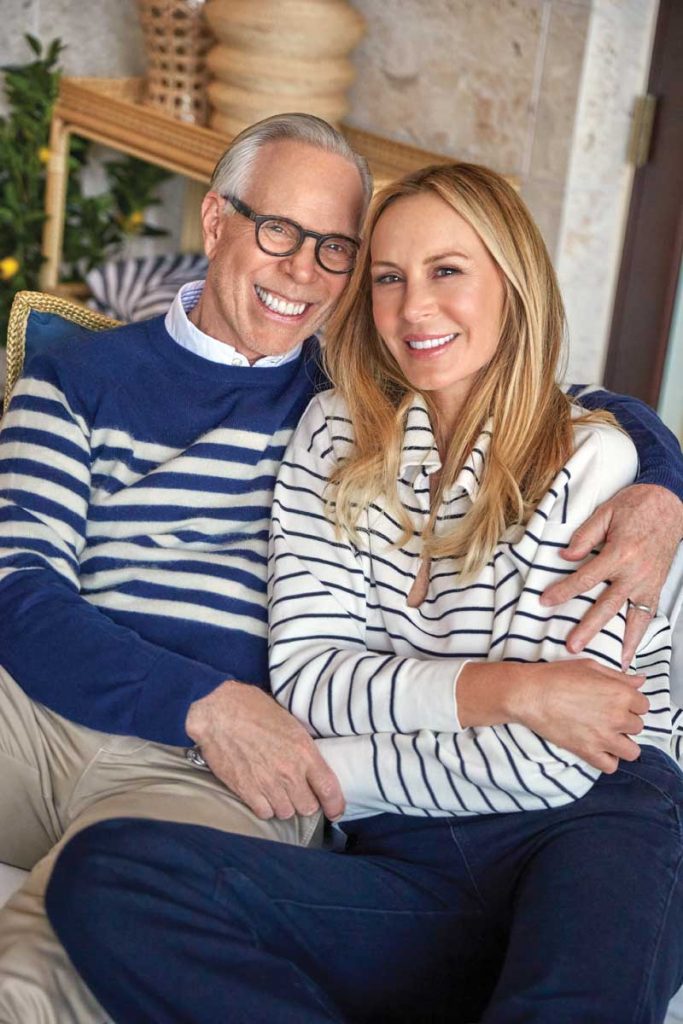 Tommy credits his embrace of popular culture and fearless experimentation to artist and iconoclast Andy Warhol. "I met [him] in 1985 at lunch in New York, and he invited me to his Factory," he says. "When I was growing up, he was of great influence, so visiting his studio and talking in-depth about his work was an amazing experience. I was always inspired by his fascination with pop culture, and I applied his approach directly to my brand—bringing together talent from fashion, music, and entertainment through innovation and creativity."
Steven Kolb, chief executive officer of the Council of Fashion Designers of America, says Tommy has pioneered using these outside influences in his brand. "From a fashion point of view, he made his mark with both street style and sophisticated tailoring," Kolb says. "But most of all, Tommy's shows are fun."
Tommy paid homage to Warhol at New York Fashion Week this past September, staging a multiverse show called "Tommy Factory" at Brooklyn's Skyline Drive-In. Though the event was plagued by rain, guests such as Kate Moss and John Legend didn't seem to mind. The show presented a modern twist on Hilfiger preppy, a sleek new monogram courtesy of streetwear illustrator Fergus Purcell, and an inclusive cast of models who strutted the catwalk to the beat of Travis Barker's drumming. Tommy says that this collision between old and new will continue to inspire what comes next for the brand.
Dee, too, has a yen for keeping things fresh. When she became creative director of Judith Leiber, the first bit of feedback she received was that the heritage brand was strictly for grandmothers who loved its glittering, floral basket–shaped handbags. In one Sex and the City episode, Mr. Big horrified Carrie Bradshaw when he gave her a Judith Leiber swan clutch that she thought was "just wrong." The pieces were exquisitely crafted, but they needed a bit of modern cheek, Dee says.
Dee replaced the basket full of posies with quirkier designs such as french fries, stacks of cash, and brick cell phones. Gone were the grandmothers. Kim Kardashian, Jennifer Lopez, and Beyoncé are now among those making Judith Leiber handbags the must-have accessory. Tommy has been supportive of her ventures, Dee notes, and championed her successes along the way.
Does she ever feel like she is living in his shadow?
"You know, he is Tommy," Dee says. "You can't ignore that. But I don't focus on it. I just get on with what I need to do. I'm not a trophy wife. I've got my own thing going. I always have and I always will."
The Hilfigers will always love New York, and they appreciate that it's not too hard to find flights there out of Palm Beach International Airport. Still, they've found restaurants here that they cherish as much as Carbone and The Grill, among them Café Boulud in The Brazilian Court, Le Bilboquet off Worth Avenue, and Sant Ambroeus at The Royal Poinciana Plaza. 
As they wind down 2022, there's plenty to celebrate. On October 25, Women's Wear
Daily honored Tommy with the John B. Fairchild Award at its Retail and Apparel CEO Summit. The award, named for Women's Wear Daily's late chairman and editorial director, recognizes influential and distinguished careers in the fashion industry.
"I feel truly honored to win such a prestigious award and proud to be in the great company of its previous winners," Tommy says. "The award celebrates creative vision, performance, and leadership in the fashion industry, and I am grateful to see the hard work of our company and associates acknowledged."
Although the Hilfigers had hoped to be in their new place celebrating Christmas together, they say it's now looking like the move will happen sometime in 2023. 
Not that they're too upset about it.
"It doesn't matter where in the world we are exactly," Dee says. "As long as we are surrounded by our kids, we have the best time."
Story Credits:
Hair and makeup: Deborah Koepper, Deborah Koepper Beauty, Palm Beach
Digital tech: Ernesto Sempoll
Facebook Comments