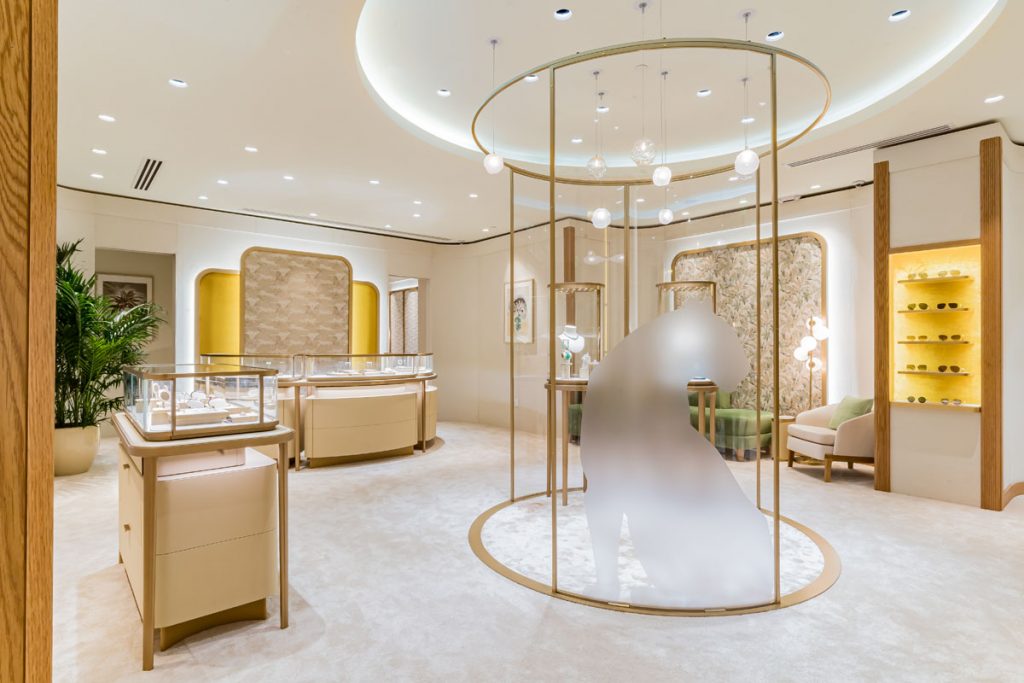 Cartier debuted a seasonal pop-up boutique experience at The Royal Poinciana Plaza in Palm Beach December 8. The pop-up will remain open through May 2022.
"We are thrilled to unveil our new seasonal Palm Beach boutique, offering a unique blend of modernity and local flavor," says Mercedes Abramo, president and CEO of Cartier North America. "Palm Beach is an ideal location for Cartier and we're looking forward to returning to the community and welcoming guests with an exciting experience at The Royal Poinciana Plaza."
The seasonal boutique features architectural and design elements from Cartier's renewed design concept, which made its North American at the San Francisco boutique in 2018. The airy, welcoming concept includes fabrics and materials in cream, bronze, and gold throughout, as well as local touches and impressive finishes.
Upon entering the Maison's seasonal space in Palm Beach, guests are welcomed into the radiant salon with luxe design elements that are hallmarks of the Maison and evoke the surrounding region. The iconic Panthère, synonymous with Cartier, anchors the salon. This space also showcases an eye-catching light installation with sleek, hand-blown glass orbs, and custom floor coverings.
For Cartier, the Palm Beach lifestyle and community provided design inspiration–as the sun, sea, and local foliage inspired various textures, features, and pops of vivid colors seen throughout the space. Flamingos can be found in the Maison's archives–including a brooch commissioned by the Duke of Windsor for the Duchess in 1940–and appear in the boutique's design elements.
Guests can shop high jewelry to the new Clash de Cartier and signature jewelry collections including Love, Panthère de Cartier, and Juste un Clou. The Maison's iconic timepieces, including Santos de Cartier, Tank, and Panthère de Cartier will also be available. The boutique will also offer accessories, including new Double C de Cartier leather goods, fragrances, and the Maison's Art of Living collection.
Facebook Comments