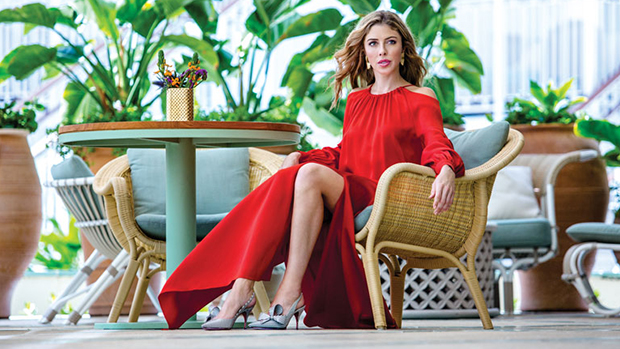 At 8 a.m., as the sun lights up the purple-tinged Santa Monica mountain range, Hannah Selleck is where she is most at ease and in command: astride a horse. The early riser has already made the 40-minute commute from her home in West Los Angeles to her farm near Thousand Oaks, California. Against the valley's cinematic backdrop, she concentrates on putting the mare through its paces in a combination of fluid grace and precise timing.
The 30-year-old daughter of actors Tom Selleck and Jillie Mack has been a competitive equestrian show jumper since the age of 14, but her love of all things horses began a decade earlier when she was only 4. In addition to a rigorous competition schedule that keeps her on the road for much of the year, including in Wellington in the winter, she also runs a boutique horse-breeding operation, Descanso Farm, near the family's 65-acre ranch in Ventura County.
"Riding is always my priority," says Selleck, who has the composure born from the confidence of identifying and mastering her life's passion early. Years of hard work and dedication have culminated in qualifying for the grand prix level of competition and a stack of international medals, including top-five finishes in St. Moritz, Switzerland; Belgium; the Netherlands; and the Canadian Pacific Grand Prix at the 2015 Longines Masters of Los Angeles. When she's not competing, she's training horses on her farm.
"For me, it's always work," she says. "It's not like idle trail riding. We're always working for a goal and we prepare for weeks for that one to two minutes in the arena. I'm always thinking about what we need to do to improve."
Selleck supervises a staff that includes a head groom and someone to help exercise the horses, but she is fully in charge, even down to managing the considerable logistics required for each competition. Her proficiency in a tough, international sport is not lost on those who know her best.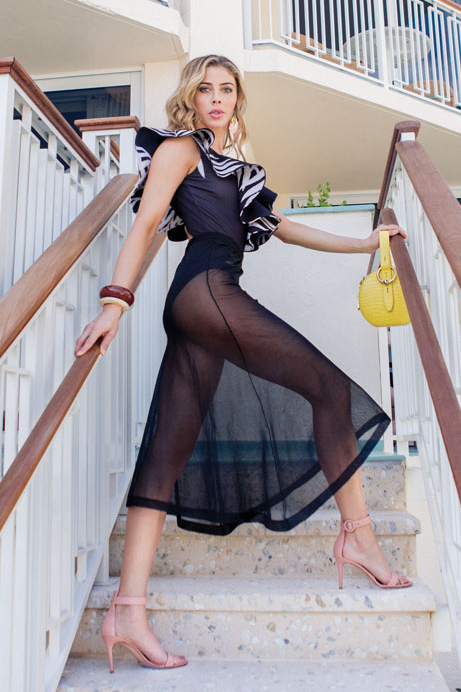 "On days of competition, she is calm and disciplined in how she trains, prepares mentally, and executes her performance on course," says Ariana Rockefeller, a fellow equestrian athlete and businesswoman who met Selleck on the circuit six years ago.
"While the zeitgeist is telling society to be likeable, I truly have high esteem for Hannah because she is independent," adds friend Julia Loomis, a documentary filmmaker based in Manhattan. "Yes, she's spontaneous, optimistic, determined, witty, and extremely bright—qualities that are the best influence. But most impressively, she understands self-worth."
Today, the busy equestrian is back in the ring after breaking her leg while competing in Calgary last June. When a horse refused to jump and quickly turned, Selleck's foot got stuck in the magnetic stirrup, resulting in a shattered tibia and fibula. She endured six hours of surgery followed by aggressive physical therapy, and was forced to the sidelines for seven months. Her return to the show ring this spring was rewarded with a second-place finish in the small tour grand prix at San Juan Capistrano, California.
In a field where one fall can ruin a career, Selleck takes this latest setback in stride. "I consider myself to be very lucky with injuries in this sport," she notes, pointing out that she's sustained many broken bones in her 25 years of riding, none of which previously required surgery. This most recent forced hiatus provided an unanticipated opportunity to refocus, she says. "For the first time, I feel like it's given me more balance in life. I've tried to take away that feeling. As [athletes], we always have goals and sometimes we forget to enjoy life."
Back in the saddle, she arranges transport for up to four of her horses for each competition. Her main mount, Barla, is a 15-year-old Oldenburg mare that she bought as a 7-year-old. The other three are horses she's bred at her farm. During season at the Palm Beach International Equestrian Center in Wellington—which covers about 12 weeks in the winter and early spring—Selleck rents a home to be near the action. She typically rides every day except for Mondays and, to maintain her peak athletic form, she runs or attends spin classes and works with a personal trainer two to three times a week. "My last season in Wellington, I started to get into boxing and really enjoyed it," she says.
Though leisure is a scarce commodity, Selleck makes sure to carve out a little me time and escapes to Palm Beach when she can. She cites Bice as a go-to lunch spot, Imoto or HMF for dinner with friends, and Cucina for its nightlife. Her beauty routine includes regular visits to Frédéric Fekkai Salon on the island, as well as massages at The Breakers when she has a day off. Though most often in riding clothes, she relishes dressing up on occasion and favors the clean, classic lines of Ralph Lauren. Off-duty, she says, "you can always find Lululemon in my suitcase."
Whether living out of that suitcase or at home in California, she keeps up with her global group of friends through long phone calls or in-person visits when possible. "We have this little game of playing 'Where in the world are you?' and try to coordinate," says Loomis, a fellow jet-setter. "In fact, last time I saw Hannah was for my engagement-announcement party when she flew to New York just for the night."
Though on the surface, Loomis reflects, she and Selleck are opposite, they have much in common. "She is outgoing and the life of the party; [I'm] a bit reserved and introverted," Loomis says. "But we also have passions for culture and dance, her mother being a former dancer.… When we are together, we can go from casual, quiet dining to the American Ballet Theatre gala, to dancing, to a film. I think we just try to cover as much as possible until Hannah has to wake up at dawn to ride."
With both a British and American passport and most of her mother's family living in England, Selleck considers it something of a second home. "The English countryside is so stunning, especially from horseback," she says. "It is so exhilarating, galloping over miles of land, jumping the natural obstacles like ditches, gates, and hedges."
She's close with her family on both sides of the pond and says that without the love and support of her parents, she probably wouldn't be where she is in the highly competitive and expensive equestrian sport. "From a young age, they always encouraged me to follow my passion, and my passion is the horses," she explains. "Once I finished university [at Loyola Marymount] and decided I wanted to pursue my passion, my father said he would help support me but that I had to turn professional, letting go of my amateur status, and work for top professionals in the sport in order to learn my craft. I did just that and apprenticed under some of the industry's best. Now I have my own breeding operation, which my dad encouraged me to start when some of my top mares retired."
It's not always easy to stand out as an individual when your family name is as well-known as Selleck's. Rockefeller, the great-great granddaughter of Standard Oil founder John D. Rockefeller, understands this all too well. "As a fifth-generation member of the Rockefeller family, I have a great sense of pride for the accomplishments and contributions my family has made to society," she says. "It has been impressive to see how [Selleck] has managed her career as an equestrian athlete, a representative of a famous name, and as a business owner of her breeding and training operation."
Selleck also makes it a priority to give back to the sport that shaped her life, acting as an ambassador for Brooke USA, a charity committed to improving the lives of horses, donkeys, and mules in the developing world. She hopes one day to travel to Guatemala as part of that mission. "We teach better care for equines," she explains. "People in developing countries rely on animals like donkeys for income. Better care for equines helps people."
Although she wants to have a family one day, Selleck says for now she leads "a bit of a gypsy life," and it suits her. "I plan on competing as long as I enjoy it, and I don't see that going away anytime soon," she continues. She also wants to keep growing her business. "It's very exciting to finally see the horses we've bred going in the ring and successfully competing. My goal is to see all these horses make it to the top level of the sport."
While she's also considering earning an MBA, Selleck knows that her first love will always be her true love. "I want to keep going on the journey and see where it takes me," she says. But whatever that future brings, she adds, "horses will always be part of my life."
Facebook Comments