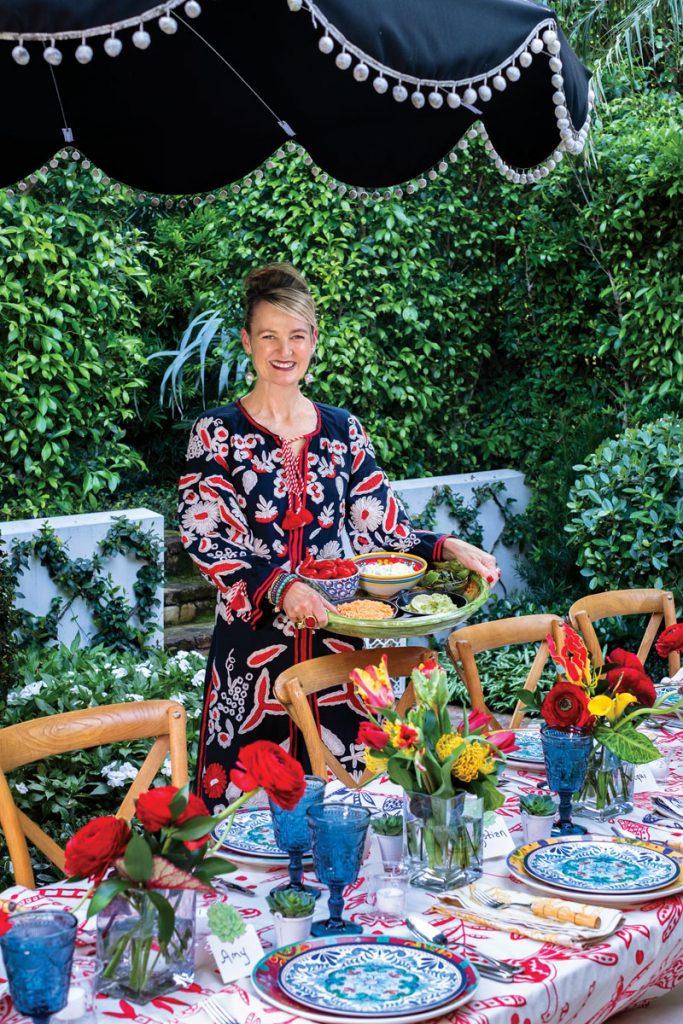 When Elyce Arons—co-founder of the ultra-feminine fashion brands Kate Spade and Frances Valentine—recently opened a pop-up shop off Worth Avenue, Palm Beach resident Jacqui Michel walked into her store and into her life.
"Immediately we liked each other," says Michel, recalling their first meeting. "I turn into Via Bice—the sign for the shop wasn't even up yet—and I look into the window at these adorable things and I see the adorable Elyce, and we start talking." They became fast friends, forming the kind of kinship that happens only when two like-minded souls randomly find each other—connecting partly because of their shared sense of fun, and partly because Michel attended the University of Arizona while Arons was a student at its rival, Arizona State University.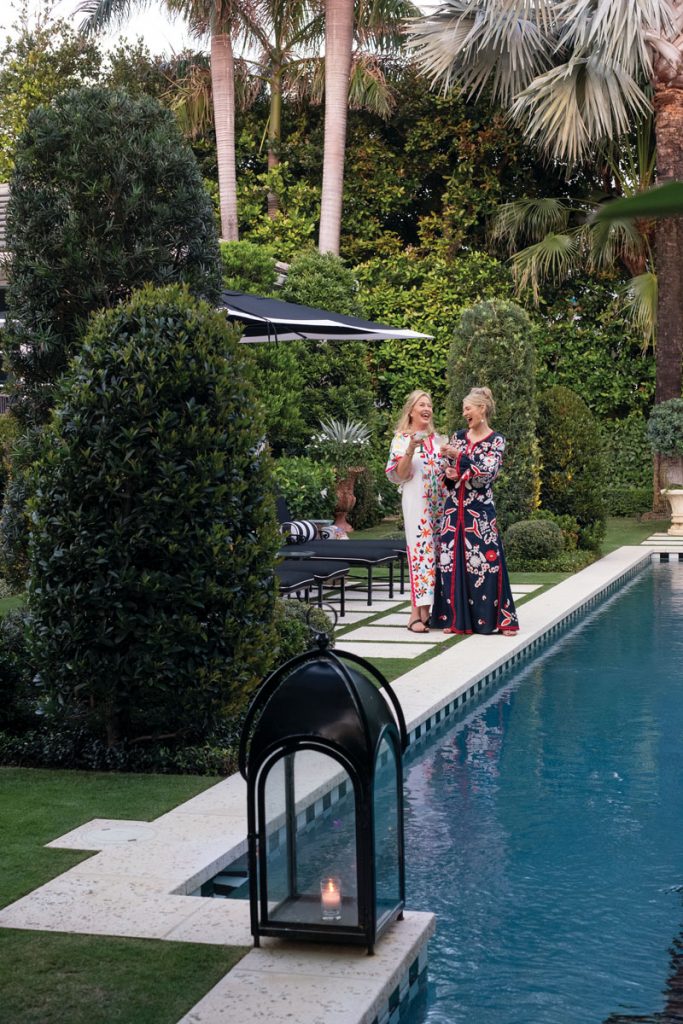 What to do when you make a new bestie in the midst of a global pandemic? If you're Arons and Michel, you go into party-planning mode, making sure your impromptu event is outdoors, socially distanced, and effortlessly chic. As the pair plotted a casual Mexican fiesta—at the Palm Beach home Michel shares with husband David E. Weisman, just north of Mar-a-Lago—the vibe was so carefree that the preparation almost felt like an event in itself.
Relaxing in Michel's sophisticated living room overlooking the pool, the pair pitched their plans, laughing as they showed off the assorted party must-haves they'd curated. Michel fetched the colorfully embellished Veracruz caftan from Frances Valentine that she planned to wear for the event, and then exited again to find suitable dishware. Meanwhile, Arons rummaged through a box of freshly produced table decor.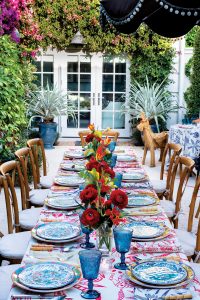 "We just got these in the store," she mused as she pulled out napkins and tablecloths embroidered in navy, red, and yellow. "One of the main reasons we thought of a Mexican theme is because customers who like the embroidered clothing at Frances Valentine were asking us when we were getting table linens." Michel returned from her trip to the pantry bearing vibrant melamine plates, glasses with cactus-shaped stems, and a straw donkey to be placed by the bar.
The guest list for the party had only one requirement, says Michel. "When Elyce and I were brainstorming, we just said 'fun people.'" They decided to seat their guests in an intimate garden off to the side of the house. "We call this the Secret Garden," Michel explained, threading the way to the steps from the outside terrace, around the pool, and through another garden to the charming site. "To be outside and under the stars, enjoying great food and company is what Palm Beach is all about."   
Special events designer and florist Tom Mathieu helped with table decor and designed the floral arrangements that shared space with candle votives and individual succulents. "I just told him I wanted bright," says Arons.
An avid cook for most of her life and a vegan for the past four years, Arons prepared the bulk of the menu herself—with traditional handmade tortillas and mini churros sourced from Boca Raton's Silver Sac Catering.
Arons says the event's Mexican theme provided ample opportunity for a plant-based meal. "Obviously, we started with guacamole," she says. "I have a great recipe for kale Caesar salad, and we had homemade gazpacho, which is so easy to make." For her part, Michel suggested a taco bar, featuring tortillas, cilantro, peppers, roasted sweet potatoes, tomatoes, and avocados. "Everything you'd want to have," adds Arons. Dessert included what she calls "can't stop with just one" spicy Mexican chocolate cookies, plus the churros. Though the party invitation gave guests the heads up about the vegan-only fare, Arons says even carnivores would have been none the wiser.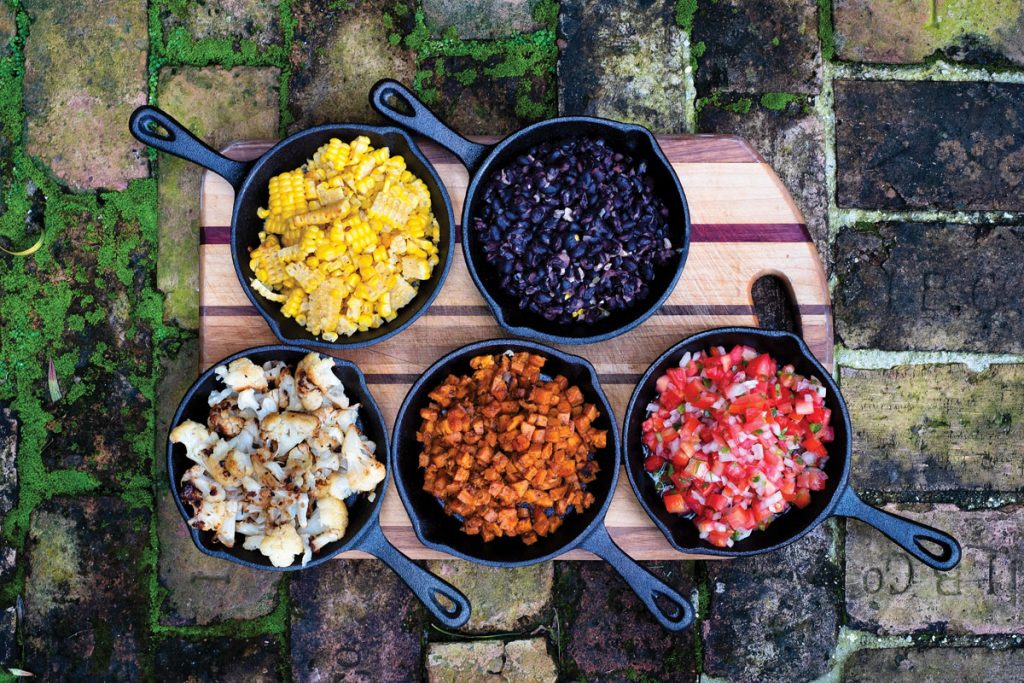 Although Arons is fully ensconced in the vegan lifestyle, it was about the furthest thing from her imagination when the self-described Kansas farm girl was growing up. "We raised Angus cattle," she says. "In college, I was a real burger-and-beer girl. After I got married, I was the mom who made bacon every day for my kids."
As is often the case in any life change, Arons started with a small step toward veganism, deciding to try it for a couple of weeks. "What you quickly realize is that the old way of meal planning is always based around meat, then you add a starch and a vegetable." Once Arons became accustomed to a plant-focused diet, she notes that she felt better and had more energy. She says she hasn't looked back since.
Just because one person in a family goes vegan, it doesn't mean the rest of the family jumps on the bandwagon. Of her three daughters—Katy, Jane, and Marni—Arons says one is "full-on" vegetarian (though she eats dairy and eggs, unlike Arons) while another is "going in the opposite direction." Her husband, Andy, has not fully embraced the vegan lifestyle just yet. But recognizing the movement's health benefits and popularity, he recently founded Plantabulous, a line of plant-based prepared and frozen foods that will soon be available in grocery stores. 
Arons' own storied career in fashion and retail was sparked by the kismet of a significant friendship: While in college at the University of Kansas (before transferring to Arizona State) she met the late Kate Spade—then known as Katy Brosnahan. The pair formed Kate Spade New York in 1994, along with Spade's then-boyfriend, Andy Spade, and a fourth partner, Pamela Bell. Their bond was cemented as the company grew into a fashion powerhouse. They remained as close as ever when, in 2006, the brand they built was sold to Liz Claiborne Inc.
After the sale, Arons took time off, filling her days with her children, some cooking lessons, and a lot of tennis. But in 2016, she and Spade returned to their retailing roots with the creation of Frances Valentine, together with Andy Spade and new partner Paola Venturi. The timing was right for the fledgling company, as the two long-time best friends were eager to start a new venture from the ground up. "We missed creating things; we missed the interaction with other people," says Arons. "We missed working and making things." As with their first brand, quality at a reasonable price point was paramount. "I used to see shoes I loved for $1,200 and thought it shouldn't be this way," she says. "There should be shoes for $400 that are just as beautiful."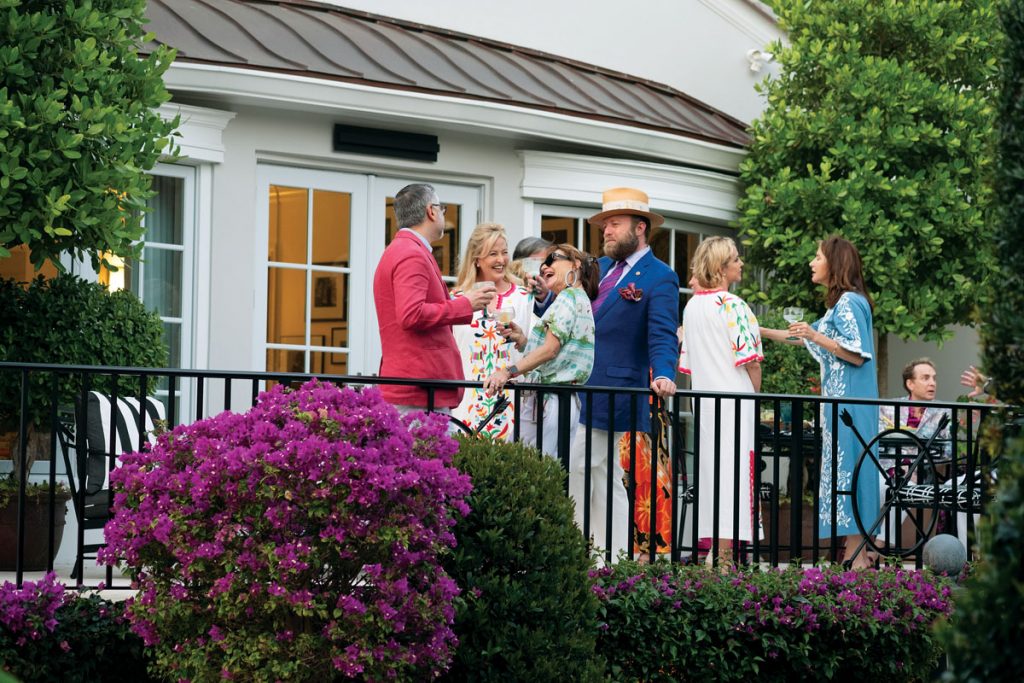 The new business began with an edited collection of shoes and handbags, and Frances Valentine began gaining momentum in the fashion world. But in a devastating blow to friends, family, and business associates, Spade died by suicide in 2018. Arons soldiered on, with the help of a team that has been with her since the beginning of Frances Valentine (and some who are veterans from the dawn of the original Kate Spade brand). Two years later, Frances Valentine pays homage to Spade's joyous fashion sense, with the original embroidered caftan and tunic designs created to recall personal items straight from the late designer's closet.
Recently, Frances Valentine has expanded ("organically," as Arons explains) beyond accessories and clothing to include home goods. And why shouldn't it? Kate Spade New York was a lifestyle brand before the term "lifestyle brand" was coined. Arons is simply doing what she's always done best. And she has the numbers to back her up: "We doubled our business in 2019 and we expect to do the same in 2020."
With robust sales, the plan is to increase the number of stores from three to five this year. Aside from the Palm Beach store—which closed for the summer and will reopen in November (pandemic permitting)—Frances Valentine boasts retail locations in New York City and Sag Harbor, New York. Those locations have remained open during the COVID-19 pandemic, but Arons admits retail sales have been down due to low foot traffic. Thankfully, however, the brand's business is still bustling online, where 85 percent of its revenue is based.
Whether in person or online, Frances Valentine's offerings are items customers simply fall in love with, Arons explains. "They are the things that bring joy into your life, like these napkins," she says, picking up one from those she will feature at the party and soon carry in her stores. "It makes me happy right now just to look at them."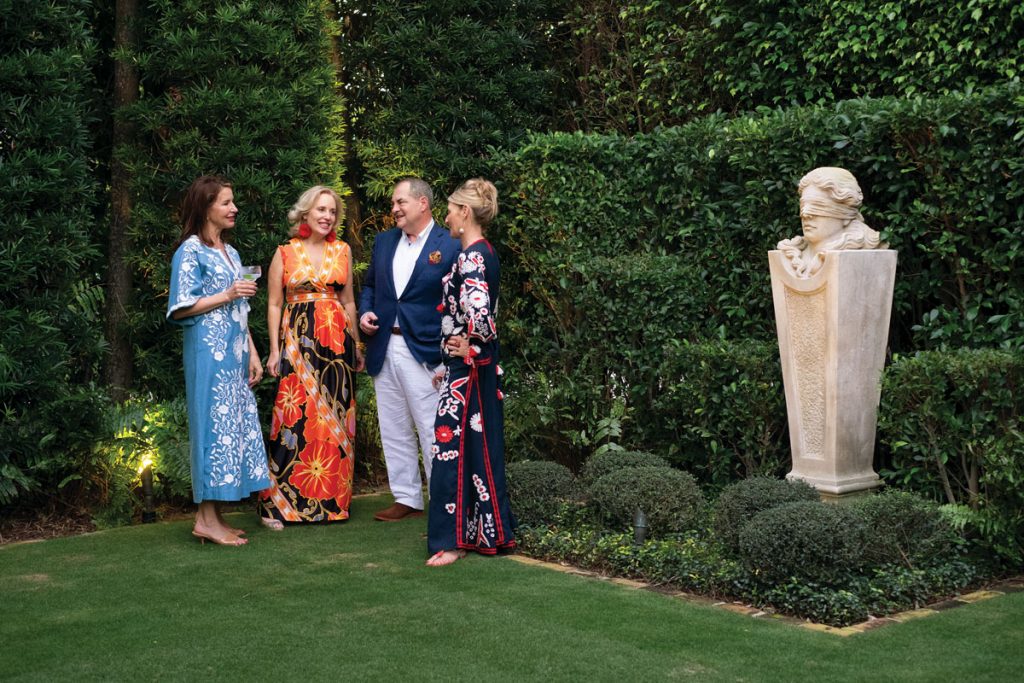 That same sense of joy factors into Arons' personal fashion choices, too. "I absolutely love bold colors," she adds. The navy and red Geraldine caftan that she debuted at the party was months ahead of its planned October launch. She has a yen for versatility and individuality. "Vintage pieces have always played a part in my wardrobe, and it is those pieces that inspire a longing for the past but create a unique and timeless way of dressing today," she says. "I like pieces that can dress up or dress down. Frances Valentine is my style."
From tableware to wearables, Frances Valentine's pieces recall a joyful nod to mid-century-meets-modern flair with an international twist. Arons and Michel's fun and fashionable Palm Beach fiesta proved to be the perfect showcase of the brand's sartorial sensibilities. «
Facebook Comments