"There's nothing like opening a 150,000-square-foot food hall in a pandemic," says Jordana Jarjura of Menin Development, the group behind Delray Beach Market, a new foodie-centric hot spot off Atlantic Avenue. While COVID-19 has certainly impacted the project, the notion of a global pandemic wasn't on anyone's radar in 2016 when Menin first began toying with the idea of a hip third space where locals could gather over a good meal, enjoy a culinary event, pick up specialty products to make at home, and congregate for life's most joyous occasions. "It's almost a merger between a food hall and a traditional European market where you get your daily goods," Jarjura explains.
Art and entertainment are also inherent to the Delray Beach Market ethos. "It's not just a feast for your stomach but for your eyes," adds Craig O'Keefe of Clique Hospitality, which is managing the project. Whimsical, interactive artworks abound across the market, which includes a mezzanine level where cooking and cocktail classes will take place. Live music and special events will also be on tap. "It's not just about the food; we want to bring a whole experience and feeling when you're in there."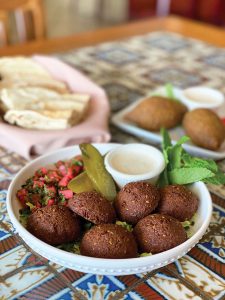 When it came to selecting the culinary vendors, two words led the search: diversity and affordability. "We wanted to create a destination that appeals to everyone's palates," says Jarjura. Diversity, in this instance, means global fare (such as Indian at Tiffin Box, sushi at Tekka Bar, and Mediterranean at Ferdo's Grill) as well as healthy fast-casual options courtesy of IncrediBowl and Roots. There are familiar guilty pleasures too, including burgers from Dad's Favorite, sweets from LoveLee Bakeshop, and brews from Delray Craft.
Of course, the pandemic impacted some of the planning for Delray Beach Market. Safety features that have become de rigueur—such as touchless bathrooms and enhanced air-filtration AC systems—are being employed. But Jarjura notes that Menin has long embraced the indoor-outdoor feel, and the market's tall ceilings, large patio, and surplus of small-group seating make it easy to maintain social distancing. Guests will also be able to mobile order—under one tab from multiple vendors, no less—and pickup will be available as well.
"The selection process and guest convenience are paramount to us in this environment," says O'Keefe. "We still do love that connection to other people, and this is going to be a great place to experience that, even if you're not ready to submerse yourself in a huge community gathering space."
"We obviously have to be safe," continues Jarjura. "But I'm confident we'll continue to want to be around [others] and have a sense of place, a sense of community. Once we get through this, and once we get through the economic impacts of the pandemic, we're going to return to our normal behavior where we gravitate toward each other." 
Facebook Comments