As much as Lilly Leas Ferreira loves adventure and traveling to far-off destinations, she knows there is no place like Palm Beach, where discovery exists on every street, via, and corner. Her hometown has become even more important to her as she's embarked on a new chapter, that of mother to 4-year-old Lula and 1-year-old Clementine. Now she's sharing the virtues of small-town life and barefoot exploration with the next generation in her first children's book, Life and Lilly: A Palm Beach Adventure.
"Writing this book was a labor of love, especially seeing everything through the eyes of a child," says Ferreira. 
A fourth-generation Palm Beacher, Ferreira is the daughter of Minnie Pulitzer and the granddaughter of legendary fashion designer and entrepreneur Lilly Pulitzer. She works as a real estate agent with Brown Harris Stevens and as a consultant for the Lilly Pulitzer fashion company, which is now owned by Oxford Industries and operates 59 stores across the United States.
Released in April by Little Coconut Publishing, Life and Lilly features hand-painted illustrations by the Lilly Pulitzer Print Studio. It follows "Little Lilly" (as Ferreira was called growing up) as she navigates the beaches, bike paths, and landmarks that make Palm Beach so special. She ends at the home of the late Lilly Pulitzer, where a party is ongoing and everyone is invited. Ferreira is donating 10 percent of the book's profits to animal rescue organizations in honor of her grandmother, a lifelong supporter of animal rescue and adoption.
"Life and Lilly is a love letter to my hometown," Ferreira explains. "My memories of surfing before school, biking across Palm Beach, and growing up in a community that feels like family are pieces of my life that I treasure. The book was inspired by my mother and my grandmother, two strong women."
As an author, Ferreira wanted to capture the dual feeling of adventure and appreciation of community, and pass this on to her daughters and their contemporaries. "I love telling stories to my little girls, and I always liked writing in school," says Ferreira, who spent three years on the project. "Every Tuesday, my daughter takes her favorite book to school. I hope one day she will take mine."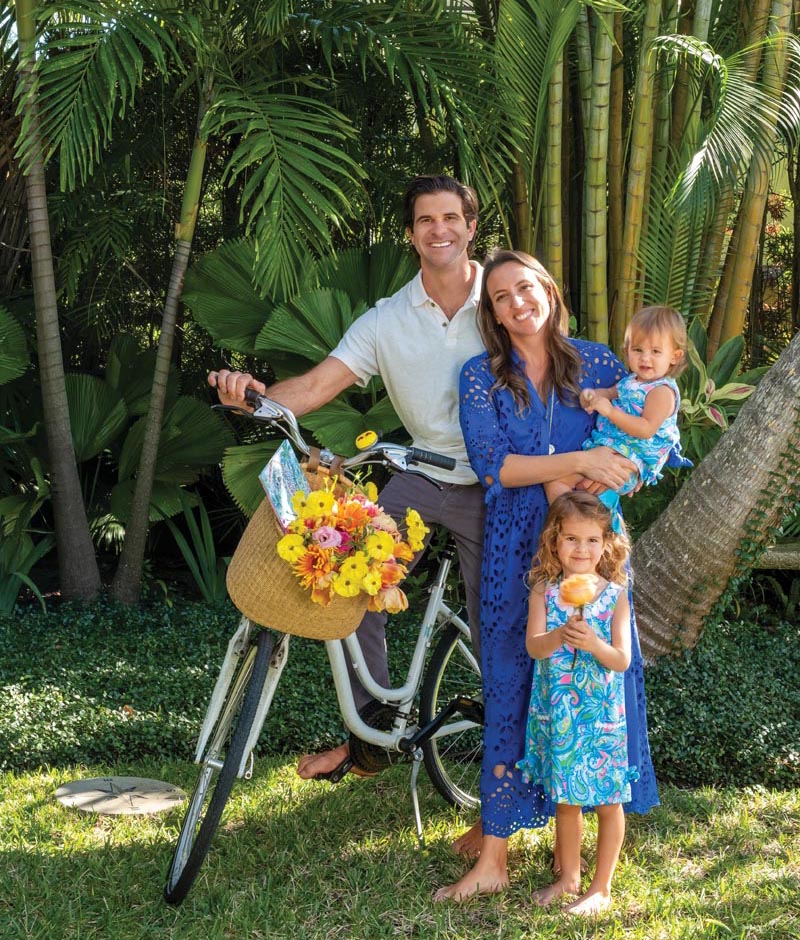 In many ways, Ferreira's current pursuits mirror her grandmother's life at a similar stage. In 1959, Lilly Pulitzer was the wife of publishing heir Peter Pulitzer and a young mother of three (Minnie, Liza, and Peter). In search of a way to make her days more enterprising, she opened a juice stand on Via Mizner using fruit from her husband's citrus groves. She began designing printed shifts in tropical colors to hide the juice stains, and the rest is fashion history. 
Ferreira has the same entrepreneurial instincts as her grandmother. She received a full merit scholarship to the University of Florida's MBA program and graduated in 2017 with a degree specializing in competitive strategy. She launched, ran, and sold her first company, a Palm Beach public relations firm, before she turned 30. In 2019, she was hired to lead the rebranding and growth of The Royal Poinciana Plaza in Palm Beach before joining her mom and aunt Liza Pulitzer in real estate. Since then, Ferreira has sold more than $100 million in residential properties.
In 2017, she married Sean Ferreira at the Sailfish Club of Florida. They grew up four streets away from each other on Palm Beach but didn't meet until later in life. Sean, who owns the Conch Agency, a sales agency representing apparel brands, shares his wife's affection for their hometown. "I love to surf and fish, and I still have solid friendships with half of the people I knew in school," he says. "People leave but always come back. There is nowhere better to live than in Palm Beach."
On a recent picture-perfect day, the couple invited close friends, family members, and their children to a backyard luncheon at Liza Pulitzer's Palm Beach home. The hosts were barefoot and greeted guests with the party's signature drink, The North Ender, a family favorite of rum, lime juice, orange juice, and soda water.  
"I wanted this book party to celebrate what it was like to grow up in Palm Beach," says Ferreira. "For example, Sean and I will go to a black-tie event, and when I kiss his cheek, it is still salty from surfing. Then we ride bikes the next morning. It is all a reminder of how lucky we are and how we have so much fun."
"Everyone grew up at granny's or at my house," continues Minnie Pulitzer. "We love village life with people, music, food, laughter … all exploring, playing in the backyard jungle, biking, going to the beach, etc. We continue this tradition."
Pulitzer believes that her mom had great joy, strength of self, and zest for life. "Little Lilly and I share this same passion," she says. "My house is like my mom's was. I have an open door, and when all the kids and grandchildren are here, I am the happiest."
At the book launch, guests hopped back and forth to talk to family and friends, including Ferreira's brother Rodman Leas, owner of Ballast Spearfishing. He read to his two small children from Life and Lilly while lounging on Lilly Pulitzer blankets and pillows near a setup of canvases and paints for the kids.
Jeni Licata, Ferreira's close friend and maid of honor at her wedding, describes the author as joyful and appreciative of life's simple pleasures. "We all know how magical it was to grow up in Palm Beach with the sun constantly shining, but add one more thing to Lilly—she is always ready for the next adventure," says Licata, executive director of the Lighthouse ArtCenter in Tequesta. "Writing her first children's book fills the bill."
Designed by Reed McIlvaine of Renny & Reed, the party's table setting was whimsical, colorful, reflective of Palm Beach, and filled with Lilly Pulitzer signature textiles and linens in pink, orange, and yellow. Custom Lilly Pulitzer plates were paired with colored glassware from Estelle and gold bamboo cutlery, napkin rings, chargers, and florals from Renny & Reed.
"We designed the table to speak to the history of Lilly and her family while layering in three huge whimsical topiaries of giraffes and elephants made with PVC pipe stretched with bubble wrap and covered with sheet moss," says Mcllvaine. The florals included peonies, butterfly ranunculus, and parrot and garden tulips in vivid blends to match the Lilly Pulitzer colors. "Looking at the table will put a smile on anyone's face because it is larger-than-life and the animals are unexpected. The surprise makes it extra special."
 Keeping with the spirit of community, Ferreira hired The SoSo restaurant in West Palm Beach to cater the luncheon. The two owners also grew up locally, left for a while, and came back to open their first restaurant. The meal included herb-marinated chicken, shrimp skewers, grilled Atlantic salmon, street corn Caesar salad, charred cauliflower steaks, cold soba noodles, and a strawberry shortcake pudding for dessert.
"Lilly asked us to prepare a backyard barbecue-style lunch representing the kind of food we all ate growing up in the Palm Beach community," says Kye Akavia, co-owner of The SoSo. "Like our restaurant concept, Lilly is all about community."
From the food to the decorations and ambience, this event captured the spirit of fun, family, and adventure that is present on every page of Life and Lilly. "There is nothing like family," says the author's cousin Chris Leidy, a successful underwater photographer. "I have traveled the world and seen beautiful places, but nothing measures up to Palm Beach. I am nostalgic, so my heart is with my family, and Palm Beach is a great place to raise mine. It's all here."
Facebook Comments