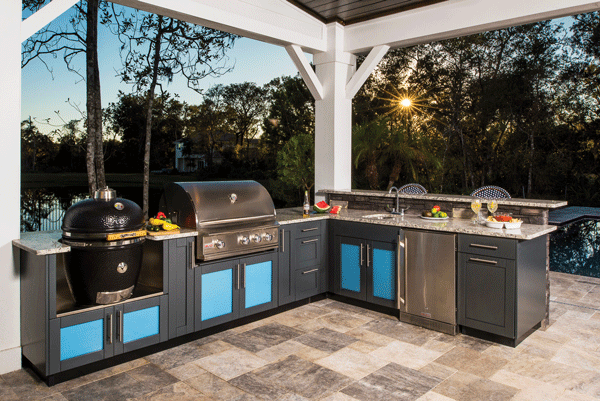 It's an entertaining inevitability that party guests end up in the kitchen. But today's hosts are changing the game by moving the kitchen—and party—outside. These culinary spaces have become a mainstay in high-end South Florida homes, with designs that strike a balance between style and functionality. Here, Jeffrey Klein of Outdoor Kitchen Store shares what it takes to create the ultimate alfresco kitchen. (West Palm Beach,outdoorkitchenstores.com)
PBI: What are some current must-haves for outdoor kitchens?
Klein: Perhaps the most standard must-have is a sear zone burner in the grill, which gives grill masters the fire power they need to grill a steak just like at a high-end restaurant. If there is room, I always promote having a built-in trash drawer so a client doesn't need a garbage can on their patio, ruining the luster of their beautiful new outdoor kitchen. Finally, chef-caliber large sinks (often with garbage disposals) that have high faucets, extendable spray heads, and built-in soap dispensers round out the perfectly appointed outdoor kitchen while keeping it neat and orderly.
What are the most popular appliances for outdoor kitchens right now?
The most popular specialty appliance amongst our clients is a teppanyaki grill, which is a 30-inch grill with a nonstick griddle cooking surface popular for making breakfast for many or Japanese-style grilled food. Coming in second is a power burner, which is a 24-inch burner with very high BTU output used for lobster boils and ethnic-style cooking that uses large-volume, 20- to 80-quart stock pots.
Within the past year or so, the under-counter, double-drawer outdoor refrigerator has become all the rage. Instead of opening up the entire refrigerator with a vertical door and stooping down to see or reach in to get your beverages or foods, you can open just half of the refrigerator with one of two drawers, immediately see all of your products, and pick them out with just a slight bend.
Also in growing demand are True Residential beverage centers, which can come with either a solid stainless-steel door, matching kitchen cabinet panel, or—my favorite—the glass door front to show off the colored interior lights, adjustable glass shelves, and two built-in wine racks at the bottom. All have digital control platforms yielding optimum refrigeration performance.
What trends are you seeing in outdoor countertop surfaces?
We have predominantly used granite [because] it holds up in our South Florida climate, and when its viewable surfaces are polished (versus honed), they resist staining. It is also relatively easy to fabricate and install. Moving up in high style and expense is quartzite. This is not to be confused with quartz, the interior kitchen material whose warranty is voided if used outside because the sun will cause it to fade and its surface may oxidize. The exception is a relatively new product called Dekton, which overcomes those shortcomings with a rainbow of colors and consistency of patterns for use both indoors and outdoors.
What are your thoughts on seating for an outdoor kitchen area?
Except for where there is going to be integrated bar seating, that is more of a casual furniture discussion based primarily on available space in or around the outdoor kitchen. However, in South Florida, both the outdoor kitchen and casual furniture should have some cover over them, such as a louvered pergola, to provide shade and weather protection—otherwise spending time there, especially in the summer months, will be very uncomfortable and wet. And, don't forget a lighting plan for this space and perhaps even a ceiling fan or two.
What elements do you feel aren't worth the cost and/or space?
I always counsel against outdoor under-counter ice machines because they are very expensive and prone to breaking down, especially in our South Florida climate. If clients want an ice machine, I recommend a small commercial unit at a third of the price to put in their garage. Another request I'm not keen about is for a warming drawer. They are very expensive for what they do, take up a great deal of space, and in Florida they cannot be positioned below the grill as it would block front access to the gas shut-off valve. If someone regularly served complex grilled meals to multitudes, however, it may be worth it to them.
Facebook Comments