Photos courtesy of RM Sotheby's
They were the dream machines of the Hollywood elite. The preferred rides of Gable and Garbo, of Hughes and Hearst. They decorated the driveways of Newport summer cottages and Palm Beach winter mansions. They were huge, shiny, Art Deco masterpieces painted in two-tone pastels with purring V-12s and V-16s under their long hoods.
In the 1930s, those who'd weathered the Depression or been immune to its crippling effects spent their money on American beauties. Maybe a mighty Duesenberg or Packard outfitted with a custom body by Murphy, Derham, or Bohman & Schwartz. Or, perhaps, a sleek Cord, a luxurious Pierce-Arrow, or even a rakish Auburn Speedster with its boat-tail rump.
These were unfiltered symbols of wealth in extremis that no Rolls-Royce or Bentley of the time could come close to matching. They defined the expression, "If you've got it, flaunt it."
Today, these are the coveted cars of wealthy collectors the world over. On the limited occasions they cross the auction block or trade hands after hushed conversations, they can fetch millions. A rare 1931 Duesenberg Model J, for example, sold in 2011 for $10.3 million. Here, we present a few of our favorites.
---
1932 PACKARD TWIN SIX COUPE ROADSTER
Recently sold for: $1.21 million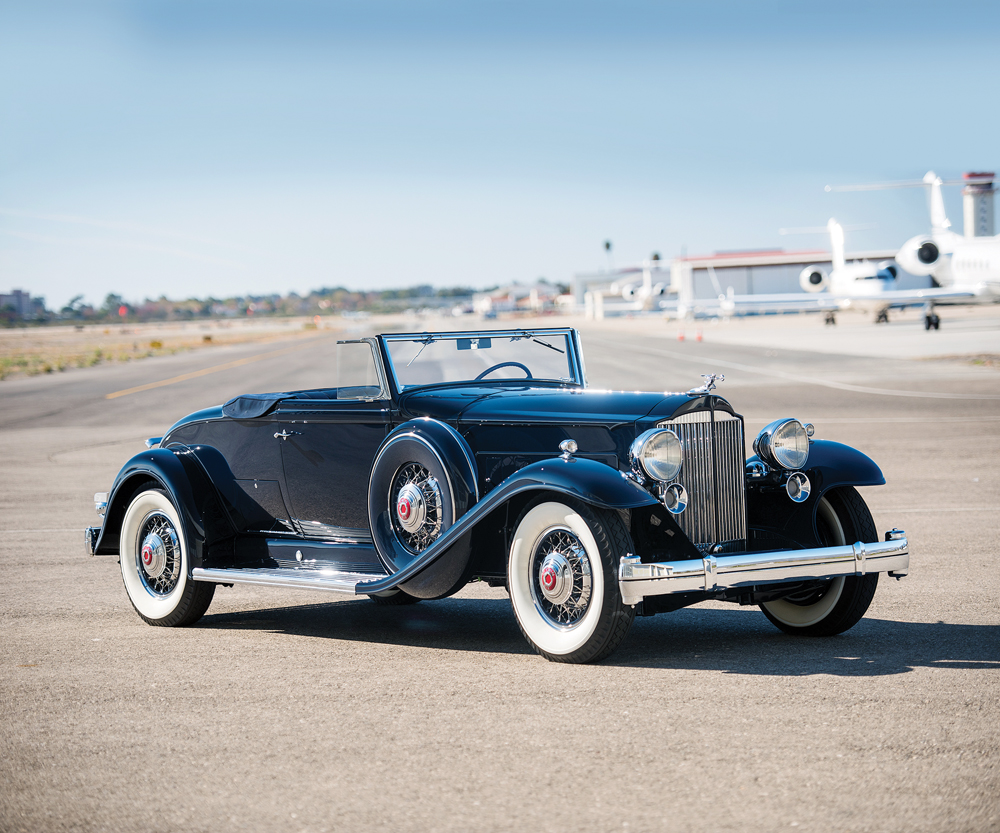 Imagine Hollywood superstar Clark Gable cruising, top down, along the Pacific Coast Highway north out of L.A. for a weekend in Santa Barbara. He's behind the wheel of his beloved V-12 Packard Twin Six Coupe Roadster, also famously known as the Gable Twin Six.
Gable reportedly bought the car new in November 1932 and kept it for a couple years before trading it for the latest Packard Runabout Speedster. A studio publicity shot from the same era shows the mustachioed heartthrob leaning nonchalantly on the car's curvy bodywork.
The Twin Six was all about languid performance, powered by a Teflon-smooth, 160-horsepower Packard V-12 coupled to a three-speed manual transmission. It sported classy, two-door Bohman & Schwartz body work with that trademark upright Packard grille adorned with the company's Goddess of Speed mascot.
Despite its Hollywood provenance, Gable's Packard slowly deteriorated. In the late '50s, it was discovered in a backyard in Greenfield, California, where a Packard collector paid the owner $75 to tow it away. Following a full restoration, it sold for about $1 million more at the 2016 Amelia Island RM Sotheby's auction.
---
1935 AUBURN EIGHT SUPERCHARGED SPEEDSTER
Recently sold for: $715,000
Conjure the image of a true Hollywood movie star's car and chances are the Auburn Speedster comes to mind. Its elegant sweeps and swoops, low-cut split windshield, and pinched boat-tail rear ooze celebrity style.
The car, created by Auburn's legendary chief designer Gordon Buehrig, was an instant hit among Hollywood's young guns, who were undoubtedly thrilled to discover its good looks came coupled with breathtaking performance. This was the sportiest and fastest of all Auburns. Its straight-8 engine, supercharged by a Schwitzer-Cummins centrifugal blower, made it easy to top 100 mph on Palm Springs' flat desert roads.
But it was the car's distinctive rear, with its upturned bow-of-a-boat lines, that set it apart from the crowd. It was truly a stunning shape and a sensation in 1935.
Sadly, the car was only built for two years. In 1937, Auburn, along with its co-brands Duesenberg and Cord, went out of business.
---
1931 DUESENBERG MODEL J TOURSTER BY DERHAM
Recently sold for: $1.32 million
It was described as "The World's Finest Motor Car." The Duesenberg Model J, with its towering four-door body and twin, dual-cowl windshields, was the ride of choice for Mae West, Tyrone Power, the Duke of Windsor, and Al Capone.
Most Duesys came out of the Indianapolis factory as a rolling chassis without bodywork. Then, depending on the buyer's styling preferences, it was dispatched to an independent coachbuilder who would wrap it in glamourous sheet metal.
This particular Model J is one of the rarest and most collectible. In 1931, Duesenberg's master stylist Gordon Beuhrig (who later joined the Auburn Automobile Co.) sent his drawings to the Derham Body Co. of Rosemont, Pennsylvania, for the car to be built. Only eight Toursters (a cross between Tourer and Roadster) were made.
---
1934 PIERCE-ARROW TWELVE CONVERTIBLE COUPE ROADSTER
Recently sold for: $297,000
Is it a convertible? Is it a coupe? Is it a roadster? No, this 1934 Pierce-Arrow drop-top two-door is actually all three. Confused? So are we. But two-seater tourers from the '30s don't come prettier than this.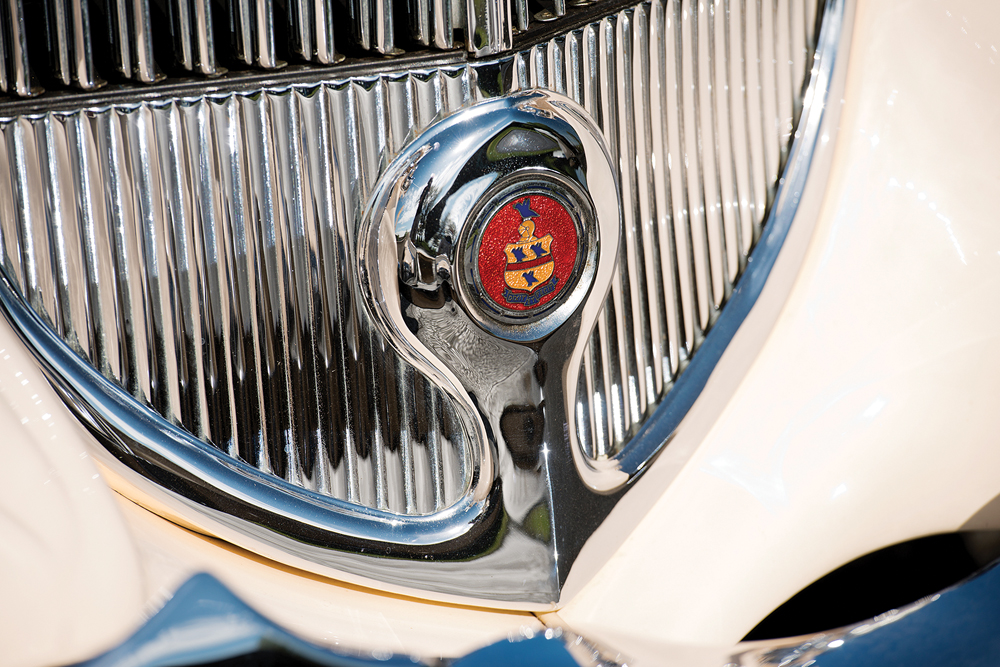 Pierce-Arrow dates back to 1865, when it was best-known for its gilded birdcages. The Buffalo, New York company traded cages for cars, eventually building its first in 1901. Then, in 1914, it introduced its most enduring style feature: headlights mounted on top of the front fenders rather than on the sides of the grille.
The 1934 Twelve CCR was powered by a silky V-12 producing 175 horses. Just how quick was it? The previous year, a slightly modified version of the car set 79 world records when it was driven at the Bonneville Salt Flats for 25 straight hours, averaging 117 mph over 3,000 miles.
Only six Twelve CCRs survived driving like that. In 2015, this 1934 edition was fully restored and sold at auction for $297,000.
---
1932 Lincoln KB Dual-Windshield Phaeton by Brunn
Recently sold for: $319,000
In the early '30s, those who had money and were in the market for a new car often received invitations to one of the Salon Exhibitions of Fine Automobiles that visited major cities. Those in attendance at the 1932 Salon saw four custom models from Lincoln, and the KB Phaeton was arguably the most magnificent. Its special twin-windshield bodywork came courtesy of Brunn & Co. in Buffalo, New York, Edsel Ford's favorite coachbuilder.
This car was known for its crazy, 45-degree rake and the low height of its front and rear windshields. Combined, these elements gave the impression the car was zooming along at 100 mph while standing still. And zoom it did, thanks to its massive Lincoln V-12 engine that produced more muscly torque than a Peterbilt 18-wheeler.
While this example fell into disrepair (with much of the body being removed), it was finally rescued by William Ruger Jr. (of the famous gun-making family) who spent a fortune to have it restored. His efforts were rewarded with a Best in Class title at the 2003 Pebble Beach Concours d'Elegance.
---
1930 Cord L-29 Cabriolet
Recently sold for: $187,000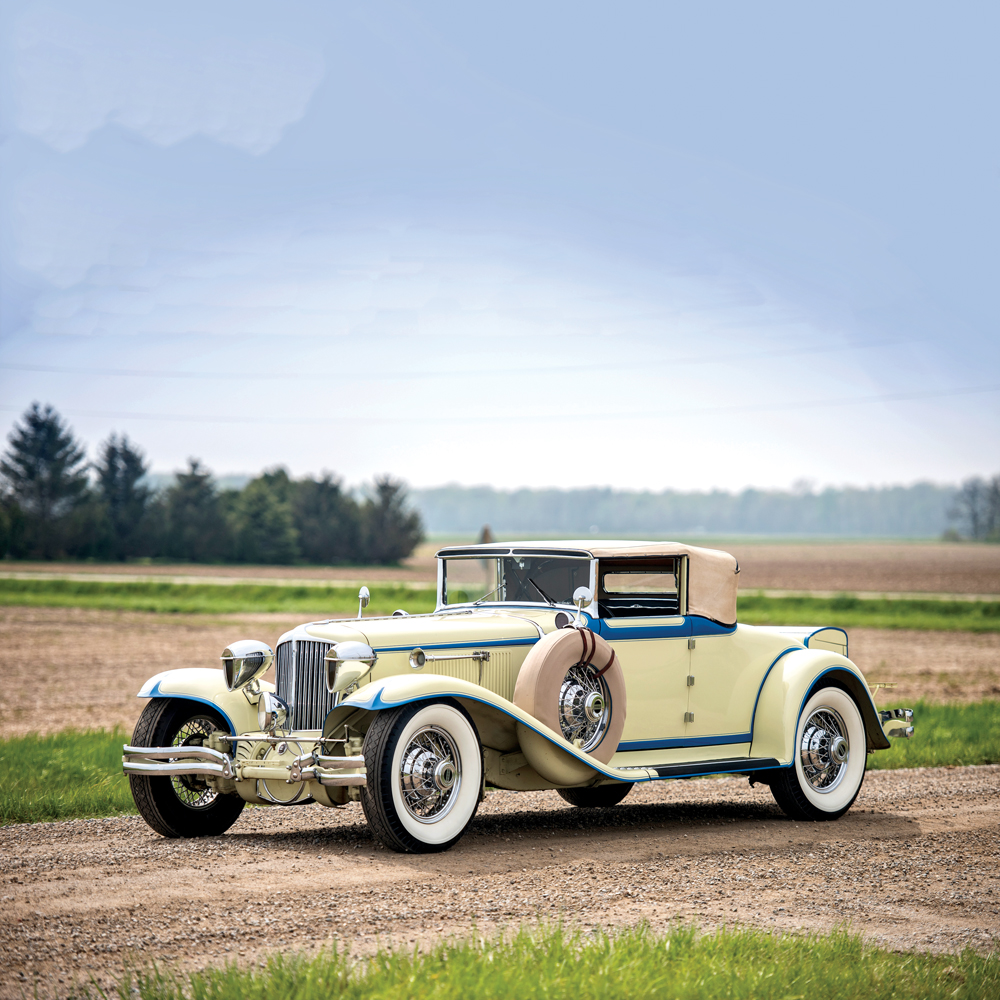 Errett Lobban Cord—E.L. to his friends—was an automobile empire-builder extraordinaire. By the mid-1930s, he owned the Cord Motor Co., as well as both Duesenberg and Auburn. While he was a brilliant engineer, a financial expert he was not. By 1937, all three companies had gone bust.
The Cord L-29 Cabriolet, released in 1930, was Cord's showstopper. This front wheel drive, straight-8 convertible could spin heads along every inch of the Sunset Boulevard.
View it in profile and it stands prouder than a soldier at Buckingham Palace. Its vertical grille, windshield, and door openings exude a distinct upright quality that would further shame the Queen's Guard. Only the sweeping fenders, rounded hood, and peculiar headlights offer some visual relief. But this glorious white-and-blue example, which was loved by just one owner for 69 years, looks spectacular from all angles.
---
1931 Cadillac V-12 Phaeton by Fisher
Recently sold for: $170,500
Back when Cadillac truly was the "Standard of the World," it added a silent-running V-12 to its five-passenger Phaeton body, adorned it with acres of chrome, and watched the orders roll in.
By all accounts it was a lovely car to drive, with nimble handling, a spritely performance, and a sumptuous ride. Mechanical drum brakes at each wheel, however, made stopping in a hurry a nail-biting affair.
The 1931 model was all about style and grace. By 1928, design pioneer Harley Earl was heading up GM's fabled Art and Color Division (shorthand for the styling department). His finesse is evident in the V-12's flowing fenders and prominent chrome grille. Today, the V-12 and its unique look make a wonderful entry into '30s classic car collecting.
Facebook Comments