Inside the curved white gates of Miarella, the nearly 55-acre Wellington polo farm of Michael and Paula Bickford, there is a tranquility that seems to slow time. Out here, the four lanes of noisy traffic and strip malls have given way to stretches of manicured, fenced-in fields intersected by dirt roads, occasionally traversed by a lone horse and rider. Nothing appears hurried, providing peace of mind to fully appreciate the expansive beauty of nature.
Michael, a high-profile global real estate investor who has played polo all his life,  developed the farm to become the U.S. headquarters of La Indiana, the high-goal team he founded in 2013. Originally separate parcels, the vacant land was transformed into a polo operation through a joint effort: Michael planned the layout and functionality of the clubhouse, stables, apartments, and polo fields, while Paula, a designer and businesswoman, was responsible for the interior design. The result, completed in 2018, is a gorgeous combination of form and function.
"The way the property is designed, it's quite versatile for any equestrian sport, not just polo," Paula notes. "All materials are well thought-out for the animals." For example, the paths among the stables have the appearance of brick but are made of dense rubber, which is easier on the horses' joints.
The property's rectangular layout includes grooms' quarters and two three-bedroom apartments at one end, and a clubhouse and office at the other. Connecting the two are 64 stables, arranged in straight rows on either side, with a center loggia for entertaining. Each of the four players on the team has his own "wing," Paula explains, with stables for his horses and private tack and feed rooms. Tack rooms, where riding equipment is stored and displayed, are both functional and stylish. Polo mallets, saddles, and bridles line the mahogany-paneled walls, and leather club chairs offer a comfortable spot to relax before or after practice. "This is their favorite place to be," Paula says.
Equestrian roots run deep in both sides of the family. Born in Greenwich, Connecticut, Michael plays polo with La Indiana on an international stage. He has competed in numerous high-goal tournaments around the world and has won many, including the prestigious Queen's Cup in England. Paula is from São Paulo, Brazil, where she competed in equestrian show-jumping events. She is now a dressage rider and a partner in her family's cattle farms in Latin America. "My family has always been in horses," she says.
When she met Michael—a private equity fund manager with his own firm, Round Hill Capital—in London, Paula was a burgeoning fashion designer and financial trader specializing in sugar. The couple and their young children now live in Palm Beach, where Paula maintains her eponymous interior design firm and is also CEO of Mayfield Holdings, their family office. Her expertise in interior design allows her to put her stamp on the properties they own around the world.
For Paula, the design process begins with a mood board, but the creative muse doesn't appear through photos of furnishings, scraps of wallpaper, or fabric. Instead, she envisions how people will feel when they enter a room. "I might have a picture of the ocean, the beach, or a horse—literally just the mood." From there, she relies on what she knows. "My design style comes from my roots. I use a lot of Brazilian materials to give the decor my footprint," she says. "I love playing with textures and different proportions, and I always use natural fibers. My favorite fabric, whether in clothing or home decor, is linen."
When designing, she honors the architectural style and materials of the location and climate. For example, Miarella (a riff on their daughters' names) is faithful to the British West Indies style. "I consider the style to be very appropriate for an equestrian property in Wellington," she says. "It's a tribute to the simple elegance of equestrian life and the regal aspect of polo."
One of the hallmarks of Paula's interiors is a fastidious attention to every detail and finish. Whether designing an entire equestrian facility or a single room, she engineers every corner to its best use. The small things, she believes, are especially important in good design. "Details like hinges, doorknobs—the things that most people don't pay attention to—are what distinguish a beautiful space," she says. "You don't know exactly what it is that feels good about a room, but it's those details."
Paula's penchant for quality, symmetry, and simplicity are evident throughout Miarella, from the rows of royal palm trees standing at attention in front of the stables to the stunning black-and-white photos highlighting Michael's polo career gracing the walls of the clubhouse. Many of those photos were taken by Paula herself. "All the photos are of our own horses and team through the years," she says, adding that black and white complements the colors of the team. "It's a bit of a memory book."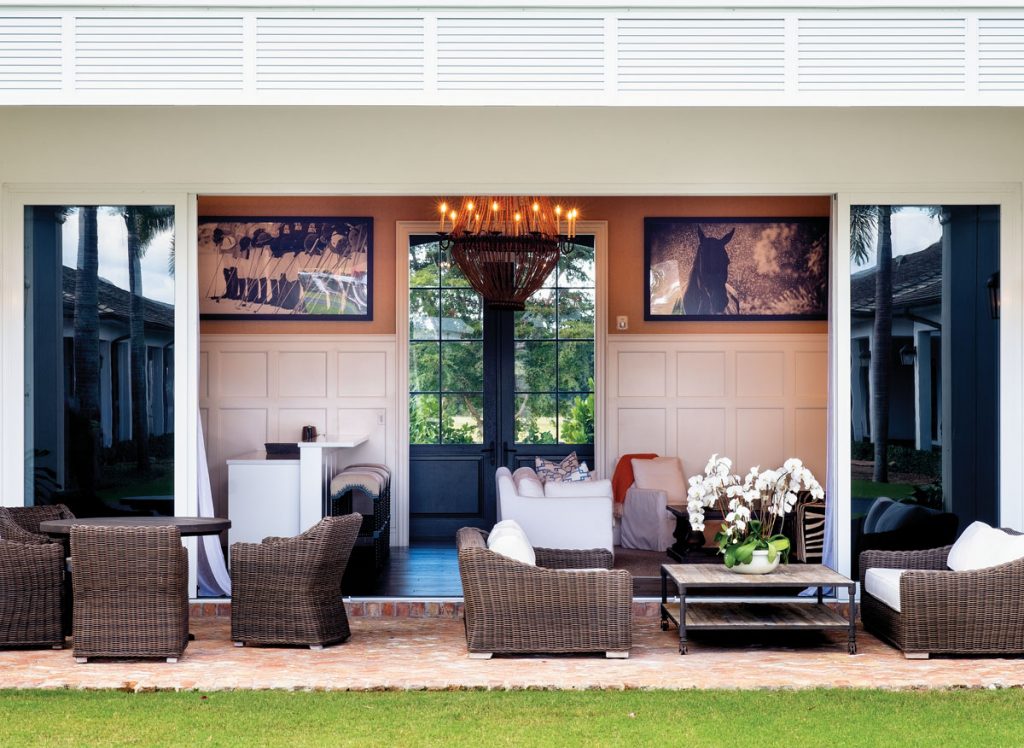 The clubhouse, a comfortable gathering place for the team, exudes the essence of West Indies decor. White millwork and sofas stand out against rich wood floors and beamed ceilings, while splashes of blue, green, and orange brighten materials such as mahogany and leather. The accents of color are "elegant and subdued," Paula notes. "A brighter note is needed to soften the masculine edge."
Outside the clubhouse, an expansive patio invites relaxed socializing. A few yards away, an outdoor kitchen with a parilla (a traditional Argentine grill), along with three long tables, await under a bougainvillea-covered pergola. "We like to have asados here," Paula says, referring to the traditional Argentine barbecue featuring a variety of meats cooked over an open fire. In this idyllic setting, the Bickfords have hosted guests from near and far. "I love bringing my Palm Beach friends here and having dinner under the moonlight," she says.
When not entertaining or working, Paula enjoys retreating to Miarella to ride her horse, Copita, along the trails around their property. "We love spending time at the farm with our children and riding as a family," she says. "The property is very versatile, and we enjoy being so close to nature and the horses. Here, we feel free." 
Facebook Comments