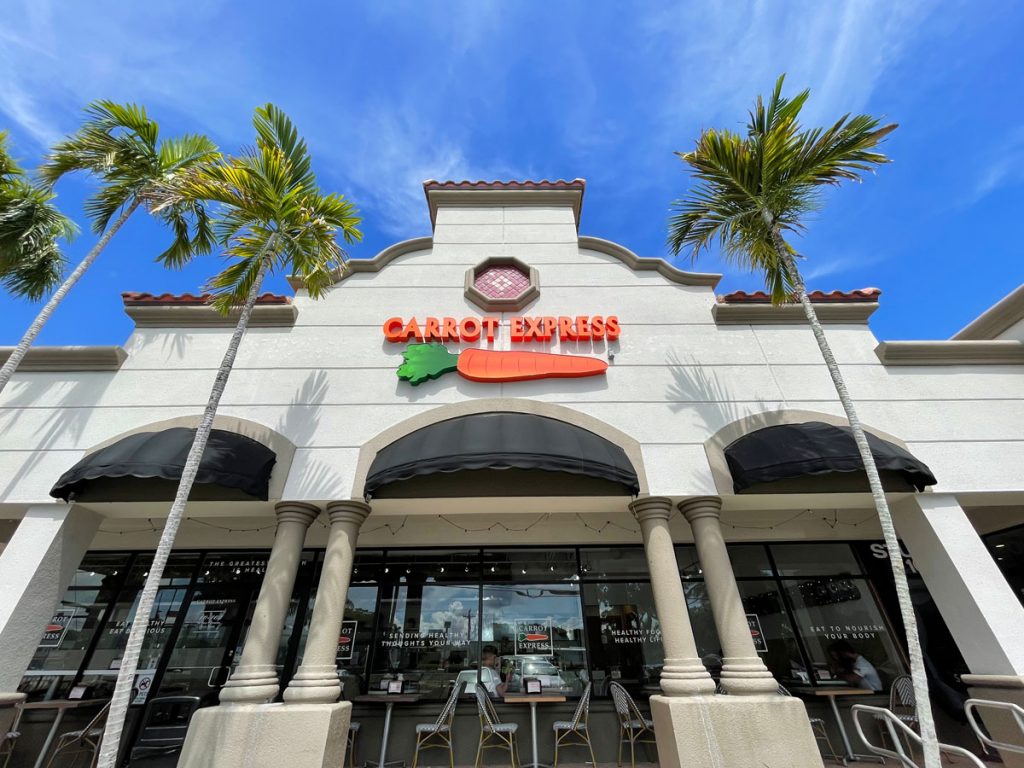 Carrot Express may have been born in a gas station, but this is no junk food pitstop. Founder Mario Laufer got a humble start when he began serving his ingredients-focused meals from the inside of a gas station on Alton Road in South Beach, but the buzz soon spread—and he's now on his eighth location.
Opened in April, the Boca Raton outpost of this popular Miami-based healthy eatery has 1,700 square feet of indoor and outdoor seating. A massive menu of nutrition-packed meals is offered in fast-casual style, so it's easy to sit down for a quick meal or take it on the go (as cardio-killers from next-door Orange Theory often do).
The restaurant can cater to almost every kind of dietary restriction, and the menu has everything from avocado toast to spinach pies to, of course, salads, smoothies, bowls, wraps, and fresh-pressed juices. There's even a vegan picadillo bowl.
All dishes are packed with nutritionally dense ingredients focused on bright flavor, color, and variety—the kind of food you feel radiant after consuming. There are lean meats as well as salmon, mahi-mahi, tuna, and plant-based options (the red quinoa burger is to-die-for).
Sure, you're here to eat healthy, but don't pass up a slice of the signature carrot cake—moist, memorable, and packed with fresh carrots, the sweet treat almost feels as healthy and nourishing as the rest of your meal.
Or, if you're more the chocolate shake type, Lily's Shake (made with dates, cacao nibs, banana, and homemade cashew milk) will hit the spot without derailing your clean-eats plans.
Carrot Express Boca Raton is located at 10 East Palmetto Park Road, Unit 102. For more information, visit eatcarrotexpress.com.
Facebook Comments