Walking from The Colony's playful pink lobby, with its pagoda-framed fireplace and bespoke de Gournay wallpaper of cavorting monkeys and bejeweled panthers, it's just a few steps to cross Hammon Avenue, the hotel's home since 1947. There, tucked in a hedge, an unassuming gate leads to a shaded path and the pecky cypress front door of Villa Jasmine. But it feels miles away from the posh Palm Beach "Pink Paradise" hotel you've just left.
That's by design. When Sarah Wetenhall, president and CEO of The Colony, wanted to reimagine the seven apartment-style "villas" located in the hotel's historic Casa Mañana founders' residence, she envisioned spaces that felt just as welcoming as the main building, but differed from its fanciful aesthetic.
For the Aerin Villa Jasmine, a 2,200-square-foot ground floor apartment, that meant partnering with another of Palm Beach's power players: Aerin Lauder, the granddaughter of cosmetics trail-blazer and longtime Palm Beacher Estée Lauder, and a beauty and design icon herself with a namesake lifestyle brand, Aerin.
"It was a desire to offer a palette in which different Palm Beach personalities could express their interpretation of what Palm Beach style and design looks like," Wetenhall says of the Casa Mañana villas. "When people ask me what makes Palm Beach style different from the Hamptons or Nantucket, it's that sense of whimsy, and I think Aerin gets that to a T. There's an ethereal quality to the island, but she can appreciate it without taking it too seriously. And that's a big part of The Colony's appeal. I'm blessed to be the steward of a giant pink building!"
For her part, Lauder says she was excited to join in The Colony's latest design refreshments, which began in 2017, shortly after Sarah and her husband, Andrew, purchased the hotel. It was a homecoming of sorts for all of them.
Lauder remembers how her grandparents, Estée and Joseph, loved going to The Colony for dinner and parties. There's a framed black-and-white photo of them hanging in the hotel, smiling with friends and bedecked in costumes for a 1972 soiree.
"We were approached to work with The Colony and, as you know, I love Palm Beach," says Lauder. "Estée first started [coming here] in 1937, so it's always been very special to us as a family. I was honored, and it was a wonderful partnership."
For the Wetenhalls, The Colony is a family legacy. Andrew's father, Bob, was a partner in the hotel from 1969 to the late 1990s, and he still maintains a penthouse residence there. When the opportunity to bring it back into the family arose, Sarah and Andrew jumped.
"We had so many memories of sitting by the hotel pool, saying, 'Gosh, only if,'" Sarah says, reminiscing on family visits to The Colony before the purchase. "We felt the shine had come off the jewel. Our decision [to buy] was rooted in a love for Palm Beach, that island ethos that we all know and understand intrinsically. It was without a doubt the right choice." Since buying the hotel, the Wetenhalls have completed a number of projects in partnership with Mimi McMakin and Celerie Kemble of Kemble Interiors. The lobby refresh, managed by Shapiro Pertnoy Companies, included the three-dimensional pagoda, hand-painted wallpaper, and a gleaming restoration of the original black terrazzo flooring. The ballroom and other public spaces received makeovers, as well.
In early 2020, the Wetenhalls teamed up with Robert Caravaggi, original owner of the now-closed New York social hot spot Swifty's, to turn the hotel's restaurant into a pop-up version of the intimate dining experience with a tropical twist. The concept stayed around this year with both indoor dining and alfresco service by the pool.
The celebrity design collabs are continuing in the villas. Along with Lauder's touch on Villa Jasmine, Kemble Interiors designed Villa Poinciana, while sisters Beth Aschenbach and Danielle Norcross, the team behind popular lifestyle blog Palm Beach Lately, partnered with Cali-chic decor brand Serena & Lily for the Sisters' Suite villa. With help from Kemble Interiors, Wetenhall herself remodeled Villa Bougainvillea, often referred to as the Owners' Villa, with its private terrace and courtyard boasting a historic circa-1929 fountain. Another villa will soon receive a high-end touch, this time by L.A.-based designer Mark D. Sikes, who is known for his timeless blue-and-white palettes and his design credo to "make it beautiful."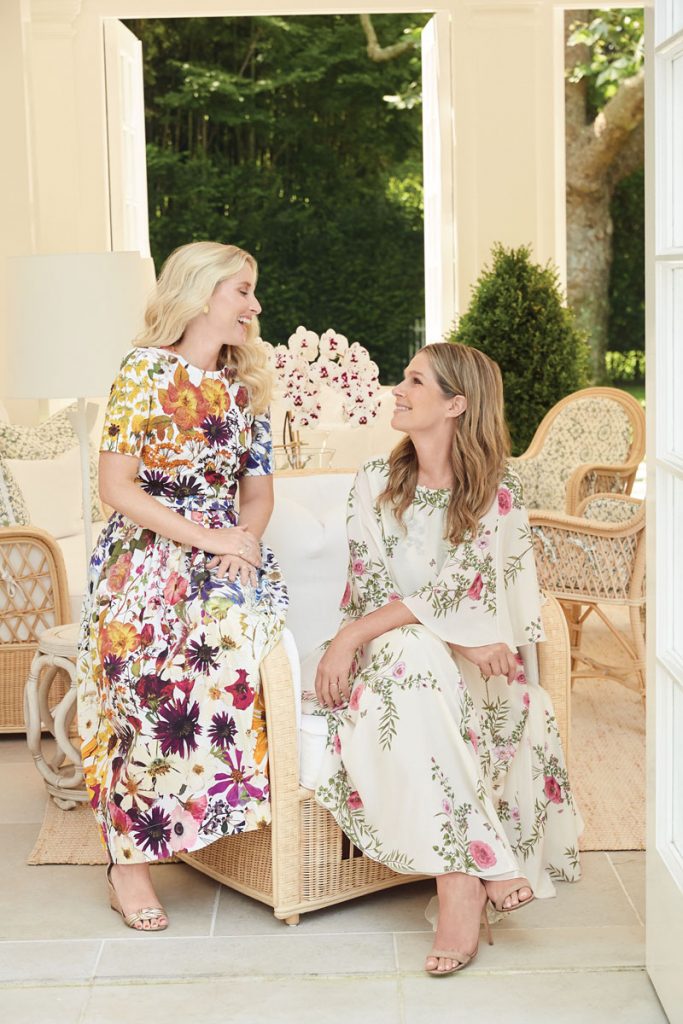 In designing Villa Jasmine, Lauder also set out to make it beautiful while creating an immediately welcoming space reminiscent of her friend Kelly Klein's Palm Beach home, designed with David Piscuskas of 1100 Architect.
"Her style and sensibility are so beautiful, and I love the simplicity of her home—light wood furniture, white cushions, really clean, and pure," explains Lauder. "You can really enjoy the flowers, the palms, the beauty of the environment. I wanted the villa to feel effortless, tropical, inviting.
"With every project we work on, we always have a beautiful vestibule with wonderful light fixtures, a console, fresh-cut palms, or flowers. At Villa Jasmine you have a straw console, palms in a pretty vase. It has this wonderful, inviting, homey feel and that's what we wanted." Lauder adds that she used fabric by the British company Colefax & Fowler on the curtains for "whimsy and fun that's still modern and fresh."
Other touches in the two-bedroom, two-bath villa are from the Aerin line, such as faux-shagreen serving pieces, raffia candle sleeves, and lighting that evokes organic, natural elements. These blend seamlessly with the 1929 structure's cypress beams, terracotta flooring, and arched windows to simultaneously pay homage to old Palm Beach and speak to more modern island aesthetics.
There is more to come for The Colony property and Wetenhall and Lauder's partnership. The pair will collaborate again to decorate the lobby for the holidays. And both women shared how they used the time afforded by pandemic business disruptions to tackle new creative projects, exploring what their clients will want and need as travel and retail landscapes react and evolve.
A new green version of Lauder's popular Paulette entertaining collection is now available, and this spring, she will launch a bridge set inspired by one her grandmother owned. As people have spent more time at home, games, serving pieces, and scented candles have been top sellers at Aerin, so those will remain a focus as families enjoy new routines of being together.
Lauder notes that she was delighted to partner with Colefax & Fowler on a line of travel bags in Eloise (a white fabric with green and gray flowers) that debuted at Aerin in October. And she's especially excited about her latest book with Assouline on Estée's life, which she co-wrote with her sister, Jane, and was produced completely through Zoom meetings. Estée Lauder: A Beautiful Life will be released this month.
"What gave me the green light to start the Aerin brand almost 10 years ago was Estée's dream and following the passion in your heart," says Lauder of her grandmother, who passed away in 2004. "Her vision gave me the courage to do it. And there's a lot of heritage
inspiration in our brand. She loved the idea of a fragrance 'wardrobe'—that you wouldn't wear the same fragrance to play tennis as you would to go to dinner. That's why we have 22 fragrances in our line. There's so much inspiration from the past but also a lot of newness."
And Estée's love of Palm Beach continues to inspire Lauder in her own life and work. "Palm Beach was her happy place," Lauder says. "The flowers and the beautiful colors and smells. It's a wonderful place to live, to bring up a family, to retire to. What's interesting is that even though Palm Beach is evolving, getting younger, and feeling very buzzy, there's a sense of tradition."
Come Fall 2022, The Colony plans to do a full decor renovation of all 79 guestrooms and suites, again in collaboration with Kemble Interiors. This effort will be in conjunction with further improvements to guest services, the beach program offerings, and other experiences throughout the property—all while keeping those Palm Beach traditions in mind.
Wetenhall says the past five years have been a whirlwind of growth as she's learned new things about herself and hospitality. Having shifted from a career in luxury public relations, she's discovered a more creative, visual side to herself while leading the hotel's transformation, inspired by her surroundings and the muse of The Colony herself.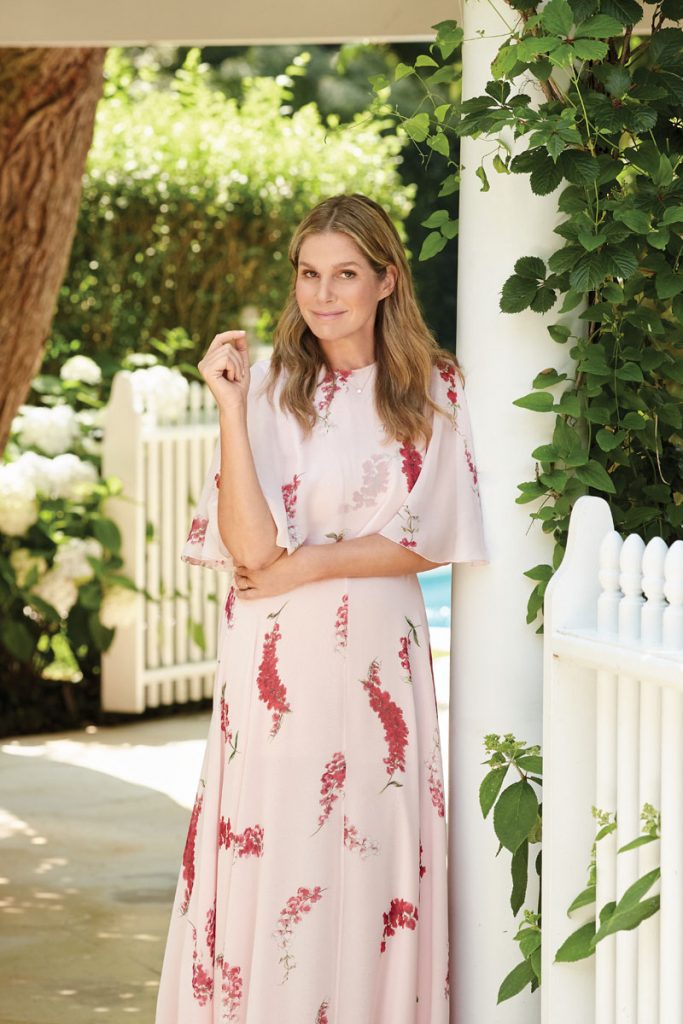 "Everyone who knows the property has an emotional attachment to it," says Wetenhall. "That's why we call The Colony a 'she.' It's like a person. We learned pretty quickly in our first year of ownership that the pace of change is not always as fast as you'd like, particularly at a historic property and in a town like Palm Beach, which is entrenched in all the best ways with generations of people who know and love it. Change has to be very organic and patient. You've got to look at who your guests are, talk to the town, and marry what people want and what the hotel needs. We want to lead her forward in a gentle and gracious fashion, honoring the past while catering to today's traveler."
Story Credits:
Portraits shot on location at the Lauder residence in East Hampton, New York
Aerin Lauder's wardrobe: Giambattista Valli
Hair and makeup: @AlexaRodulfo for T3 micro & La Mer Estée Lauder
Facebook Comments