When it comes to the leadership of local towns, villages, and cities, women in the Palm Beaches have broken the glass ceiling. Here, we profile three of the county's female mayors, all of whom share a forward-thinking vision, camaraderie with one another, and enthusiasm for those who will serve next.
Tradition in a New Age
Danielle Hickox Moore took the helm of the Town of Palm Beach in 2021, following half a dozen years on the town council and involvement with town commissions before that—but her roots run even deeper. A Palm Beach native, Moore's mother, Lesly Smith, was mayor from 2000 to 2005 and her stepfather, Earl E.T. Smith, was mayor from 1971 to 1977. "I think it's an amazing legacy," Moore says. 
While Moore acknowledges that these times are different—citing how social media has changed the game for those in leadership—she also believes that Palm Beach has a unique heritage of strong women serving on the town council. She says that the women she's worked with on the council and various commissions are thoughtful, tenacious, and "know how to stick to their guns and move things forward once they've made up their minds."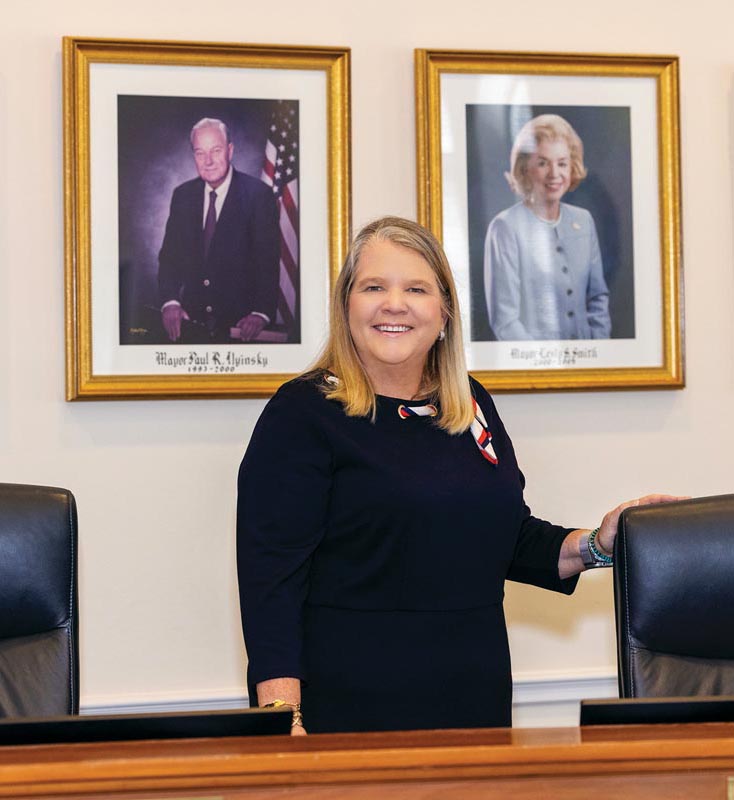 She encourages all residents, especially young people, to make a difference where they live, by serving on a commission or with a civic organization like the Town of Palm Beach United Way. "Some people wouldn't think they have the expertise to serve, but there is always a way to get involved," she says.
Moore isn't sure if her daughters, ages 13 and 14, will follow in her footsteps since they currently find her job "boring," even if Moore assures that it's not. "I absolutely love my job [and] love meeting new people," she says. "There's always a time [when] new ideas and new perspectives come to the forefront." Such ideas that she's worked on include building the new town marina, transitioning utility lines underground, addressing retirement funding for town employees, and updating the town's building code.   
For future leaders, common sense is "a good attribute to have," Moore says. "And a little Teflon on your skin doesn't hurt."
Making Connections
If you're going to run for a local office, know your community, says Anne Gerwig, who has served as mayor of Wellington since 2016. "The No. 1 quality of a good leader is to be connected to the community."
Gerwig forged her connections through her three now-grown children—in playgroups, as a school volunteer, and helping to build new parks. She first served on the village council in 2010 and has lived in Wellington for 34 years, growing up near West Palm Beach, where horses pastured behind her house. "I think I was born to be the mayor of Wellington," she quips. 
Education has long been a priority for Gerwig. She has been involved in implementing programs at Wellington and Palm Beach Central high schools, including a mock village council for senior government students and a summer internship program to mentor rising seniors, helping them to become workforce ready. One of her most memorable moments was participating in Read for the Record, a competition among other city councils to read aloud to as many school children as possible. She recalls one instance when, after she was introduced to a classroom of kindergartners, a student exclaimed, "My mayor is a girl!" 
As a female mayor, Gerwig does believe that women in power are held to a different standard than their male counterparts. "We have to walk a fine line," she notes. "If you're too kind you can be viewed as weak. But kindness isn't a weakness. It's a strength."
Gerwig encourages everyone to find a place to get involved. "There are tons of opportunities to volunteer, even if you don't want to run for office," she says. Don't rule that possibility out, however. "If I can do it, you can too." 
Passing the Baton
As a dedicated runner, Palm Beach Gardens Mayor Chelsea Reed knows you can accomplish more working together than you can on your own. In May, she completed her seventh Keys100, a race stretching from Marathon to Key West, in which she and five friends each ran a portion to reach the finish line. 
For Reed, running is a way to maintain her work-life balance, but it also gives her "a clearer view of every pothole and sidewalk," says the lifelong local and mother of two sons. "There's nothing like knowing a place by seeing it on your own two feet."
Currently, Palm Beach Gardens is redeveloping its urban core with an eye toward reducing emissions, decreasing car dependency, and increasing safety for all ages and modes of transportation. Reed's goal is to "build a 15-minute city," wherein most necessities and services are reachable within a 15-minute walk or bike ride from any point in that urban core. Housing plays into this, and city officials are looking to bring in residential options with built-in retail and dining; they're also devoting 10 percent of new plans to workforce housing. 
But more than addressing mobility, housing, and environmental concerns, Reed considers herself a fierce advocate and mentor, noting that young women need more encouragement from peers. "For a woman to run for office, they need to be asked seven times," she says. "Know how many times a man needs to be asked? Zero." 
 She mentors aspiring elected officials, women in business, professionals going through career changes, and high-school students; in the last group, she frequently notices a sense of inadequacy within the girls she encounters. "My advice to them is to be 100 percent authentic all the time," she says. "You will go far with authenticity."
Collaboration is also a hallmark for Reed. As with relay running, leading a city is "so much more than one position," she concludes. "I'm a firm believer in lifting as you climb. I'm building the future of my hometown." 
Meet the Mayors
"It shouldn't be news that women are in leadership," says Palm Beach Gardens Mayor Chelsea Reed. "My No. 1 hope is that the fact that a mayor is female doesn't stand out." Of the 39 municipalities in Palm Beach County, 12 currently have women mayors—a trend that the mayors featured in this story believe is growing.
Delray Beach: Shelly Petrolia
Glen Ridge: Alice McLane
Highland Beach: Natasha Moore
Lake Worth Beach: Betty Resch
Lantana: Karen Lythgoe
Loxahatchee Groves: Laura Danowski
Palm Beach: Danielle Hickox Moore
Palm Beach Gardens: Chelsea Reed
Palm Springs: Bev Smith
South Palm Beach: Bernice "Bonnie" Fischer
Tequesta: Molly Young
Wellington: Anne Gerwig
Facebook Comments