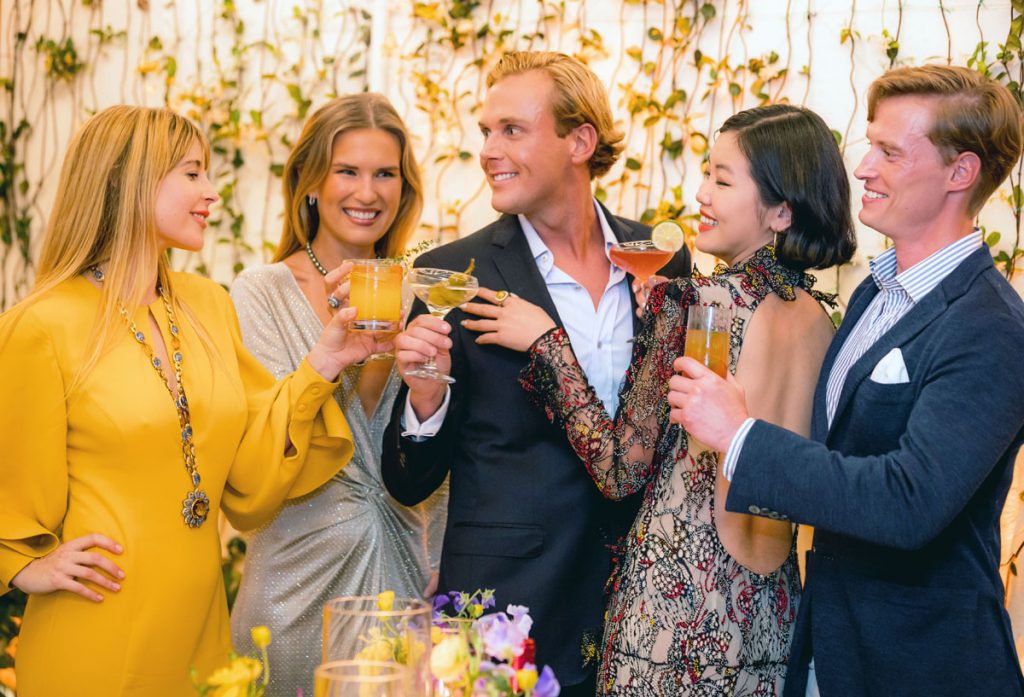 Millennials sometimes get a bad rap, but if there's one thing we understand, it's the holistic experience of dining—from an Instagrammable ambiance to the flavors and presentation of the food (yes, we're always going to snap a photo before we dig in). Here, a few of our favorite local millennials highlight their top picks for dining and drinking around town.
Michael Gregson Reinert
Known as "MGR" to his friends, Palm Beach resident Michael Gregson Reinert, 29, is involved in the fashion, hospitality, and design industries, and is the founder of consulting firm Reinert & Partners, which offers branding and marketing services. Beyond his penchant for fine food and drink, he lends his time to various local charities, including American Heart Association. He's one of the socially active young Palm Beachers known as "youthquakers." Follow him on Instagram @michaelgregsonreinert.
Instagram-worthy vibe:
Swifty's Pool
The outdoor tables are surrounded by a hanging garden with incredible flowers, plus there's poolside youthful energy—and tartare.
Favorite brunch spot:
Almond Palm Beach
Anyone who puts lobster in my omelet has my heart.
Coffee shop: Bluestone Lane
It's an iconic NYC coffee shop that opened a pop-up concept in Palm Beach at The Colony. Bluestone Lane's espresso beans are my favorite.
See-and-be-seen happy hour:
Imoto
The vibe is always sexy and youthful. I love the seaweed salad—it's the best miso dressing I've ever had.
Special occasion:
Fedco Pharmacy
I love going to Fedco Pharmacy and grabbing caviar from its probiotic fridge and a Champagne split for a beach picnic. So Palm Beach!
Power lunch:
Honor Bar
I don't eat red meat so while my guests are enjoying their massive Honor Bar burger, I can get my pitches out while enjoying the kale salad.
Quick stop: Coffee bar at Sant Ambroeus
I love the egg truffle sandwich.
Cheat meal: Le Bilboquet's famous Cajun chicken
Favorite hole-in-the-wall:
Brass Ring Pub
I love a salty dive bar, and this is an old Floridian bar and local staple. You see everything in the parking lot, from motorcycles to Mercedes with Everglades Club stickers.
Hidden gem: Blue Provence
I order sandwiches to go, paired with a classic Coca-Cola.
Neighborhood haunt:
Buccan
You always will find an old friend at Buccan. My favorite dish is the shaved brussel caesar.
Tiffany Faublas
Tiffany Faublas, 35, lives in Wellington and works as the marketing director of the West Palm Beach Downtown Development Authority. Originally from Brooklyn, Faublas moved to Palm Beach County in 2001 and has lived here since, save for a stint at the University of Central Florida. She is passionate about food, fitness, and culture, particularly the celebration of Carnival, an affinity she credits to her Trinidadian background. Follow her on Instagram @trinitiffy.
Instagram-worthy meal: Mac 'n' queso from Avocado Cantina
There's just something about a cheese pull that makes me revert back to being a kid. This one's made with five cheeses, and you won't regret diving into the majestic cheesy goodness.
Special occasion: Treehouse at Canopy by Hilton West Palm Beach
A nighttime view from the tallest rooftop in town is perfect for special occasions with a significant other, family, or friends. I especially love to dine at the cusp of sunset, overlooking downtown; it's perfect for a toast.
Grab and go:
Aioli
There's definitely a secret ingredient in Aioli's biscuits that makes them addictive. If it's early in the morning or if you need an afternoon boost, order the crack coffee.
Hidden gem: 215 Speakeasy
If you're looking for a bar with a little mystery, look no further than this secret bar that everyone knows, developed by Vincent Toscano. He knows exactly what you need without having to ask.
Cocktail of choice:
Rum old-fashioned at Proper Grit
Currently, only the Ben Trovato is listed on the menu, but trust me and request a rum old-fashioned.
Celebratory dinner: Elisabetta's in West Palm Beach
The newly opened location is impeccable. The rustic Italian style is quite romantic. I recommend reserving a gazebo for smaller parties as it is outdoors with a beautiful view and a sense of exclusive seating. Everything on the menu is made fresh and ready for sharing.
Island vibes: Mr. Mack's Island Grill
Mr. Mack's brings the Caribbean feeling I miss by serving up authentic Jamaican cuisine. Its signature jerk chicken is prepared in the outdoor grill; order it with peas and rice, hard dough bread, or steamed vegetables. The location is small, with not much indoor seating, but you can sit outside on the patio or hang around the grill for what we in the Caribbean call a "lime."
Alejandro Celis
West Palm Beach native and still a downtown resident today, Alejandro Celis, 34, is best known for co-founding Celis Produce and Crema Rolls, both of which have locations around the county—and cult followings. With roots in Medellín, Colombia, Celis is an avid home cook and also enjoys photography, biking, and running. Follow him on Instagram at @yomrcelis.
Newcomer to watch: Tropical Smokehouse
They might be new to the neighborhood, but the veteran behind the smoker knows exactly what he's doing. Order a lot and split it up among friends.
Favorite brunch spot:
Grato
Grato does a lot of things right and brunch is no exception. The breakfast pizza is my go-to, as well as the omelet, which changes regularly.
See-and-be-seen happy hour:
Spruzzo at The Ben
Views, views, and more views.
Special occasion:
Stage
Owners Pushkar Marathe and Andy Dugard not only make you feel at home but create an experience that's more than just a meal. I've celebrated birthdays here and taken my team for dinner. The osso buco is insane, and the chicken perri perri is stupid delicious.
Best place for a cheat meal:
La Fonda Sports Bar
I have to go back to my roots for this one—La Fonda has some very good Colombian food. I order the bandeja paisa, a traditional dish in Colombia. If you're not in the mood to eat three pounds of food, the churrasco is really good, too.
Brewery: Civil Society Brewing Co.
This has been my go-to place for years. Civil Society brews all its own beer and is constantly collaborating with other breweries. I'm a huge fan of the Beach Access and a sour called Grandma's Lemonade that is a must-have.
Hidden gem: Oceano Kitchen
Jeremy and Cindy Bearman are the brains behind this operation. Their food is creative and constantly changing because they create a new dinner menu every single day.
Neighborhood hangout:
Cholo Soy
Chef Clay Carnes doesn't have to go so hard all the time, but he does. I've been a regular here since it opened, so I've run through the menu multiple times. My go-tos are the pork belly tacos, the cholitas, and the steak tacos. The ceviche is always fresh and changes regularly.
Holland Smith Paterno
A fashion influencer and personal stylist, Holland Smith Paterno, 26, lives in Tequesta. In 2016, she launched Holland Smith Styling, a blog and styling business where she shares affordable fashion finds, styling tips, and everyday life in South Florida and offers personal shopping, closet rebuilds, and wardrobe makeovers. Follow her on Instagram at @hollandpaterno.
Local brew: Pumphouse Coffee Roasters
If you hate bad coffee, Pumphouse is your new best friend. These local brothers know what they're doing when it comes to roasting specialty brews.
See-and-be-seen happy hour:
Cucina
Cucina is the spot where everyone goes to let their hair down after a long day—and stays a little too long. What happens late-night at Cucina, stays at Cucina.
Celebratory dinner:
Beacon
An upscale dining experience with local charm, Beacon is part of the new Charlie & Joe's at Love Street, located in the heart of Jupiter overlooking the lighthouse.
Neighborhood coffee shop:
Perk Tequesta
Whether you're popping in for a coffee on the go or sitting down for brunch on Saturday morning, Perk is the perfect spot.
Best spot for a cheat day:
Jupiter Donuts
There's a reason there's always a line out the door!
Best music vibe:
Maxi's Lineup
Next door to Jupiter staple Food Shack, Maxi's Lineup has live music almost every night (and the same beloved menu). Get the tuna basil roll and the sweet potato–crusted fresh fish.
Favorite hole-in-the-wall:
Dune Dog
When you overindulged the night before, a basket of waffle fries and burger is the best cure. This small open-air spot in Jupiter has everything your hungover heart could desire. 
Hidden gem:
2 Vinez
Tucked away in a strip mall in Jupiter, 2 Vinez is the best sushi spot in town. The eclectic and cozy atmosphere makes you feel right at home.
By default:
Hog Snappers
When my husband and I aren't sure where we should go, we always end up at Hog Snappers. Great sushi, fresh fish, and cocktails—you can't go wrong!
Cocktail of choice: Spicy margarita at The Parched Pig
Go during happy hour for $2 oysters and a spicy margarita that will put all others to shame.
Brooke Aliapoulios
Brooke Aliapoulios, 25, built her marketing expertise working as the social media coordinator for LaunchPad Collective. A resident of Hypoluxo, she founded and runs The Social Resort, a boutique social media agency focused on marketing, brand aesthetics, and visual identities. Follow her on Instagram at @brookealiapoulios.
Most Instagrammable:
RH Rooftop
When you say Instagrammable, I think RH Rooftop. Luckily the food is just as delicious as the restaurant is beautiful.
Favorite brunch spot: Taru at the Sundy House
Dining in the tropical gardens is the perfect brunch setting.
Coffee shop: News and Gourmet at The Breakers
There's nothing better than an iced vanilla latte (don't forget the oat milk) from News and Gourmet. Sipping my iced latte on a lounge chair overlooking the garden…there are no better "coffee shop" views in Palm Beach County.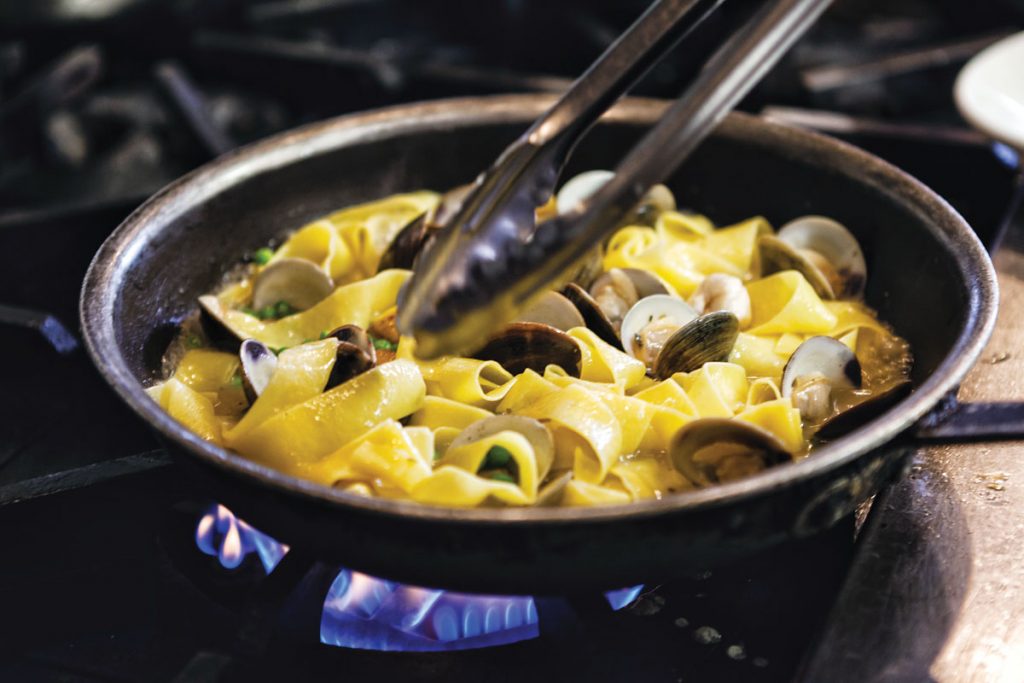 Special occasion:
Trattoria Romana
After honeymooning in Italy, I came back craving traditional Italian cuisine and found it here. You can enjoy a genuine Italian dining experience—imported cheeses, fresh veggies, homemade gnocchi, tiramisu—highlighted by Romanesque surroundings.
Grab and go: Celis Produce
Celis Produce is my go-to for a smoothie, acai bowl, or quick avo toast on the road. Not only is the food garden-fresh and delicious, but the team at Celis feels like family. They care for their customers so well.
Celebratory dinner: Lionfish Modern Coastal Cuisine
Nothing says "Let's celebrate!" like tableside hot rocks, East Coast oysters, a fresh catch, and tasty cocktails.
Hidden gem: Brulé Bistro
Heaven on earth. Brulé's seasonally inspired menus and always locally sourced ingredients create a fun and refreshing experience each time. Try the flourless chocolate cake with sea salt caramel and dulce de leche gelato—you'll feel like you're in heaven, too. 
Neighborhood hangout:
Sweetwater
The ambiance is like no other: It's a New York–style cocktail club with innovative creations that always hit the spot. You wouldn't expect this gem to be situated in the middle of a plaza in Boynton Beach.
Cocktail hot spot: Brandon's at Tideline Hotel
Order the Brandon's Breeze, created by Tony Abou Ganim, a prominent mixologist who is
widely regarded as one of the world's leading bar professionals.
Facebook Comments