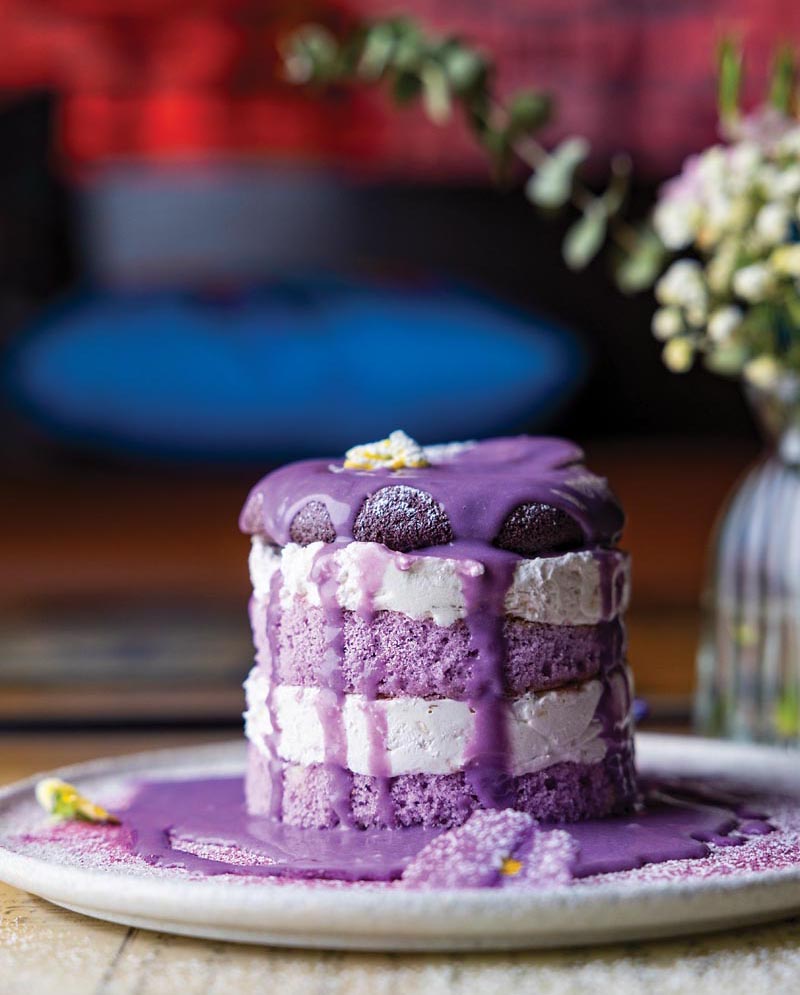 New delicacies are now available at Kapow Noodle Bar in Boca Raton and West Palm Beach thanks to the appointment of Angelo Arboleda as culinary director. A veteran of the local dining scene, Arboleda helped to grow Calaveras Cantina and led the development of Voodoo Bayou. At Kapow, he's sought to add some fresh, exciting dishes to the contemporary Asian menu, to include desserts such as this Ube Bae Cake. 
"Ube, being an Asian ingredient that is raging on social media, stood out to me," Arboleda explains. "It's vibrant and fun in color but overlooked for its flavor profile, which is earthy, sweet, and complex. However, I still wanted something that was approachable, so I went with a layered mousse cake, [which] I made with a great mentor of mine, Jean-Pierre from Chez Jean-Pierre Bistro Palm Beach, many years ago." 
To complement the ube with a touch of nuttiness, Arboleda chose to fold a toasted coconut orgeat into his vanilla mousse. His next consideration? Texture and presentation. 
"It needed crunch, so I topped it with a crispy ube meringue and drizzled it with a velvety crème anglaise. This is where the 'Bae' comes in. While plating in the kitchen, I realized how beautiful the last step was and thought the guests needed to see it in action. Since we eat with our eyes first, I decided to generously pour the sauce tableside as seen with [the viral meme] Salt Bae."
Ready to try it? Before diving into dessert, consider other Kapow newbies like Arboleda's warm mushroom and tofu salad, bulgogi brick chicken, and Asian lobster Benedict.  
Facebook Comments