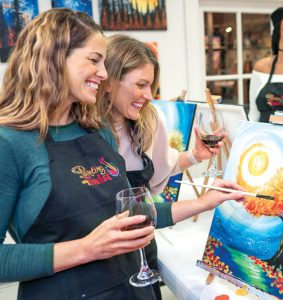 In wine is truth—and a door to creative expression if the popularity of the paint-and-wine concept is any indication. In our screen-saturated society, the draw of a hands-on activity paired with real-life mingling proves inviting.
"I'm a product of this trend," says Jennifer Hernandez, who founded Wellington's Art Cellar in 2014. "I used to be a high school math teacher and I started going to a pottery-painting place as a form of social therapy. It's such a positive way to spend the evening or afternoon. You have a little wine, socialize, create, and tap into a whole part of yourself that you might've not explored since you were a child."
A break from digital domination, paint-and-sip spots pair analog interactions and guided instruction with wine—or "creative juices," as Hernandez calls them. Many studios also offer workshops in crafts like batik, mosaic, and mixed media, as well as opportunities for younger painters.
"In our society, we're fortunate enough to have so much, so instead of just buying 'things,' I feel like people look more for the experience and memories," Hernandez explains.
PBI's Picks: 
• Painting with a Twist, Boynton Beach and Jensen Beach
• Uptown Art, West Palm Beach, Jupiter, and Boca Raton
Facebook Comments