Hungry and in a hurry but don't want to sacrifice nutritional value or taste? Try one of these recipes, courtesy of Chef Julien Gremaud of the Avocado Grill, the next time you're craving a quick snack or a light meal. Each is able to be made in under 30 minutes, perfect for the go-getter who's always on the move.
---
Grilled Vegetable Board
Note: This can be served as a healthy and delicious standalone dinner, a side dish, and also as a selection during a dinner party.
Select your vegetables that you would like to serve. Our favorites include broccolini, tomatoes, cauliflower, and eggplant.
Season with sea salt and olive oil and place in a roasting pan. Roast in the oven at 375 degrees until your desired tenderness. Average cook time is 20-30 min. Serve on a platter.
---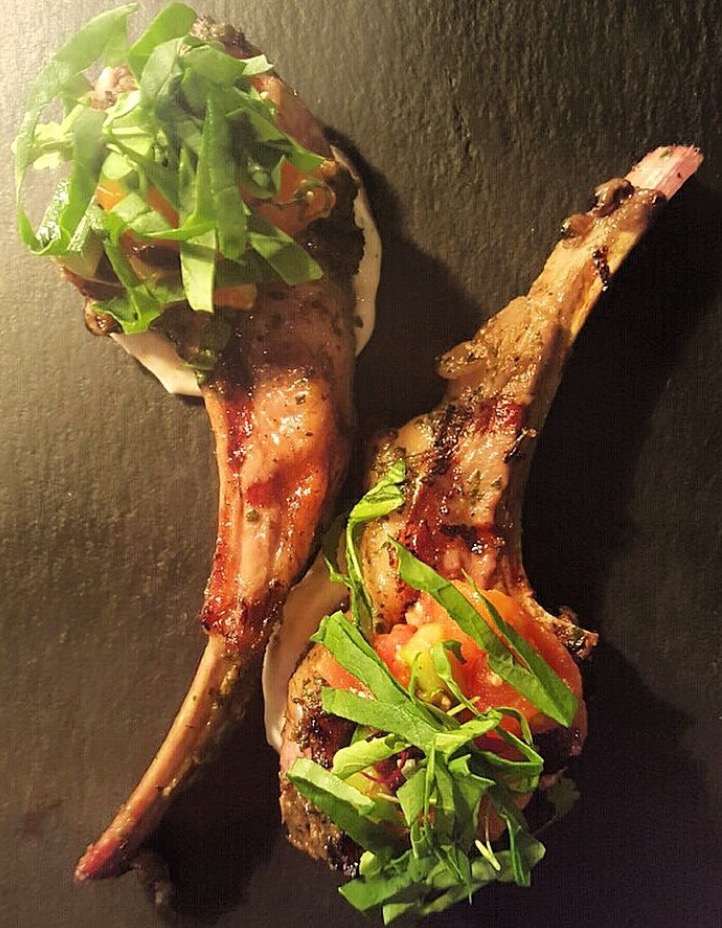 Lamb Lollipops
Ingredients:
4 lamb chops
2 large garlic cloves, minced
2 teaspoons extra virgin olive oil
Coarse sea salt
Coarse ground pepper
Fresh herbs – mint, thyme, or rosemary
In a bowl, mix together garlic, olive oil, sea salt, and pepper. Coat lamb chops (both sides) in mixture. Let marinate for 30 minutes. Preheat an outdoor grill. Once hot, place lamb chops on the grill (a healthier alternative to pan frying). Cook for 3-5 minutes on each side (or until desired temperature). Plate and allow to sit for a few minutes. Top with fresh herbs and serve.
---
Green Tomato Salad
2 green tomatoes, sliced 1/4-1/2 inch thick
For the breading:
2 cups Panko bread crumbs
2 tbsp. chopped parsley
2 tbsp. chopped chives
1 tbsp. smoked paprika
1 tsp. minced shallot
1 tsp. minced garlic
Salt and pepper to taste
Mix all ingredients.
2 eggs, beaten
Flour for dredging
Dredge green tomato slices in flour and then the beaten egg mixture. Transfer to the breading and coat thoroughly. Set aside. Heat oil for frying to 350 degrees (just enough to submerge the tomatoes).
For the dressing:
1/4 cup sherry vinegar
1 bunch fresh basil
1 cup plain greek yogurt
Pick the leaves off one bunch of basil. Bring a small pot of water to a boil. In a small bowl, add ice and water. Blanch the basil leaves for 30 seconds and transfer to ice water. Once cool, remove and squeeze out as much liquid as possible. Add the vinegar and basil to a blender and blend on high for 30 seconds until smooth. Remove from blender with a rubber spatula and fold basil/vinegar puree into the yogurt. Reserve dressing.
For the salad:
1/2 cup diced red seedless watermelon
1/4 cup corn grilled, and removed from the cob
2 tbsp. crumbled goat cheese
Working in small batches, begin by dropping the tomato slices into the preheated oil and frying until crispy and golden brown (about 1 minute). Using a metal spoon, flip the slices over while in the oil if necessary to ensure even browning. Transfer to a paper towel and season with salt and pepper. After all slices are fried, place on a plate and top with watermelon, corn, and goat cheese. Drizzle dressing over the tomatoes and salad to taste.
Facebook Comments