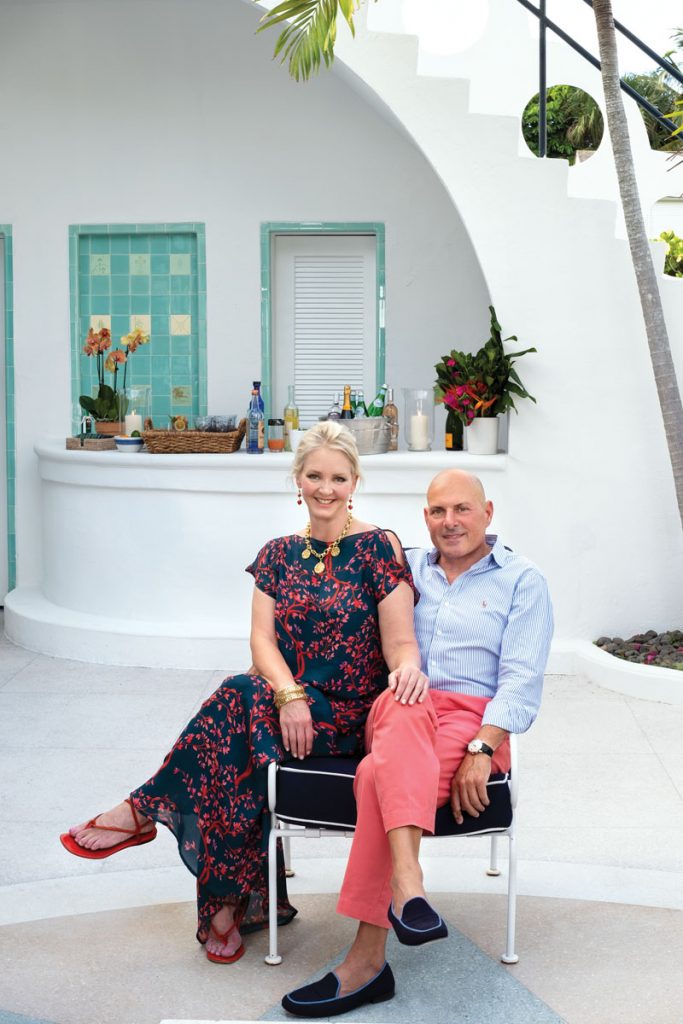 Like most people, after the U.S. confirmed its first case of novel coronavirus on January 21, Palm Beacher Danielle Rollins began the process of adjusting to a "new normal" defined by face masks, social distancing, and self-sequestration.
It wasn't long before the fashion and interior designer and author of two entertaining tomes—including A Home for All Seasons: Gracious Living and Stylish Entertaining, released in September—was eager to reconnect, safely, with loved ones.
Described as a natural-born entertainer by Veranda magazine, Rollins' passion for hostessing materialized at an early age. She was still in preschool when she organized a tea party for her pint-sized pals using a Wedgwood tea set supplied by her grandmother, Mary Luella, a well-known restaurateur who ran one of the best barbecue spots in Dallas. Rollins still remembers when the family matriarch told her, "To create an environment where guests can feel comfortable and have a good time is the mark of a good hostess."
Since then, Rollins has orchestrated thousands of grand and intimate functions, many of which are on display in her first book, Soiree: Entertaining with Style, including an elegant garden fête honoring the late fashion icon Oscar de la Renta. When the book was later published during her difficult divorce, Rollins waived it off with style in the introduction. "When life gets me down, the fastest way to get back up is to put on a swipe of lipstick and have a little soiree," she wrote.
Relishing the opportunity to entertain again, the lifestyle savant tossed an impromptu, on-the-cusp-of-season party for a small group of close friends at the recently reimagined Palm Beach pied-à-terre she shares with her boyfriend, printing and promotional products magnate Tom D'Agostino.
D'Agostino had purchased the dilapidated Art Deco landmark, designed in 1938 by the iconic Palm Beach architect Belford Shoumate, on a whim as an investment property he and Rollins could jointly restore. Looking back, he's happy he took the leap of faith. "It had so much possibility, and it lived up to its potential," D'Agostino says.
"That was our COVID project," Rollins recalls with a laugh. "No, that was our COVID baby." 
After months of cleanup and a project list that included the build-out of the second-floor roof terrace, which now boasts more than 100 areca palms and a four-hole putting green ("It's great for contests like who can make the most hole in ones," says D'Agostino), the house was ready to receive guests in grand style.
For Rollins, who manages a rare immunodeficiency condition, keeping everyone's health top of mind came first.
To avoid gratuitous contact, she skipped traditional paper invitations. Instead, she texted an evite bearing a photograph of a swan-shaped float adrift on the couple's pool with a message that read: "Calling all social swans! Swing by for a sundowner with Danielle & Tom and stay for dinner."
Once the RSVPs rolled in, Rollins enlisted Tim Edwards (a "go-to" for memorable catering and impeccable staffing, she says) to oversee the menu.
On the evening of the alfresco affair, the sky was brushed in soft hues of yellow, pink, and light blue. As friends and family began to arrive, everyone was offered a face mask in case they had forgotten theirs at home.
Outside, behind a bar arranged with vivid flowers and hurricane lamps filled with honeycombed La Petite Abeille beeswax candles, a bartender shook up a signature cocktail. Rollins dreamt up the bespoke libation, made with Tito's vodka, mint, ginger, blood oranges, and other citrusy ingredients, using flavors and fixings from her pantry.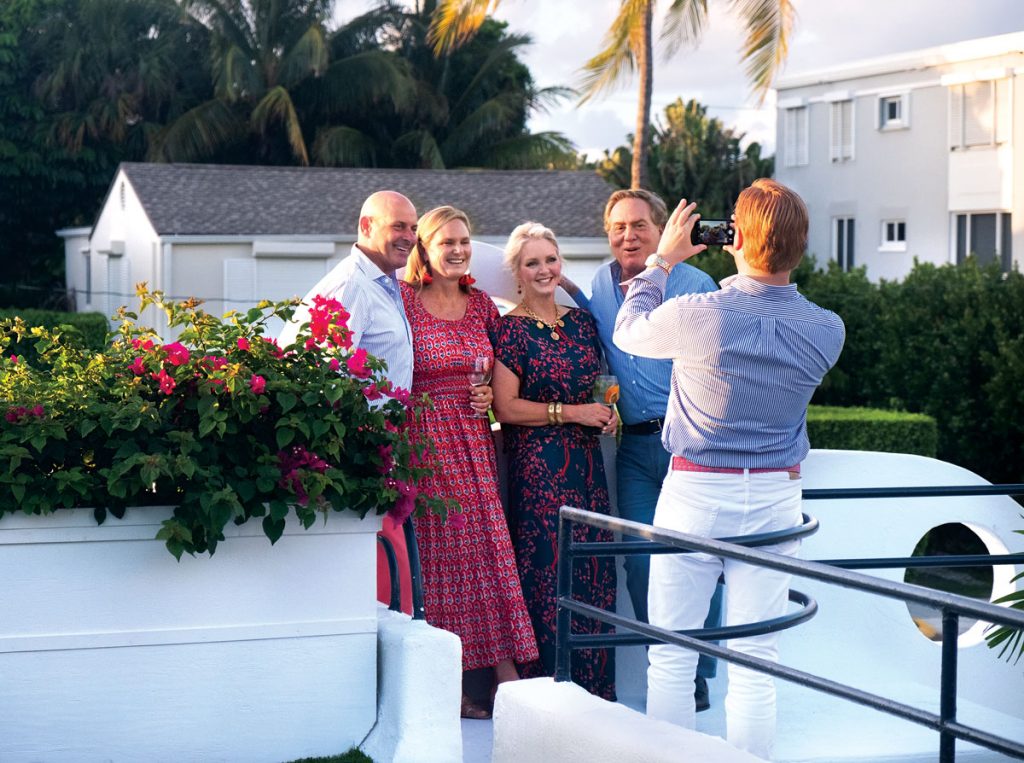 To kick the evening off, D'Agostino raised his glass in a toast to their guests' health and to a future filled with wellness and hope. As if on cue, servers circulated with woven rattan trays filled with mini cheeseburgers, cheese puffs, shrimp cocktail, lobster claws, and pigs in a blanket. ("I love them," says Rollins of the latter. "It's kind of a joke.")
While some guests remained on the patio, others headed upstairs to the tropical, 2,000-square-foot roof terrace to drink in the sensational views and take on a round or two of putting competitions.
For Sarah Wetenhall, an avid golfer who co-owns The Colony Hotel with her spouse, Andrew, it was one of the evening's highlights. "I haven't been able to play golf in a really long time," she says. "Getting together with friends and having a putter in my hand was like the sun, moon, and stars had collided."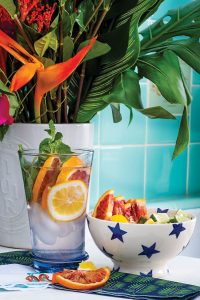 After the sun had melted slowly into the horizon, guests assembled at the eastern end of the terrace for supper. Rollins, who counts tablescaping among her favorite endeavors, used tablecloths fashioned from navy blue linen and Samuel & Sons bouillon fringe, a loosely mixed arrangement of chartreuse and coral florals with sprigs of bougainvillea, and a scattering of seashells—a last-minute add that emanated a relaxed, "seaside nautical" feel.
As everyone bantered about homeschooling and other COVID-related topics, servers set down plates of comfort cuisine from nearby BrickTop's. Selections included heirloom tomato and avocado salad topped with local burrata and basil-grilled sourdough croutons, as well as pan-seared bistro chicken drizzled with beurre blanc sauce and accompanied with sautéed spinach and creamy whipped potatoes. Dessert was a scrumptious hot fudge sundae with homemade vanilla ice cream, sugar-roasted pecans, and fresh whipped cream.
When the group tucked into the chilled indulgence, D'Agostino stood to make a final toast. "Growing up in New York City, I thought I had seen it all until experiencing Danielle's gracious style of entertaining and Southern charm," he said. "I love you. Cheers, everyone!"
As the couple bid their guests goodbye from the doorway, someone asked Rollins what it was about party planning that she finds so fascinating. Without skipping a beat, she said, "It's a magical process and you're the stage director. But instead of re-creating the same performance night after night, I like to do a different 'theater set' and then figure out what's going to happen. That's the fun part."
Facebook Comments