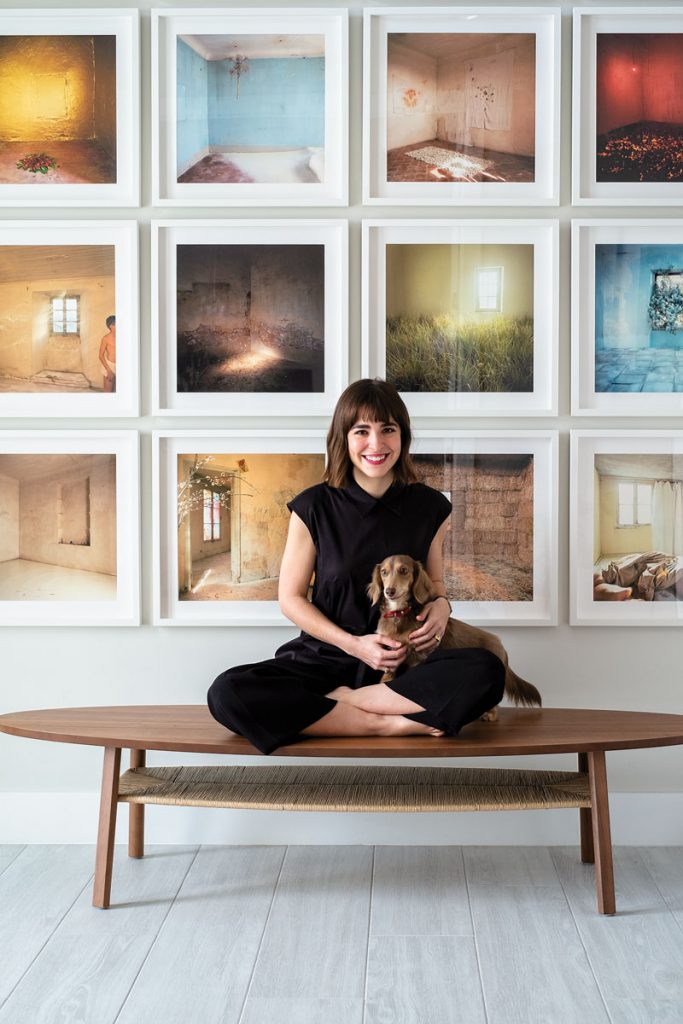 These days, anyone with a smartphone can take a photo at a moment's notice. But with museum collections and art fairs devoted to fine art photography, the medium is attracting serious collectors like Jaye Luntz. As a child, she grew up surrounded by the works at her parents' gallery, the Holden Luntz Gallery on Worth Avenue. As an adult, she runs JL Modern Gallery, also on Worth, geared toward a younger clientele. PBI caught up with Luntz to get her tips for would-be photography collectors.
PBI: What are the first steps in starting to collect photography?
Luntz:  The process usually begins by seeing an image that pulls you in emotionally. The beauty of photography is capturing a moment that actually occurred. The would-be collector has to understand that, unlike buying a painting, there are editions in photography that give multiple opportunities to collect something. It is important to educate yourself, and there are many resources. Starting a relationship with a gallery and having conversations with them can provide a wealth of knowledge. When galleries know the artists, they can pass on additional information. A gallery would educate you, keep you engaged with an artist, and give guidance in building a collection.
What other resources might be useful to a new collector?
It's important to do your own research once you have fixed your mind on something. There are amazing online resources that will allow you to find out more about an artist through a Google search. There are books about the artists and some excellent online publications that provide more in-depth knowledge and discover a wide range of artists—like L'Oeil de la Photographie (Eye of Photography), Aperture, Dazed, and Artsy. Museums offer opportunities to see established collections, and art fairs showcase the different artists and genres galleries are offering.   
What should a collector know about editions?
Like prints and lithographs, signed photography editions made during the artist's lifetime are more valuable. There are also editions that are made posthumously. When it comes to vintage photography, it was not usual for photographers to think of their work as having fine art value, and they didn't always produce editions. When collecting vintage photographs, you're not necessarily going to find them in pristine condition. There may be some creases or silvering on the print. It's part of the print's history and rather like a patina. If you are fixated on the condition of a print, it may take you some time to appreciate the beauty of a vintage print.
What about budget?
It's good to have a budget in mind, but it can limit you from seeing something extraordinary. Give yourself some space to breathe.
What photography-related materials are collectible?
Contact prints are really interesting and give you the opportunity to look into the photographer's mind and see how their mind works and how they switch their focus. You can also see the photographer's selection. It's another way at looking at photography and giving you a narrative of the entire shoot. Sometimes the artist doesn't want you to see the images that weren't selected and won't sell negatives because reproductions could be made that were never intended to be printed. An enlargement of a contact sheet can be more interesting. Anyone collecting photography should understand the foundation and the history of photography. To know how a print is made is really important, and to understand that before digital there was only one roll of film or your glass plate negative and you had to think about the construction of the image prior to taking it.
How do you go from being a casual collector to building a serious collection?
That's when you switch from having an interest in photography to becoming a collector. Once you're looking at it from a holistic perspective and want to incorporate important pieces of history along with beautiful fashion, a particular artist and another artist who may have studied with them and been directly influenced by them, I think that's when you have a holistic understanding of the medium. That's a really exciting point to get to. You've taken something that was an interest that aesthetically drew you in, to something that you've curated, and you can start to see the history right in front of you. Hanging a house becomes important because having certain pieces next to each other and the dialogue between the pieces can be so interesting. How two different artists influenced each other in their understanding of light or composition, or to see how two different artists may have captured New York from different perspectives, that's amazing curation. When you have a relationship with a gallery, they can help you with the hang, give you that insight, and make you think differently. 
What is the best way to display and look after fine art photography?
It's important to protect against direct sunlight. I never put glass on a print, especially a vintage print as glass can break and damage an image. I always put UV Plexi on a work, which blocks out around 97-98 percent of harmful UV rays. It's important to work with a good framer and to have a framer who you continually go to who gets to know what you have in your home. I personally like a more eclectic look, but others may prefer to use the same style frame. For a portfolio of prints, it's best to have the same frame, especially if the prints are in a grid. In displaying works, I wouldn't limit yourself to walls, in the sense that small framed pieces can become objects and can be set on stands or incorporated in bookshelves. Works on a wall will look like a gallery. When they are placed with objects there's a sense of discovery that gives the display a more modern and contemporary look even with vintage prints.
How should people approach merging their collections?
When two individuals get to share a home and their collections, or one of the partners has not collected before, it's time to sit down, have a talk, and explain each piece, the story behind it, the history, and how it fits into the collection. That develops a better understanding and appreciation of the works. It brings it alive and re-excites you about your collection. When you collect pieces together, all of sudden it's not only your decision. There's another voice that might say, "No, this doesn't work for me." In my experience, if both partners don't want the same piece and they bring it home, it comes back. 
What contemporary artists would you recommend to new collectors?
Cathleen Naundorf; her work challenges the traditional expectation of fashion photography. Kimiko Yoshida is on the precipice of performance art. She paints her face and body during a four-hour ritual before photographing herself against different backgrounds influenced by French Baroque art. Her newest series, KyotoKimiko, uses traditional Japanese methods of printing on top of her self-portraits. Garry Fabian Miller is a camera-less photographer. His work is like a meditation. There should be a bridge between painting and photography in any collection.
Facebook Comments