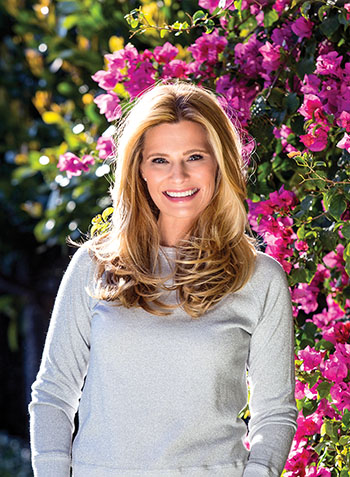 Former Vogue magazine staffer and fashion show producer turned Palm Beach mom Nicole Munder was frustrated with how cumbersome entertaining had become in terms of effort and investment. As a hostess who prides herself on never setting the same table twice, she went on the hunt for ways to streamline the planning process. She wondered, if you can easily change your clothes on a daily basis then why can't you do the same with decor?
To address this problem, Munder launched Tinge Daily, a home-goods company that offers clear acrylic placemats that can be filled with durable, reusable inserts (aptly called Dailies) that come in a variety of patterns and colors. Tinge products allow hosts to update a table at a moment's notice to match the theme, mood, or color palette of any event or dining occasion. These creations have earned Munder a growing number of consumer devotees, as well as a spot on HSN. Tinge Daily is now available online at tingedaily.com or locally at C.Orrico in Palm Beach. For Munder, effortless entertaining is a year-round endeavor. With that in mind, she sat down with PBI to share her inspiration for dressing your table to fit each season.
SPRING
"When Spring arrives, I celebrate vibrant greens and vivid florals that serve as a dynamic contrast to our predominately white and gray home. The mood is light and airy with yellow, pink, and green as my main accent hues to a white backdrop. Potted lavender plants line the table with squares of live, green grass placed thoughtfully in between wood trays filled with moss-covered balls that become sleek accents to add geometric intrigue."'
SUMMER
"During the summer, days are longer, our home is full of kids, and the barbecue is overworked. Embracing bright, bold colors, such as fuchsia and citrus, enlivens our dining area and adds to the vibrancy of our home and mood. While events that include younger ones may entail a white Kraft paper tablecloth and an art supply centerpiece, an over-21 gathering gets a more grown-up treatment with individual bottles of Champagne and large metallic accents like gold shells that add a touch of glam.
FALL
"Fall in South Florida feels a bit different from the season in my Midwestern hometown, although I channel the warmth and comfort associated with the changing colors and coolness in the air. Generally, I prefer warm tones, golden hues, and distressed wood when I select my accents. Prior to the holidays, coffee-table books designed to promote conversation are stacked in well-edited piles down the middle of the table. Florals and candles sit upon and around the books with an oversized feather tucked inside each napkin."
WINTER
"Once the holidays come along, metallic, ceramic Christmas trees, wooden reindeer, and ornaments filled with silver and gold Hershey's Kisses run down the middle of the table. I like to bring in traditional holiday patterns, like plaid, as well as tried-and-true Christmas ball ornaments (readily available in a multitude of colors) to create exciting color combinations and a welcomed mix of old and new. If I really crave a playful holiday table, I simply pile loads of Starbrite red-and-white mints down the middle to act as a runner."
Facebook Comments