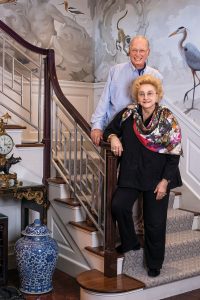 In 2018, the Preservation Foundation of Palm Beach honored Ivor House with the coveted Robert I. Ballinger Award, which recognizes "outstanding individuals who have contributed to Palm Beach's architectural heritage through the preservation of landmark properties." Tom and Jordan Saunders are those individuals. They've brought passion, commitment, and much more to Ivor House, a Georgian Revival–style, circa-1937 home with Caribbean touches, built by one of Palm Beach's most influential architects, Marion Sims Wyeth.
Its first owners were Joseph and Joan Cudahy, a prominent couple from Chicago; Joseph was heir to a meat-packing company, Joan to Morton Salt. Eight families came after. Time and the subtropical climate took its toll on the house. While the most recent previous owners made many careful repairs, Tom and Jordan, who purchased the property in 2014, went even further. They spearheaded major restoration and renovation efforts to bring Ivor House to its present glory, investing four years of devotion into every detail alongside a trusted team of architects and experts.
Many of the home's original elements embraced chinoiserie, a popular motif from that era that flows through the property to this day. Jordan can trace her love of the Chinese-inspired style to her childhood. Her father served in the Marine Corps in Shanghai in the 1930s; her mother adored the culture and would pull Chinese influences into the design of their homes. It was part of what Jordan grew up with and has collected ever since.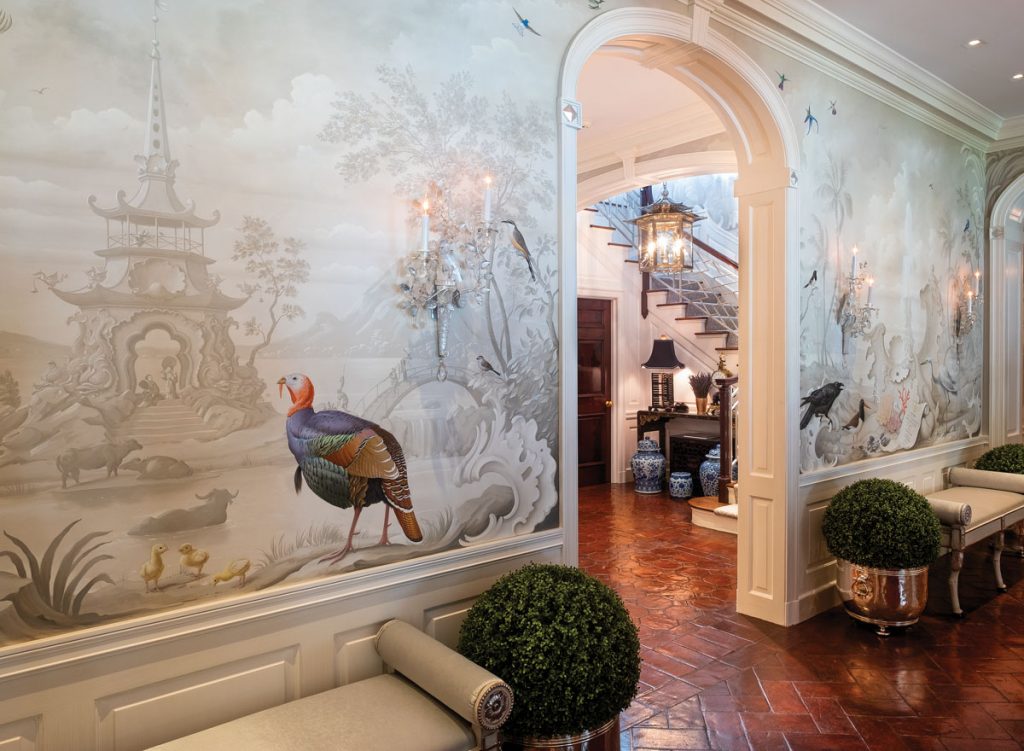 To enter Ivor House is to step inside a whimsical wonderland, a fantasy realized through the astonishing trompe l'oeil murals gracing the foyer, hallways, vestibules, and along the staircase up to the second floor. "The walls called out for it," Jordan says of the masterwork by the internationally celebrated British artist Graham Rust. More than 150 birds native to Florida and Virginia (where the Saunders also have a home) appear against a soft grisaille background augmented with shadowy, traditional Chinese scenes and mesmerizing sculptural forms.
Each life-size bird is precise in its detail, with vivid plumage that springs off of the walls and lends a three-dimensional appearance. Some are mid-flight, while others are accompanied by their chicks. Rust's signature monkeys also pop up in various mischievous guises. Out of the hand of one, for example, dangles a spectacular gold watch with a backstory. One of Tom's business associates had gifted the timepiece to Jordan, and although she hastily returned it with polite regrets, it is fondly memorialized in this work. Rust replicated this specific tableau from two prior murals he painted for their New York City triplex and former Long Island home.
Climbing up to the second floor—with its original chinoiserie banister railings designed by Wyeth—one discovers even more creatures, including a flamingo, a roseate spoonbill, a white pelican, and an ibis perched on a fountain. The scenes surrounding the landing are imbued with additional personal references. One wall features a clutch of eggs in a basket that bears the initials and birthdates of each of the couple's grandchildren. Another boasts miniature portraits of their dogs.
Rust gained his fame in the 1970s, after creating murals for Ragley Hall, the historic home of the eighth Marquess of Hertford in Warwickshire, England. Jordan came face-to-face with this work—which spanned a three-story staircase and the great hall ceiling—35 years ago, while attending a dinner at the property. "I was seated next to Lord Hertford's mother-in-law, Brenda de Chimay, Princess Alphonse de Chimay, the most charming woman in the world," Jordan recalls. "She told me some of the details because I was so mesmerized by the trompe l'oeil. I couldn't concentrate on anything else."
The next day Jordan called a friend in the know to ask about Rust, and indeed she had met him and knew where he lived. They set off immediately, embarking upon a hair-raising drive to Rust's country home in a German car Jordan describes as a "rattle trap." It had the steering wheel on the wrong side, preventing her friend from seeing the cars darting in and out and giving Jordan the impression that other vehicles were flying toward her. "It was an experience I'll never forget," she says. After they finally roared up to the house, Jordan rang the doorbell and Rust answered. When she explained that she'd like him to do some work for her, he invited her in, thus beginning a wonderful friendship. "He has done three murals for us, and we have spent an awful lot of time with Graham. I am so glad that I went that day and rang that bell."
Shortly after the Saunders moved into Ivor House, Rust came to visit. To begin the project, he meticulously measured the walls, archways, door architraves, and corners, while the Saunders scoured books on the birds and flora of Florida. Rust was then able to return to his studio in Suffolk, England, where he painted the murals on 6-foot-wide strips of a fine, linen-like canvas that is only produced in a small mill in Indiana. It took him three-and-a-half years to complete the work. He then rolled up each panel and sent them to Palm Beach to be installed.
Rust later ventured back to Ivor House to complete some final touches, such as painting over the seams. To further bring the piece to life, he added even more clever details, like painting tiny wood chips on a narrow ledge below where a red-headed woodpecker is drilling away at a door frame. He asked Jordan to remind the housekeeper not to rub away those specks. "One of the things we love about Graham is his extraordinary imagination," says Jordan. "I never get tired of looking at the murals … and it reminds me of him every day."
"I would say this is a work we don't deserve," adds Tom. "It was a collaboration, but it would be a fault to say it wasn't his creation."
Rust's artistry covers 1,200 square feet and beautifully captures the elegantly playful spirit present throughout Ivor House. In the formal living room, pale gray walls with a subtle iridescent finish give way to a sophisticated mélange of chinoiserie pieces and traditional, European-style furnishings, paintings, and a marble fireplace mantel. Two nearly identical Italian, seventeenth-century, hand-carved mirrors with Chinese motifs fill one of the walls above the bar. "I bought those mirrors at an auction over 20 years ago for an apartment and discovered, to my horror, that they were too big," says Jordan. "I could not bear to get rid of them. I just couldn't." They sat in storage for two decades but immediately came to mind when Jordan contemplated that wall. "Wouldn't you know, we took them out of the crates they had been in all those years, put them up on the wall, and they fit perfectly."
Jordan and Tom made every effort to include or reinstate elements from the home's original plans, but they also incorporated custom items to complement the spaces. Pecky cypress shelves line the library, where one could spend hours browsing books, perusing treasures, or simply taking in the view of the pool and garden fountain. This area was once an open-air loggia that the previous owners decided to enclose; the adjoining former library is now Tom's office.
Although every room has its own character, the chinoiserie theme is a constant across Ivor House, appearing in architectural accents and countless objects—even down to the place settings and ornaments that adorn the formal dinner table. Outside, at one end of the pool, sits a pagoda-style pavilion, characterized by celadon-colored fretwork and a Ludowici tiled roof lined on the underside with gold leaf. "We cannot escape the chinoiserie," admits Jordan. "It's in the blood."
One of the couple's most beloved spaces is the loggia that stretches along one side of the house. For design inspiration, Jordan consulted her books on the Royal Pavilion in Brighton, England, a seaside palace built in the eighteenth century for King George IV. It was during this research that Jordan discovered the plan that would serve as the basis for Ivor House's loggia, which took a full year to build.
Tom insisted the front columns be narrowed to open up the views to the gardens, pool, and pool pavilion. At night, mirrored walls over the cabinets flanking the loggia, as well as intricate mirrored framework, reflect the soft glow from the pagoda lanterns stacked against mirrored columns. Jordan and Tom love to retreat to this peaceful spot, even during a rainstorm, when they can pull down shades to protect against the elements.
Throughout the restoration and design process, Jordan and Tom worked together as a team, but Tom asserts that it was Jordan who made each room "a unique experience." When it came to the gardens, however, he had a distinct vision. A direct blood relation to Field Jefferson—Thomas Jefferson's uncle—Tom serves as trustee and chairman of the Thomas Jefferson Foundation, which oversees the preservation of Monticello, Jefferson's Virginia home. Tom and Jordan's Virginia residence is close by, and Tom looked to
Monticello when planning aspects of Ivor House's exterior spaces. He sought to open up the vistas and create clean, expansive areas using boxwood and other plantings that allow the eye to wander uninterrupted across the one-acre property from any vantage point. Everything is at the same elevation, including the infinity-edge pool that presents as a sheet of blue glass against the lawn.   
From Virginia to Palm Beach and China by way of England, Ivor House is a magical marriage of influences, cultures, and motifs that honors the integrity of Marion Sims Wyeth's iconic architecture. Still, Tom and Jordan credit Graham Rust's outstanding artwork as the true star of the project. "It is fair to say that Graham's mural will permanently set this home apart," says Tom. "You would not be able to have this in any house in Palm Beach or anywhere else without his skills and creativity as the artist that he is." 
Facebook Comments