Hard to believe that it's been 25 years since Lexus initiated the crossover craze with the introduction of its dinky RX 300.
And what a brilliant concept it was. They took the best features of a tall-riding SUV, a load-lugging wagon, and compact luxury sedan, and whisked them up in an automotive blender.
If the concoction wasn't tasty enough, they then added all those trademark Lexus ingredients, like flawless build quality, industry-best reliability, superb refinement, and classy leather and wood.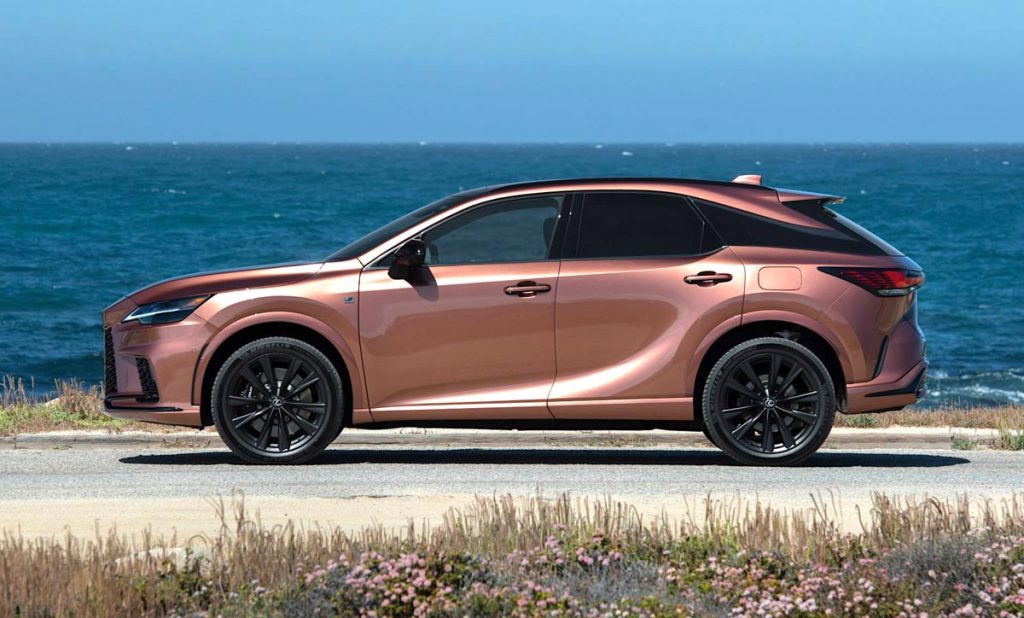 No surprise, then, that the RX was an instant hit. And it's still doing the business as Lexus' best-seller.
Now, fast forward a quarter of a century, and Lexus has just unwrapped an all-new, fifth-generation RX. And it's a stunner.
Of course, it's not as much of a game-changer as the original. Now pretty much every automaker on the planet has a car-based crossover, or three, in its line-up.
But after a week behind the wheel of the all-new RX flagship, the RX500h F Sport Performance AWD, for me the appeal of the mighty RX has never been stronger.
Just look at the thing. The new design is more sports coupe than sport ute, with more sweeps and swoops than a five-year-old with an Etch A Sketch. See it in profile and the line of the roof as it cascades down to the rear window is pure automotive art.
And thankfully, that plain-weird "spindle" grille of the previous RX has somehow been subdued. Yes, it's still huge, but the glossy-black mesh face isn't as pinched and is balanced by bigger lower side intakes and a more dramatic hood.
If the new lines weren't head-turning enough, Lexus went and gave the RX one of the coolest new paint colors ever. They call it Copper Crest and it's simply jaw-dropping. See it in bright sunlight and it glows like an erupting Vesuvius.
Climb aboard and there are more changes. With this F-Sport spec, you get front bucket seats that could have come out of a Porsche. There's so much side bolstering that it's like getting a hug from Hulk Hogan.
The dash is dominated by a new 14-inch touchscreen that is crystal clear with laser-sharp graphics. That's the good news. The less good is that Lexus has ditched many of the old buttons and buried their functions behind layers of menus.
It's crazy that even access to the various drive modes requires the distraction of taking your eyes off the road to tap the screen.
But a tap of the start button, now mounted high-up on the dash, brings to life one of this new 500h F-Sport's most intriguing features: its hybrid powertrain.
It sees a turbocharged 2.5-liter four-cylinder engine mated to a pair of electric motors juiced by a nickel-hybrid battery pack. Together they deliver 366 horseys and a meaty 406 pound-foot of torque.
In proper hybrid fashion, the electric motors mask any lag from the turbocharger, giving the RX plenty of oomph off the line, zipping it from standstill to 60 miles per hour in a speedy 5.9 seconds.
Of course, in these days of all-electric SUVs, 5.9 seconds is a bit underwhelming, especially in a vehicle with "sport" and "performance" in its title.
Nevertheless, the Lexus is a blast to drive, with lots of strong, mid-range thrust for quick passing or freeway merging. The six-speed automatic is a perfect partner for the engine, delivering rapid-fire response with Teflon-smooth shifts.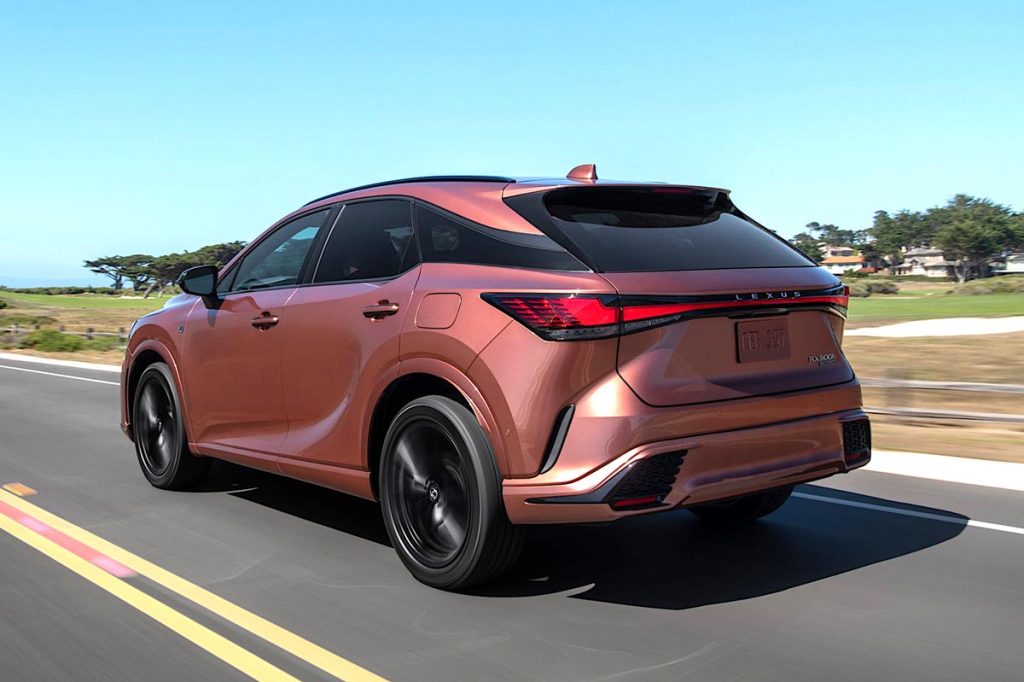 And talking of smooth, Lexus hasn't forgotten its core audience, which still favors comfort and refinement over rapidity.
While the steering is precise, it is a tad on the light side, and push a little too hard into a turn and the 21-inch rubber at each corner gets overwhelmed by those 4,800 pounds it's carrying.
But ignore the over-enthusiastic badging and see this new RX 500h as a terrific all-rounder with cool, head-spinning styling, a sporty character, and lively performance. And with pricing from $63,800, it's an excellent value.
Happy twenty-fifth anniversary, RX. You're still rockin' it.
Facebook Comments