A few blocks south of Worth Avenue, tucked in a tropical oasis fronting the Intracoastal, sits the Mediterranean-style gem Annie and Michael Falk call home. With its traditional detailing, silk-covered furniture, and subdued elegance, it's a study in softness and light. But what's most impressive about the property is what it lacks.
The Falks renovated their home and the grounds to be completely free of chemicals, from the simple banning of pesticides, commercial household cleaners, and certain scented candles, to the more complex installation of a natural alternative to fiberglass insulation and a state-of-the-art water filtration system.
Despite its unwieldy name, environmental exposomics (the scientific study of the cumulative effects of chemicals and contaminants on humans) is becoming a critical field of study in a world that increasingly demands cheap mass production. The Falks have committed to reducing their own exposure to environmental toxins and to spreading public awareness by donating $1 million to Duke University's Nicholas School of the Environment for a new facility bearing their name. According to Heather Stapleton, an associate professor of environmental health at the Nicholas School, genetics account for only a small portion of diseases such as cancer, diabetes, and asthma, and there is still much to understand about the effect of chronic exposure to the mixture of various chemicals, rather than each individually. "The Falk gift is incredibly important to supporting our research on environmental exposures," she says.
The couple's mission to advance research efforts and heighten public understanding is born from a deeply personal experience. Nearly 25 years ago, as a young mother with two toddlers, Annie Falk suffered a collection of mysterious and debilitating ailments. "On the mild side, it started with tingling in my extremities and numbness on my nose and lips," she explains. "I was tired all the time and started having headaches, which I never had before." The illness progressed to include nerve and neurological disorders, migraines, extreme gastrointestinal distress, and severe heart palpitations. "Toward the end, I couldn't get out of bed."
Initially, Annie's condition stumped her doctors because her blood tests came back normal. "They said to me, 'You're a new mother; here's an antidepressant.' But I knew in my heart of hearts that this was not a mental
issue," she says. Eventually, she found an allergist who uncovered the problem. "He told me that in his 50-year career, he only saw one other case like mine—a young woman architect. He said, 'I think your home may be making you sick.'"
Indeed, the Falks had recently purchased and renovated a prewar apartment in Manhattan. They were put in touch with Philip Landrigan, MD, at Mount Sinai in New York, who suggested a specialist to test the chemical levels in the apartment. The results were astounding. "The home was filled with a chemical soup," Falk says. "The most egregious chemical we found was vinylbenzene, used in fiberglass, and we had recently installed a tub. The ventilation in the apartment was built for prewar times, and the vent was small and didn't exhaust anything." The Falks believe the shower was improperly cured in the factory and humidity from daily use was facilitating the release of toxins into the air.
Landrigan advised her to move into a hotel while they ripped out the renovations and started anew. "Of course, now I know that a hotel is one of the worst places I could have gone," Annie says. Hotels sometimes use flame-retardant coatings on fabrics for fire safety, but the chemicals can be harmful to humans. Making it worse, windows are often sealed shut, trapping toxins inside.
"People spend, on average, more than 95 percent of their time indoors, yet the concentrations of many contaminants are higher indoors, such as air and dust indoors, compared to air and soil outdoors," says Stapleton. "This is particularly true for flame-retardant chemicals—those applied to building materials, electronics, textiles, and furniture to reduce their flammability—some phthalates, which are plasticizers added to materials like vinyl used in flooring and shower curtains, and even some pesticides, now commonly used in drywall, wood, and some exterior home siding."
When Annie's condition did not improve at the hotel, she began to believe she would die. "At one point, I told my husband to just take me to hospice," she says. "I really thought that was it." After she returned home to her environmentally clean apartment, her health gradually improved, but it took a few years. "I eventually thought that I might not die, but that my life would never be normal, meaning that I would never be able to be in public places. I couldn't go to the theater, and I loved Broadway. I couldn't go to a museum or drop the kids off at school. One whiff of perfume or hairspray, and I would immediately get violently ill. I had to pick and choose where I went for about two years. I'm still sensitive, but I don't get a violent reaction anymore."
Spurred by their own quest for enlightenment about the harmful effects of the chemicals in everyday life, the Falks want others to have access to the knowledge and tools necessary to measure their exposure. "We think awareness is a key step," says Michael Falk, chairman and managing partner of Comvest Partners investment firm. "The medical community was very unaware when Annie got sick; at that time, doctors had no understanding at all."
The Falks discovered the research being conducted at Duke because both of their daughters, now in their 20s, attended the university. After meeting key people and learning more about the program, they decided to make the sizable donation. "We want to build out the team to work in the lab to improve effectiveness in testing certain materials and come up with conclusions as to the effect on humans," Michael explains.
One of the innovations is a silicon bracelet that measures the contaminants in human tissue. "Whatever sticks to the bracelet is what is on your skin and in your lungs," notes Annie, adding that analyzation will identify the specific chemical exposure.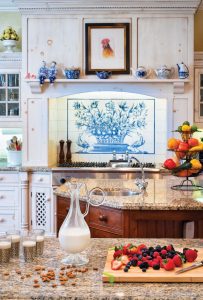 In Palm Beach, the Falks' home exemplifies the relative ease of chemical- and synthetic-free gracious living that is replicated in their home in Southampton, Long Island, and their apartments in New York City and Fort Lauderdale. It's about being aware and keeping it simple, explains Annie. Inside, all the fabrics and carpets are silk, cotton, or wool, and even the polyester stuffing in the furniture has been replaced with cotton batting.
One of the early mistakes Falk says she made as a young mother was having her furniture and rugs sprayed with a stain repellent on the advice of her decorator. "She said, 'You have small children, and this will protect your furniture.'" It's a common misperception that allows harmful contaminants to be in constant contact with your family, says Annie. Her solution is to buy an extra roll of the fabric she uses to cover furniture—particularly dining room chairs—so, in the event of a bad spill, she can simply re-cover the piece. She prefers antiques because they lack the harmful glue used in construction. "Pressed wood is the worst thing to put in the home," she explains. "In the end, you're not saving that much money [by buying the cheaper, chemical-laden, pressed-wood furniture] in exchange for harming your health."
Annie's mission extends to the food she and her family consume. The author of two books, Palm Beach Entertaining and Hamptons Entertaining, often presides over alfresco lunches on her Palm Beach patio overlooking the Intracoastal. Here, she might serve gazpacho, wild-caught salmon, and green salad atop a wooden table set with linen placemats and napkins. In Southampton, she notes, she has an easier time sourcing fresh, local produce from organic farms, but wherever she is, she seeks food in its natural state.
This commitment to a chemical-free lifestyle continues in her landscaping. About 10 years ago, after whiteflies damaged the privacy ficus hedge surrounding the front yard, the Falks' landscape architect suggested a preventive monthly schedule of pesticide spraying. Instead, Annie tried every natural remedy she could find, but none worked. Finally, she weighed the cost of replacing the ficus with a clusia hedge that wouldn't require any spraying; she realized it paid for itself over a period of only a few years.
"There's just no reason to dump that amount of chemicals; it gets on your feet and you carry it into your car and your home," she says. "I would avoid all plants that need vast amounts of chemicals." Clusia, similar to ficus in its density, flourishes as a privacy hedge, and, because it grows well in warm climates, Annie's never once had to use pesticides on it. "Pesticides can release small amounts of gas inside. A lot of us do indoor-outdoor living in Florida. It's no good to have your indoors environmentally sound if the outdoors are not. You're just bringing the contaminants inside."
When it comes to the eternal problem of reducing mosquitos, Annie opts for another natural solution: frogs. At the side of her house, the amphibians play in a fountain and a rectangular lily pond—and even hop over to the neighboring, pesticide-free Everglades Club golf course for a nibble now and then. "We're not members of the Everglades," Annie says, "but my frogs are."
The Falks hope their gift to Duke University will uncover ways consumers can reduce toxins in the places where they spend the most time. "The best starting point for healthy choices is knowledge," notes Annie. "In the early stages of building or renovating a home, we focus on how we're going to use the house and then design. We forget that this is a sanctuary and we want a healthy environment for our family."
Facebook Comments