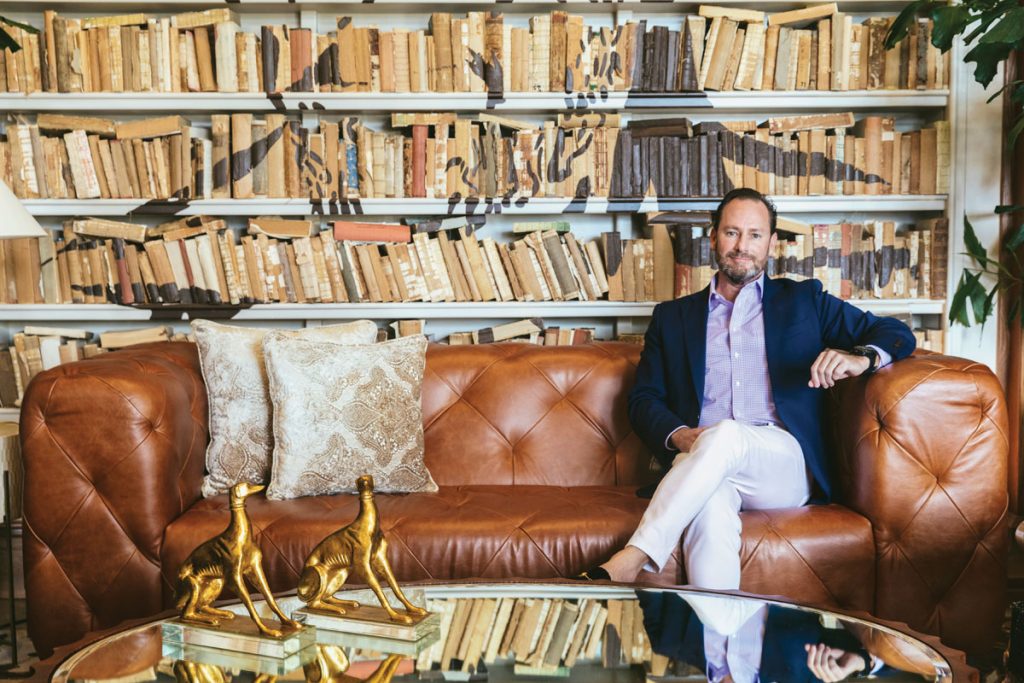 David McClymont | The Surfer-Turned-CEO
As CEO of the Palm Beach Symphony, David McClymont may appear to be a classic businessman in a perfectly tailored suit. But somewhere beneath his Lean Six Sigma Green Belt lies the salty heart of a former Billabong-sponsored surfer.
On most days, McClymont leads the symphony's business dealings and programming. (He's doing something right—in 2020, the Cultural Council for Palm Beach County awarded the organization a Muse Award for Outstanding Community Engagement in recognition of its wide variety of programming in schools, free public concerts, youth music, and music therapy efforts for underserved populations.) But on weekends and holidays, you can catch McClymont traveling to surf new locales around the world, including a recent jaunt to the Maldives.
It's a sport that McClymont says has heavily influenced his personal style, since being a sponsored surfer meant doing his fair share of photo shoots. The experience introduced him to the world of sartorial expression: "How to pair outfits, how to dress up or dress down to a particular mood, occasion, or style," he explains.
Over the years, he's taken those lessons and applied them to his own look. "I make sure that my style inspiration is coming from me and not what I'm seeing on social media," he says. "We've seen so many people who wear something that's super fashionable, but you can tell that they're wearing it for all the wrong reasons. It's not part of their persona, right? True style has to be an extension of who you are as a person."
Personal style statement: I try to embrace my mood. Can never have too many: Shoes. There's always an occasion to show your personality with a great pair of shoes. Labels he loves: Salvatore Ferragamo, Gucci, Tod's, Billabong, Chervò, J Brand Current style influencers: Keanu Reeves, Roger Federer, David Beckham, and Mariano Di Vaio. They can go from edgy to modern to distinguished, and they aren't afraid to take risks. Beloved shopping spots: Worth Avenue, The Royal Poinciana Plaza, The Gardens Mall Most priceless piece: My grandfather's cufflinks Celebrity closet he'd like to raid: Keanu Reeves. He has a diversified wardrobe for all occasions. Worthwhile splurge: My custom suits Go-to look: Distinguished business attire Best way to break the rules: Stripping down to a pair of trunks and going surfing. Last purchase: A Chervò Mondello jacket Next fashion investment: A Calibre de Cartier diver watch

Jervonte Edmonds
| The Minimalist
Someone once told Jervonte "Tae" Edmonds—CEO of Suits for Seniors and the West Palm Beach Police Athletic League—that people judge you twice: when you walk in the room and when you open your mouth. That's why the nonprofit organizations he leads help teach young people how to have style and back it up with substance.
What does his style say when he walks into a room? Edmonds likes to shoot for two goals: bold and simple. "I try to have my suit make a statement, but you'll always see me in a simple dress shirt," he explains. "I don't wear a tie, but I add a pocket square. I want to stand out, but I want to always be reserved and know that I'm not being too extra."
Edmonds says he discovered his personal passion for style after joining a college leadership organization. "I think I took the saying, 'Dress for where you are going, not where you are,' too seriously," he jokes. But it's a mantra that has gotten him far—and inspired him to help others along the way.
"It means a lot to be a part of a crowd of people who are trying to be influencers and show how important your image and first impression are," he says. "I represent a population of people who tend to get put into a box. I hope I get to open up the box for them through my style."
Personal style statement: It has evolved over time as I've found the pieces, patterns, and prices that meet my needs to be both bold and simple. Can never have too many: White button-down slim-fit dress shirts Labels he loves: Ferragamo (for accessories) Beloved shopping spots: NY Men's Clothing in the Boynton Beach Mall and Bob Goldfarb Custom Suits Most priceless piece: A windowpane, custom-made Bob Goldfarb gray suit given to me for Christmas by my friend John Tedesco Celebrity closet he'd like to raid: Steve Harvey. Can you name someone with a greater taste in suits? Favorite fashion up-and-comer: My Suits for Seniors alumni. The students go off to college and seem to come back dressed better than me. Biggest fashion risk he's taken: Wearing a super slim-fit patterned suit to a Comcast Achievers interview. I broke the zipper in the middle of the interview. It was worth the risk because only the top half of my suit made the cut. Worthwhile splurge: My Ferragamo shoes Go-to look: A navy blue suit, a white dress shirt, and a white pocket square Always accessorizes with: A gold ring Best way to break the rules: Wear a big hat. You'll never catch him in: Colorful clothing. For me, less is more. Trend he'd like to see canceled: Three-piece suits. They typically run big on the person wearing them. Fashion's next big moment: When designers start making affordable clothing that doesn't cause body-shaming and bullying.

Matthew Linderman

 
| The Traditionalist
For Matthew Linderman, president, COO, and general manager of Boca West Country Club, style is a constant process of polish and refinement. "I've always had a keen eye for detail—whether it's the way I dress, making sure my shoes are polished, or the way I present myself when I go into meetings," he says. In practice, that means wearing a suit six or seven days a week.
But even hospitality honchos have to take some downtime, and Linderman says his wife, Yamile, and daughters, Alexa and Sophia, have his full attention on his days off. Still, it can be hard for him to get out of the strings of a suit. "My wife likes it more when I'm in my sandals and flip-flops, but I tend to be proper in my attire. My family is always pushing me to relax," he says, laughing.
His passion for family extends to his philanthropic endeavors. He's actively involved with Habitat for Humanity and the Boca West Children's Foundation, which works with at-risk children to address basic care needs surrounding poverty, such as homelessness and hunger.
Flip-flops aside, Linderman believes his urge toward formality is just part of who he's always been. "My father was born in Ireland, grew up in Scotland, and worked in the garment industry in New York," he notes, explaining his fascination with a sort of British-
inspired polish. "Being refined is who I am—it's in my bloodline."
Personal style statement: Debonair and refined. I'd say I'm conservative. I'm never flashy. Can never have too many: Dress shirts or pocket squares. It's always about the details. Labels he loves: Charles Tyrwhitt, Hugo Boss, Tom Ford, Canali, Brioni Most priceless piece: My father's Lord Elgin watch. It was a gift he received from my mother for their wedding in 1955 and it was passed down to me. Collects: Watches and cufflinks Celebrity closet he'd like to raid: James Bond because of his sophistication, elegance, and timeless style. Worthwhile splurge: A Tom Ford tuxedo Always accessorizes with: Ties Perfectly Palm Beach look he's known to rock: Matching color schemes with my wife and daughters. Last purchase: Salvatore Ferragamo shoes Next investment piece: Another watch! A fashion statement he'll never attempt to pull off: Robert Graham or Versace because it's not me. Trend he'd like to see canceled: Sneakers with suits

Dale Perrault

 

| The Envelope-Pusher
Whether it's in his role as managing director for the Palm Beach office of Nest Seekers International or in his fashion choices, Dale Perrault says he "likes to push the envelope." As a real estate agent, he believes that means going above the norm—creating media focus and experiential marketing opportunities over more "outdated approaches" to selling a home, such as open houses and printed flyers. That kind of forward thinking carries over to his personality. "I like to be colorful and vibrant in the way I dress," he says. "I'm not really concerned with who's looking at me; I'm more concerned with how I feel in the clothes I wear."
Although Perrault—who lives locally with his husband, Justin Perrault, director of research at Loggerhead Marinelife Center—discovered his fashion sense at age 18, he admits it didn't flourish until he came out at 28. "That is when I really began allowing myself to take risks and be true to who I am as an individual."
For Perrault, authenticity is key. "I think people can recognize when you feel comfortable—and when you don't—in the clothes you wear," he says. "Your personal style is important because it creates energy and almost develops your character based on the outfit you've chosen that day. Or at least it does for me."
It's a style that Perrault says isn't guided by labels or price tags. "Growing up in foster care, I was never given an opportunity to focus on fashion—nor did I really have access to things." That mindset has followed him into adulthood. "It doesn't matter how much money I make. I'm always going to walk to the sale rack first; it's just the way I'm wired. I really focus on things that stand out to me, that I connect with. Fashion, at its core, is a way to express yourself and your personality."
Personal style statement: My personal style describes my mood for the day. You can tell how I am feeling based on my appearance. I like playing with colors that pop but also enjoy a black ensemble from head to toe. Labels he loves: I'm not a big label guy, but I have a soft spot for Vineyard Vines and Lilly Pulitzer. Current style influencers: Alexander McQueen and Marc Jacobs because they are true to themselves. But my greatest style influencer is my 14-year-old daughter, Alyson, who prefers repurposing thrifted clothes and creating insanely awesome outfits. Perfectly Palm Beach look he's known to rock: My Palm Beach pink blazer Most priceless piece: A pair of boots that I purchased five years ago after my first real estate sale. I typically don't spend much on myself, but I worked my feet off for that family and I decided those boots at Nordstrom were made for walking on these feet. Always accessorizes with: Bracelets  Celebrity closet he'd like to raid: Diane Keaton. We could create the most amazing montage highlighting her most iconic looks throughout her career. Biggest fashion risk he's taken: I once was known to rock what I call a front mullet—just bangs. That was literally all that I had on my head. And I would grow my bangs out long enough to tuck behind my ear. I was 13. Fashion's next big moment: Celebrating people for who they are as individuals. Fashion is amazing because it will always be a form of expression, which is timeless regardless of era.

Harrison Morgan

 

| The Life of the Party
Fashion designer Harrison Morgan knows a good look when he sees one. More importantly, he knows where—not who—he's dressing for. "I dress for the locale and the event," he says. "Colors read differently in different light."
As co-owner of Palm Beach and Co., Morgan produces women's clothes and jewelry designs that he then wholesales to top department stores and specialty shops. His self-described "creative urge" began as a child, watching his mother, Camille, develop her own fashion business. He and his husband, interior designer Guy Clark, made Palm Beach their permanent home five years ago.
The key to fitting in no matter where you are? Morgan says it's valuing participation over "simply showing up." While his personal preferences have always been classic, moving to the island has allowed him to get more adventurous with color and print. "When we are here in Palm Beach, we try to do a Palm Beach look, which we enjoy. You can take a few more chances down here with prints and color. When we're in the Hamptons or in Nantucket we do more muted colors. I mean, maybe I'll push a little bit of color in the Hamptons, but not like you could do here."
When it comes to being social, Morgan notes that dressing up is half the fun. "It gives you a chance to be a part of any event, whether it's restrained formal elegance or a beach bash."
Personal style: Always classic and adapted to the cities in which I am most often at work or play. (I recently got a climate-controlled storage unit from which I can select items for various trips to different locales.) Can never have too many: Comfortable, well-designed shoes. Your feet support your fun. Labels he loves: J. McLaughlin, Cremieux, Ralph Lauren Beloved shopping spots: The Royal Poinciana Plaza, Worth Avenue, and unexpected small shops when I travel to Italy and France each year Most priceless piece: My Cartier Panthère watch. It is beautifully designed, comfortable, and I like being on time. Collects: Since moving to Palm Beach, I now have a collection of colorful blazers and about 300 pocket squares. Covets: Hermès loafers in unique designs Celebrity closet he'd like to raid: Influencer/blogger James Andrew. He has an incredible eye for colorful, timeless quality. Favorite fashion up-and-comer: Michael Bastian, who is breathing new life into Brooks Brothers. Go-to look: White J. McLaughlin jeans, a colorful blazer, and Gucci loafers Last purchase: Respoke espadrilles. Designer Michael Tonello imaginatively recycles vintage Hermès, Gucci, and Pucci silk scarves into espadrilles. 
Grooming by Deborah Koepper, Deborah Koepper Beauty, Palm Beach
Facebook Comments