Throughout history, there have been women who refuse to take no for an answer when it comes to competing in traditionally male-dominated sports. Polo is no exception. Today's vibrant, multitalented female polo players owe a lot to pioneer Sue Sally Hale, who disguised herself as a man for two decades to blaze a trail into the U.S. Polo Association, which finally admitted her as the first female member in 1972. Since then, thousands of women have taken to the field as players, team owners, trainers, coaches, and mentors, competing globally at the highest levels. Here, we profile five who are leading the charge on the polo field and making a difference within the sport at-large.
Hazel Jackson
It's never easy reaching the pinnacle of a sport, and Hazel Jackson knows it's even harder to stay there. "It means my life basically revolves around my sport," says the 32-year-old 10-goaler. "I do make a lot of sacrifices socially."
As a professional polo player, Jackson trains and plays 11 months of the year. "I don't exactly have an off-season," she notes. "I have a month in-between the Argentine and U.K. season." During that rare hiatus, she tries to visit the beach, do yoga, and see family and friends.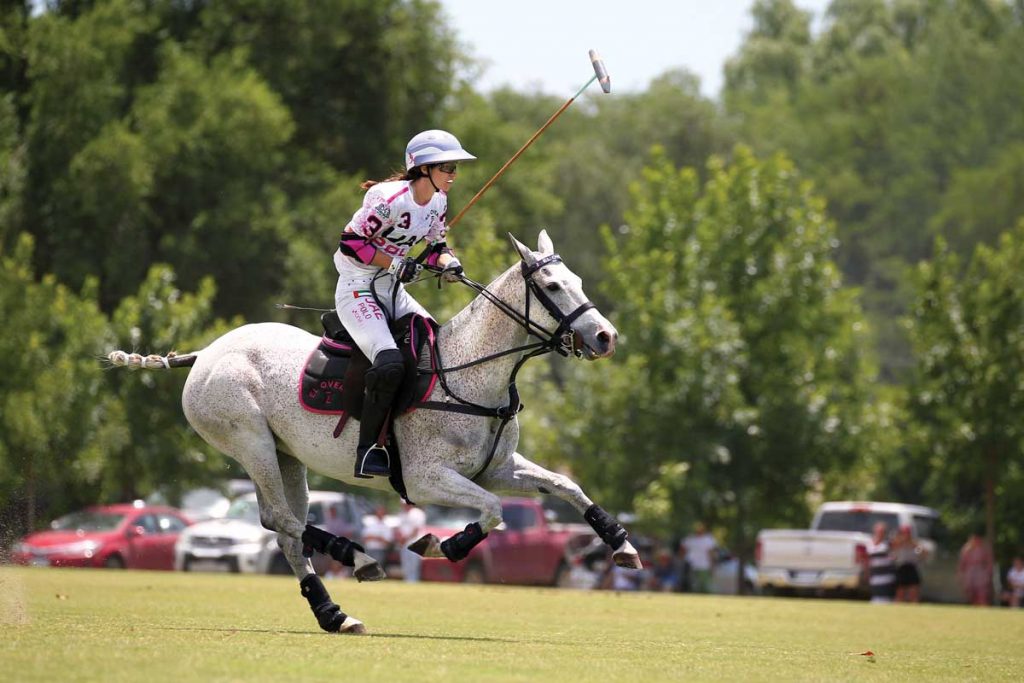 Growing up in a "horsey" family in the small town of Lymington in Hampshire, England, Jackson began riding pony club polo when she was 9 or 10 and hasn't stopped since. She's competing this winter in Wellington—her third year with the Hawaii Polo Life team—and will play in the U.S. Open Women's Polo Championship. 
Her career highlights include winning the Argentine Women's Open Polo Championship twice and the Royal Windsor 15-Goal Mixed Tournament in 2019 with the United Arab Emirates team. Queen Elizabeth herself presented the trophy. Jackson has also captained the English Ladies Polo Team numerous times. 
She says she has many role models in polo, but she credits Sheikha Maitha, Lucas Monteverde, and Jacinto Crotto of the UAE team with inspiring her to do better. "I'm really very competitive, so I am always wanting more. [I am] always wanting to improve and, most importantly, investing all of my fees into my string of horses." 
Her favorite horse, a Brazilian mare named Kila, retired in 2022, but the varied and unique aspects of competing in polo—including the reliance on an animal that has to be trained—keep her interested and driven. 
"The sport is incredible," says Jackson. "I love what I do and feel blessed that I have this
opportunity."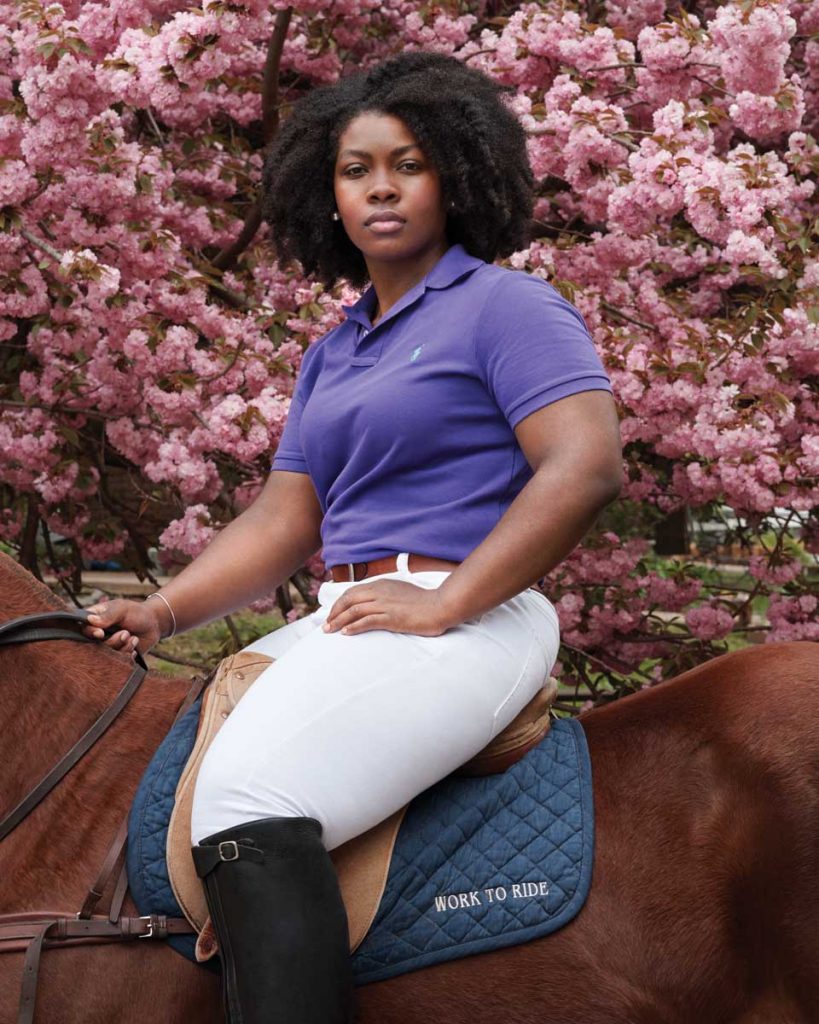 Shariah Harris
She's only 24, but Shariah Harris has made a big impact in the historically white, male-dominated world of polo. In 2017, at the age of 19, she was already considered a trailblazer after becoming the first African American woman to compete in the high-goal Silver Cup tournament with the Postage Stamp Farm team. The year before, as a high school senior, she was the U.S. Polo Association's National Interscholastic Player of the Year.
"I didn't see myself as a trailblazer initially, but as I started to hear it from other people, I began to acknowledge it meant more to others," says Harris. "At first, all I wanted to do was play."
Currently, Harris, a 6-goaler in indoor arena polo, doesn't play as much as she'd like because she's busy starting a career. After graduating from Cornell University, where she was captain of the women's polo team her sophomore through senior years and led the team to the national semifinals, she decided to pursue nursing and now works in the operating room at Lankenau Medical Center, just outside her native Philadelphia. "I would love to play on a team this winter, but most definitely, polo will always be a part of my life," she says.
Harris began riding at 8 years old, when her single mom took a wrong turn in a park and led her carload of three kids straight into the Work to Ride (WTR) program for inner-city youth. Founded in 1994, WTR aims to empower its participants through horsemanship, equine sports, and education. Since that fateful day when Harris discovered WTR, polo has impacted her life in ways she could never have imagined.
"It's the reason I went to Cornell," she says. "It also meant I got to travel for the first time out of the country—out of the state, even. Without polo, I wouldn't have had as many life experiences or been able to meet and interact with so many different people."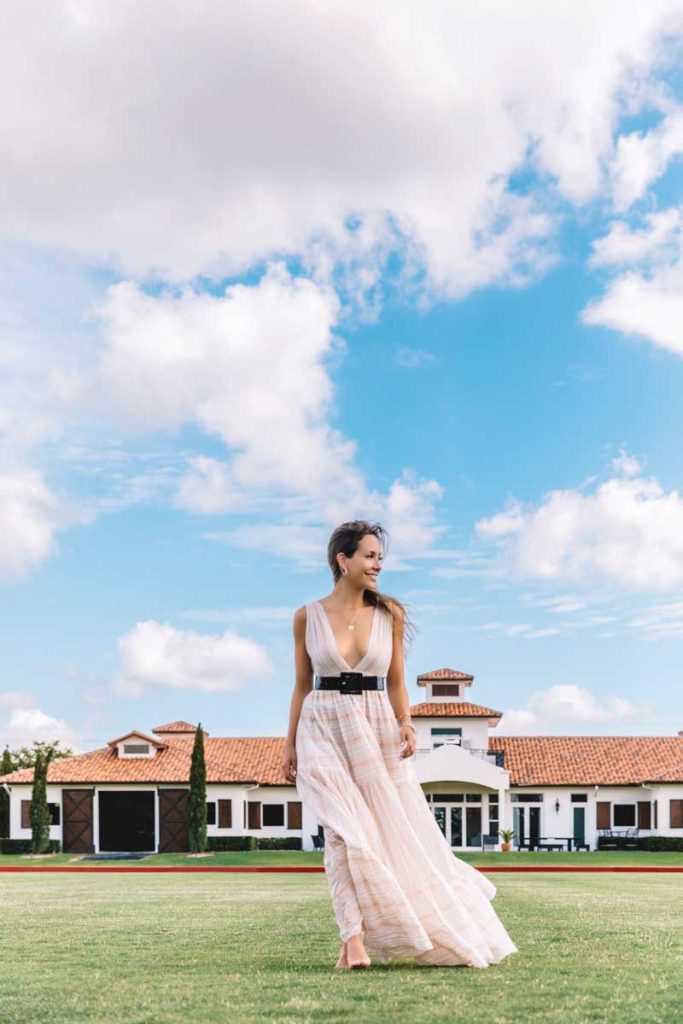 Pamela Flanagan
Multi-hyphenate Pamela Flanagan (she's a 5-goaler in women's polo, a horse rescue advocate, a model/brand ambassador for Hawaii Polo Life, and an attorney with Flanagan Bilton) knows you can't have it all—at least, not all at once. 
"My priorities are constantly shifting, but I always maintain involvement in all aspects of my life," she says. 
The three-time U.S. Open Women's Polo Championship winner (in 2019, 2020, and 2022, with the team she assembled for Hawaii Polo Life) now has a new focus to add to the mix: her fiancé, Louis Devaleix, an entrepreneur and fellow polo player whom she met in Wellington in March 2022. They plan to make their year-round home in Palm Beach.
Flanagan, 32, began riding ponies "at a little barn down the street" and took her newfound passion with her to boarding school at Culver Academies in Indiana, participating in every sport involving a horse. While attending Southern Methodist University for undergraduate studies and later law school, she and another student formed the women's polo team.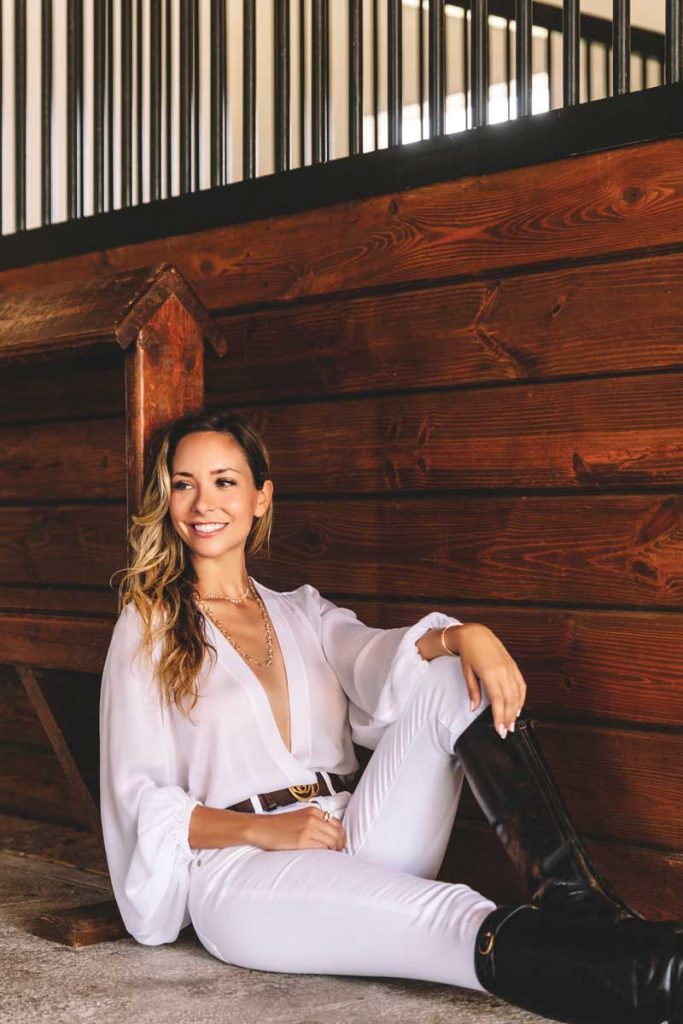 After graduation, she needed to find an inexpensive horse to train for polo and that led to her discovery of the gruesome horse-slaughter business. "It's outlawed in the U.S., so they truck these horses to Mexico or Canada under horrible conditions," she says. "There's a lot of suffering." 
She rode her first rescue, Stella, in the 2019 U.S. Open Women's Polo Championship. 
Flanagan is committed to riding in the U.S. Open in Wellington this March, looking for another consecutive win for her team. "Polo will always be part of my life to some degree, even when I'm not competing at the highest level." 
Credits:
Photographer: Nick Mele
Stylist: Zlata Kotmina
Hair and makeup: Deborah Koepper, Deborah Koepper Beauty, Palm Beach
Stylist's assistant: Ashley Lainhart
Location: Santa Clarita Farm, Wellington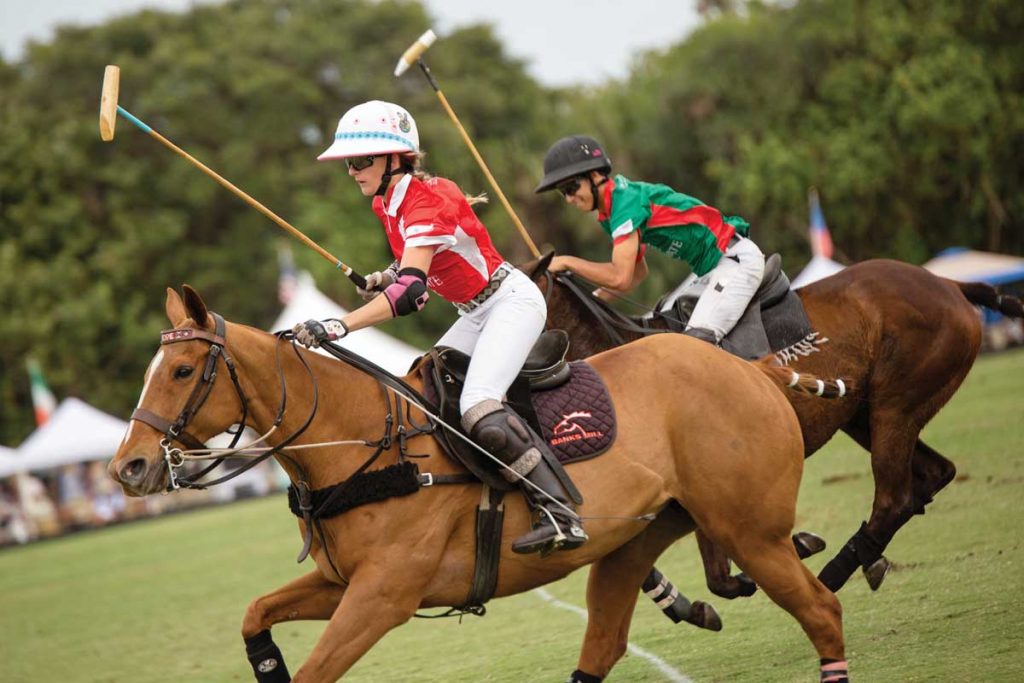 Hope Arellano
Hope Arellano was destined to ride. Not only because she's a fourth-generation professional polo player who was born in polo-centric Wellington, but because her mother, Meghan Arellano, played (and won) a tournament when she was six months pregnant with her daughter. Before she was 10, Hope knew she'd found her calling.
Today, the 19-year-old 8-goaler is a global brand ambassador for the U.S. Polo Assn. clothing company. In 2021, she made her debut in the prestigious Argentine Open Women's Polo Championship as the only American woman to compete that year. At age 14, she became the youngest player ever to win the U.S. Open Women's Polo Championship, playing with team San Saba alongside Dawn Jones. 
Family is still at the center of the sport for Hope. Every spring and fall, she returns to her native Aiken, South Carolina, her home when not traveling extensively for the sport. She spends winters in Wellington on her grandfather's farm with her two older brothers, who are also professional polo players. 
Hope's mother no longer plays but her father, former professional player Julio Arellano, was the coach for the USA team in the XII Federation of International Polo (FIP) World Polo Championship that took place in Wellington this fall. Hope made history at this tournament, too, when she became the first woman ever to represent the United States in the series. 
Off the field, Hope enjoys tennis, but her overriding passion is animals, with the family farm in Aiken providing shelter to a variety of rescues. Her favorite part of polo? No question: the horses.
"You create a bond with each and every one," she says. "Anyone who knows polo knows you're with horses every day and you never have a day off. But I feel I have so much to learn in the sport and I want to play for as long as I can."
Dawn Jones
Growing up in San Antonio, Texas, Dawn Jones was familiar with the back of a horse. "I rode as a passenger," she jokes. "I could have been a sack of potatoes." 
It wasn't until she was working as second assistant camera operator and publicity photographer for actor Tommy Lee Jones, whom she met on the set of the 1995 TNT movie The Good Old Boys, that she discovered polo. 
The couple married in 2001, and Dawn admits she was first interested in the sport because of Tommy. "In the beginning, my ambitions were to do something with Tommy that we could share, because the film industry is not conducive to lasting marriages," she says. "We love the cinema and all aspects of it, but polo is our binding passion." 
Now a 5-goaler, Dawn played in the Argentine Women's Open Polo Championship in 2017, 2018, and 2019 and won the U.S. Open Women's Polo Championship in 2011 and 2017. She looks forward to an active season, including the U.S. Open in March.
At 58, Dawn's ambitions are to continue to improve at polo, be a positive role model, and help young women advance in the sport. She sponsors an annual three-day clinic for the San Antonio Polo Club at the San Saba Polo Club's arena and at the two polo fields on the Fleming Springs Ranch that she and Tommy own in San Saba, Texas. 
Dawn says she and her husband will never abandon their passion for polo, even when they no longer compete. "When I met Tommy, he said, 'I want to introduce you to my polo family,' and it's true. It is a family, and I will always try to do what I can to help that family."
Facebook Comments