Wouldn't it be great to live in a world where we could solve all of our problems through dance? Famine could be eradicated with an outstanding grand jeté, terrorism obliterated with a joyful pas de chat. Oh, to dream.
In the seminal musical West Side Story, the two gangs at the heart of the story communicate in movement. In New York City in 1957, it seems most arguments could be resolved with a dance off. But even in this make-believe world, some differences—whether they be of nationality, skin color, or who we love—are so deeply divisive that they spark an uncontrollable anger, one that, if left to fester, results in violence.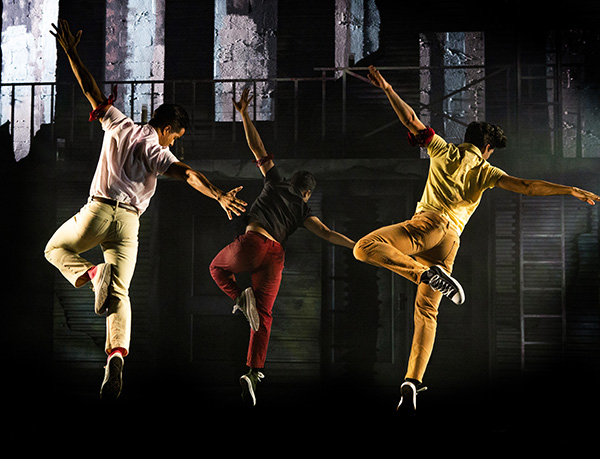 This theme of the struggle love faces when trying to triumph over hate is at the heart of a spectacular new production of West Side Story onstage at the Maltz Jupiter Theatre through April 14. From moment one, director Marcos Santana signals that this show deviates from the original by starting with audio of news reports about Hurricane Maria, which devasted Puerto Rico in September 2017. We see an elderly Maria sorting through wreckage and praying for strength. Gradually, the NYC of her youth comes to the foreground and events that will stay with her for the rest of her life begin to unfold.
For all its additions, this production still tells the Romeo and Juliet–inspired tale audiences know and love. Having just relocated from Puerto Rico, a teenage Maria attends a community dance with her brother, Bernardo, leader of the Sharks. It's there that she meets and immediately falls in passionate infatuation with Tony, a lifelong member of the Jets. While Tony and Maria could care less about the animosity between the Jets and the Sharks, Tony's best friend, Riff, believes the Jets need to rumble with the Sharks over territory. Said rumble goes awry, and suddenly our young couple is faced with very adult problems.
This book by Arthur Laurents is enhanced by timeless music by Leonard Bernstein and riveting lyrics by the great Stephen Sondheim. Music director Andrew David Sotomayor does a phenomenal job of guiding the cast through the challenging score. As Tony, Jim Schubin is particularly impressive, performing a stirring rendition of "Maria" that your ears will simply adore. Another highlight comes in the second act when the entire cast joins Rosalia (Elisa Galindez) in a dreamy version of "Somewhere."
Of course, no West Side Story is complete without amazing dancing—and this production delivers like no other. While the legendary Jerome Robbins' original choreography is a masterpiece, the Maltz Jupiter Theatre decided to go in a different direction. Al Blackstone shows reverence for the Robbins choreography, while still making the moves his own. Blackstone's interpretation boasts a similar buoyancy to Robbins, but it also packs a modern energy that requires the cast to work their butts off. Ensemble numbers such as "Dance at the Gym," "America," and "Cool" are bursting with captivating patterns of movement that lure the eye in and keep it dancing across the stage along with the performers.
West Side Story is one of the strongest productions the Maltz Jupiter Theatre has ever mounted. With that brilliance comes limited ticket availability. The run is basically sold out, with only a smattering of single tickets still for sale. Inquire now before you miss out.
Facebook Comments