Bonded by an obsession with the Belgian beer-making tradition, Bill McFee, Keith DeLoach, and Matthew Saady founded Boca Raton–based Barrel of Monks in 2015 to put their touch on the country's iconic ales. "It's the most complex style of beer," explains brewmaster McFee. "The yeast strains create all sorts of interesting flavors—like spicy, fruity, light, and mildly sweet, or dark and rich—without anything added." Their passion for time-honored techniques and reverence for top-of-the-line ingredients has earned Barrel of Monks many followers and converts who seek a more refined ale. Find more than 10 beers on tap at the monastery-inspired tasting room, including cornerstones such as Quadraphonic, a rich Quadrupel ale, and Nuance, a crispy saison, as well as rotating seasonals like Blood Orange Bliss, a gose-style wheat beer with hints of sea salt.
Tours: Held Tuesdays, Saturdays, and Sundays
Food: Exclusive partnership with Cheffrey Eats food truck
Dogs: Welcomed
Best-selling brew: The Wizard, a tangy wit-style ale
Editors' pick: Three Fates, a complex yet subtle Tripel
2. American Icon Brewery
Serial entrepreneur Michael Rechter was backing a brewery project when the deal went south. Having heard that the Vero Beach Diesel Power Plant was available, he changed gears and American Icon Brewery was born. "Brewing became a true passion for me, and I was able to restore a piece of local history," he says. The taproom exudes an urban aesthetic, but the space is also supremely comfortable, complete with a 200-seat restaurant, patio, and lawn area where patrons can dine with a view of one of the original diesel generators. "There's a great fraternal feeling in the industry," Rechter says of the craft brewing community. "We're thrilled to be part of it." (americaniconbrewery.com)
Tours: Public tours on Mondays, Tuesdays, and Thursdays
Food: Full menu for lunch, dinner, and
Sunday brunch
Dogs: Permitted on the patio and lawn
Best-selling brew: Icon IPA, medium bodied with citrus notes
Editors' pick: The Hotshot Lincoln, a limited-release Imperial Stout that ages in bourbon barrels for six months before its February debut.
In Vero Beach, Orchid Island uses its location near the Indian River Lagoon to produce sour beers and IPAs from local citrus. To avoid contaminated ground water, the brewery employs technology that draws water from the atmosphere.
Tours: Not available
Food: A full menu from farm-to-table restaurant Michael's Table
Dogs: Welcomed
Best-selling brew: Star Ruby, an Imperial IPA made from Indian River grapefruit.
Editors' pick: Nuthin' Fancy, a Southern Brown Ale "with an abundance of oatmeal and chocolate malt."
While on a mission to purchase supplies to make sulfate-free wine for his wife, Due South owner and founder Mike Halker was persuaded into buying beer-making equipment instead. Though he never liked beer previously, that quickly changed. He made his first batch (a lager) in 2005 and morphed his hobby into what would become Due South in 2012. Today, this brewery has gained a presence across the state thanks to its philosophy of perfecting a solid base before experimenting with flavors. Due South pours a variety of beer styles in its air-conditioned taproom in Boynton Beach, as well as wines from around the world in its new wine bar.
Tours: Held Wednesdays, Fridays, Saturdays, and Sundays
Food: The Savoury Eats truck retains a permanent spot on the patio, where it serves a rotating selection of globally inspired items and bites fried in duck fat.
Dogs: Allowed on the outside patio
Best-selling brews: Coastline Lager, a highly drinkable gateway craft beer, and Caramel Cream Ale, brewed with caramel malts and Madagascar vanilla beans to resemble a not-too-sweet adult cream soda.
Editors' pick: Released at the end of March, the Oaked Category 5 IPA is aged for nearly three weeks in new American oak barrels, bringing a smooth, woodsy layer to the tropical and fruity Cat 5.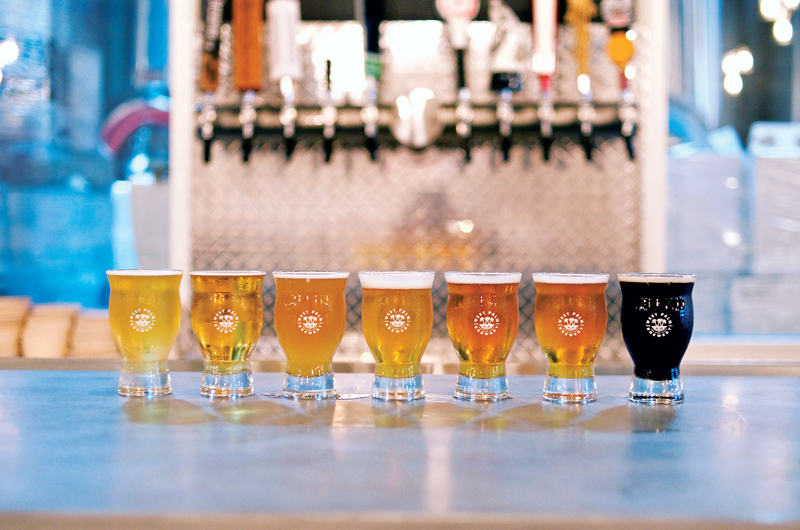 In late 2017, attorney John Pankauski created a unique combination: a craft brewery with a stellar wine selection from two of his own small-batch California labels, Drum Canyon Cellars and Pankauski Cellars. The facility offers 20 craft brews on any given day, seven of which are made on the premises. Both beer and wine are offered at the long tasting bar, and tables are arranged in a beer garden format.
Tours: Every Saturday and Sunday
Food: Full menu, including a wood-fired pizza oven
Dogs: Welcomed. Canines receive water bowls and free treats on the outside patio.
Best-selling brew: B4 Blonde, a crisp blonde ale perfect for beaches, boats, and backyards.
Editors' pick: Dunkel Dave, a dark, German-style wheat beer with notes of banana and clove.
Four partners with a shared passion for both surfing and beer came together to form Saltwater in 2012. The concept is unusual: the soul of a microbrewery paired with a 100,000-case capacity, featuring nearly 20 selections in the taproom and three top beers sold in cans at Publix and Total Wine locations. Based in Delray Beach, Saltwater is currently experimenting with beer/wine hybrids, employing used wine barrels for wild yeast fermentation. The founders are deeply committed to the environment and host beach cleanups and charity events for marine causes. "Other than making the best possible craft beer, our focus is giving back to the ocean," says head of operations Dustin Jeffers.
Tours: Typically held on Saturdays
Food: Local food trucks on a daily basis
Dogs: Permitted on the patio. Saltwater also hosts a monthly dog adoption event.
Best-selling brew: Screamin' Reels IPA, a dry, California-style ale dominated by hops, with an earthy, tangerine-accented mouth feel.
Editors' pick: Sea Cow, a milk stout with a roasted, smoky flavor nicely balanced by sweetness.
Founder Matt Cox has been brewing for two decades, and the fruits of his labor are flowing at Copperpoint's industrial taproom/brewery in Boynton Beach. Visitors can expect traditional styles amplified by intense flavors, as well as creative seasonal offerings.
Tours: Yes, free tour held every Saturday at 3 p.m.
Food: Rotating selection of visiting food trucks
Dogs: Allowed on the outdoor deck
Best-selling brews: Copperpoint Lager and One Love IPA, two signature beers with a strong local following.
Editors' pick: Blood Orange Wit, a Belgian witbier backed by a bold undertone of its eponymous citrus.
Established in 2013, Sailfish was the first craft brewer on the Treasure Coast and remains the largest. The taproom in Fort Pierce serves an array of small-batch brews made entirely from local ingredients.
Tours: Available by appointment
Food: Pizzas, flatbreads, and appetizers from The Crafted Pie
Dogs: Welcomed
Best-selling brews: Sunrise City IPA and White Marlin Wit
Editors' pick: Tag & Release, an American red ale at 5.9 percent alcohol
At this casual Boca Raton hangout—equal parts brewery, restaurant, and music venue—founder Mike Goodwin strikes gold on all fronts. Most nights, patrons will feel as if they're at an intimate rock show (Eric McFadden is among the performers who recently hit the stage). But instead of ho-hum drinks and food, everything here is top-notch. Brewmaster Corey Wilson produces many styles, including lagers, porters, and IPAs. In the kitchen, chef Tara Abrams strikes a balance between comfort food, such as pork belly tacos (pictured above), and healthy plates like elote-style roasted cauliflower.
Tours: Impromptu
Food: Prepared and served in-house
Dogs: Allowed on the outside patio
Best-selling brew: Licensed to Pils, a clear, crisp light lager
Editors' pick: Don't Be a Prick, a prickly pear gose-style beer
All it takes is one look and one sip to distinguish a Civil Society brew from the rest of the pack. Upon opening their Jupiter brewery in 2015, co-owners Karl Volstad, Evan Miller, and Chris Volstad began sharing their unmistakable style of unfiltered and hoppy beers. Shortly after, the national accolades came rolling in—and it's easy to see why. Signature beers like Juice and Fresh are balanced and ripe enough to make IPA lovers swoon and also appeal to those who typically shy away from hops-forward suds. To the delight of Civil Society's fans across the county, the trio recently expanded to a second location off South Dixie Highway in West Palm Beach, taking up residence inside an industrial building marked by a striking mural from local artist Mark Bulks.
Tours: Impromptu
Food: Order in at both locations, including pizza from Grato at the new West Palm Beach spot.
Dogs: Welcomed
Best-selling brew: Fresh IPA, the first beer Karl and Evan made when they started home brewing.
Editors' pick: Look for one of Civil Society's collaborations with top breweries around the country. Recent mashups include Other Half Brewing Company in Brooklyn and Bottle Logic in Los Angeles.
Former engineer David Mathews spent several decades as a home brewer before deciding to pursue his passion full-time. Visitors to this Lake Worth institution can purchase crowlers and growlers to take home, or enjoy the 14 rotating brews in the large beer garden, where live music is featured every weekend. Along with his regular brewing capacity, Mathews has an English beer engine to produce cask ales, and also indulges in experimental brews such as Seek & Destroy, a full-bodied Imperial Stout aged in Jack Daniels whiskey barrels. "Brewing is half science and half art," he says. "We want to bring people into the craft beer family by giving them the best experience we can."
Tours: Impromptu
Food: A rotating selection of on-site
food trucks
Dogs: Leashed dogs permitted in the outdoor beer garden
Best-selling brews: Sweet Emotion, a cream ale flavored with a hint of Madagascar vanilla bean, and an assortment of New England IPAs such as Florida Haze.
Editors' picks: Junk Yard Dog, a North English brown ale with a "complex, toffee-like flavor," and Black Metallic, an Irish dry stout served on nitro draft.
In 2016 home brewer Mike Malone and former architect Alan Dritenbas founded Walking Tree, an environmentally conscious brewery named for the local mangroves. There are more than 20 taps in the Vero Beach tasting room, and events range from yoga to professional wrestling.
Tours: By appointment
Food: Not available
Dogs: Not allowed
Best-selling brew: Straw Hat Blonde Ale, with a clean, crisp, and biscuity flavor
Editors' pick: Barnacled Manatee Barleywine, an award-winning combination of complex caramel and dark fruit.
In 2011, home brewer Matt Webster and professional brewer Fran Andrewlevich combined forces to open Tequesta Brewing, and beer in South Florida was forever changed. "When we started eight years ago in Tequesta, Florida was kind of a beer wasteland," says Webster. "We're very blessed to have a lot of breweries making great beer now. It helps elevate everybody." Webster and Andrewlevich now run three breweries total and continue to share their knowledge with beer geeks.
Tours: Impromptu
Food: Order in from partner restaurants
Dogs: Not allowed
Best-selling brew: Der Chancellor, a traditional German kölsch-style beer that employs the decoction method.
Editors' pick: Brave Tart, a new sour beer with notes of blueberry and cherry
Inspired by the old "steam horses" that once ran the rail line along the back of the West Palm Beach taproom, Andrewlevich and Webster's third brewery exudes a warm yet industrial vibe. While Steam Horse brews similar, traditional iterations of the beer styles mastered at Tequesta Brewing and Twisted Trunk, it also ventures into experimental territory with its seasonal drafts.
Tours: Impromptu
Food: Order in from Grandview Public Market
Dogs: Allowed on the outdoor patio
Best-selling brew: Steam Horse Lager, a refreshing medium-bodied beer
Editors' pick: Edler's Choice, a nutty spelt wheat ale brewed with elderberries and blueberries.
Andrewlevich and Webster's second brewery gets its name from the decades-old Banyan tree that John D. MacArthur replanted at the intersection of Northlake and MacArthur boulevards after founding Palm Beach Gardens. Here, beer aficionados can enjoy true-to-their-style brews along with a few deviations at the bar made from 100-year-old elm wood.
Tours: Impromptu
Food: Order in from partner restaurants
Dogs: Allowed on the outdoor patio
Best-selling brew: IPGA, the brewery's signature IPA that balances maltiness with citrus and tropical fruit notes.
Editors' pick: Rasta Stout, with hints of roasted malt, cocoa, and caramel
Facebook Comments