There are certain non-negotiables of a Mediterranean meal: a coastal breeze tinged with fragrant spices, light tapas that satisfy but don't weigh you down, and ample wine and spirits to facilitate conversation. These hallmarks and more can be found at Medi Terra, which opened in Boca Raton in November 2022. 
Chef Michael Velicu and his son, Daniel, previously ran Mediterraneo in Ridgewood, New Jersey, for 17 years before relocating to South Florida. Their menu focuses on salads, tapas, pastas, and entrées rooted in the western Mediterranean, including Spain, the South of France, Italy, and Morocco. They source authentic ingredients from these regions, offer a daily selection of fresh fish, and order the finest spices from the same Midtown Manhattan broker they've worked with for years.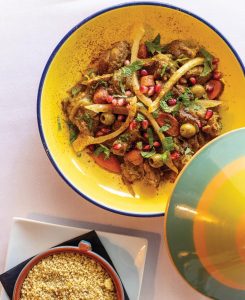 This dedication to quality shines in the food. Michael crafts transportive dishes that he believes reflect the Mediterranean's culinary ethos—cuisine that feeds the soul and contributes to the atmosphere of a meal without distracting from the company and setting. Highlights include a duo of octopus tapas (one in the Galician style with smoked paprika, another a heartier presentation atop hummus) as well as a traditional chicken tajine with olives, preserved lemon, and ras el hanout. Such standouts, when combined with the Velicus' warm hospitality, are sure to solidify Medi Terra as one of the county's best family-run restaurants.
Facebook Comments