Strong family foundation has given the Frisbie brothers (David, Robert Sr., and Rick) the freedom and inspiration to become successful real estate investors and preservationists. More than a meaningful connection and unshakable bond, working together as a family has become a way of life for the brothers and Frisbie Group, their private real estate investment company headquartered in Palm Beach.
Frisbie Group counts 13 out of its 25 staffers as family members from two generations working toward the common goal of properly revitalizing real estate assets in strategic locations to protect and preserve both Palm Beach's current and future look and feel.
"We realize it is extremely rare to have a strong, close, and loving family dynamic such as ours," says Dave, who began working with his brothers in 1973. The trio got their start restoring brownstones around Boston while they were students at Harvard University. "But we truly believe having those principles at the core of our business helps us thrive. The moral compass in Frisbie Group is a strong one, and we use it in every aspect of our business."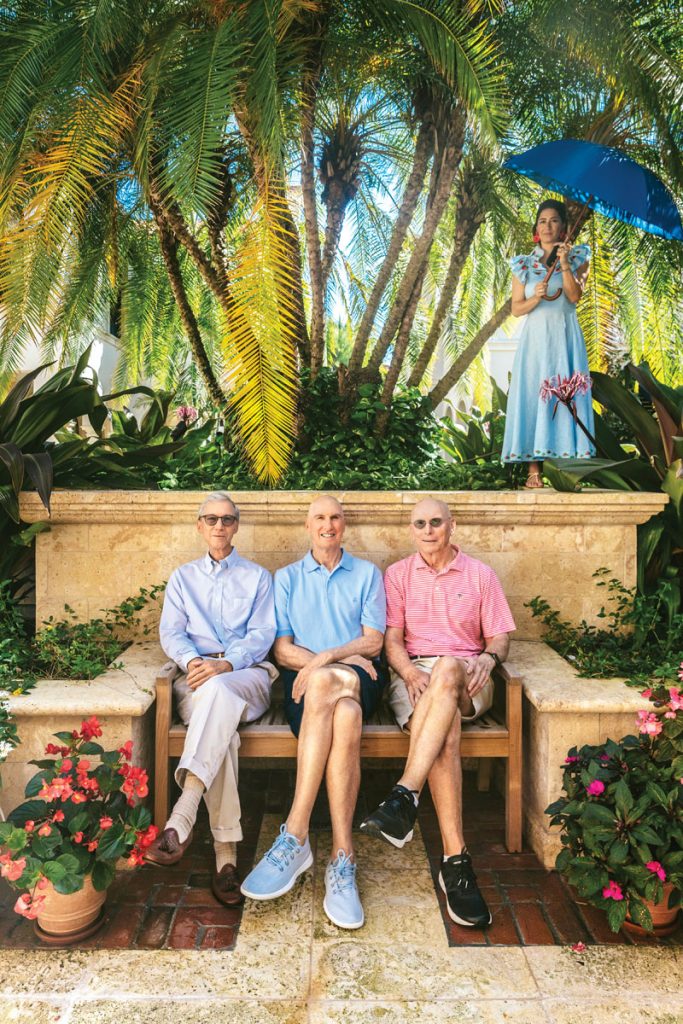 They started with Palm Beach residences and soon added commercial projects to their portfolio—including the Frisbies' recent crown jewel: a mixed-use revitalization on 1.3 acres at the east end of Royal Poinciana Way. Once home to the iconic Testa's restaurant (which closed in 2017 after nearly a century on Palm Beach), the new space is known as Via Flagler. Frisbie Group partnered with The Breakers to build stunning retail and restaurant spaces, as well as six luxury residences above.
"We were excited to work with The Breakers team as our family values and guiding principles seamlessly align," says Dave. "They have been extremely successful stewards of our Palm Beach community over the last 125 years, and we know they will continue to lead by example for generations to come."
Frisbie Group is now building four approximately 10,000-square-foot townhouses at 456 South Ocean Boulevard, restoring the property's code and conforming use by converting the land back to residential—a project that will reduce traffic, congestion, and fumes from the prior restaurant. Across the Intracoastal on West Palm Beach's Flagler Drive, the Frisbies are revitalizing and building new residential properties on 60 acres in the area around the Norton Museum of Art and Palm Beach Atlantic University.
"Palm Beach is incredible," says Rick. "It is hard to find another community that offers the same safety, stability, opportunity, and quality of life for such a diverse group of people. We work with community leaders, trusted officials, and local professionals to help ensure the preservation of these key attributes."
But Palm Beach County isn't the only place the Frisbie family is leaving its mark. They have revitalized an underused property in the Florida Keys and built a club resort on seven acres called The Islands of Islamorada, where the family likes to fish and relax together during frequent excursions. On Nantucket, where they own a home, the Frisbies created Harborview Nantucket rental cottages, offering guests the luxuries of a waterfront resort.
With their dinner table often operating as a business conference hub, family members strategize together—including "Gen 1" founders Dave, who oversees investment and placemaking to benefit the project and surrounding community; Robert, who handles design and adaptive re-use; and Rick, who is in charge of risk assessment and investment potential. Dave's wife, Suzanne, a 30-year real estate broker-associate, provides key input on geography, architecture, trends, and property values in and around Palm Beach through her work with Premier Estate Properties. Robert's wife, Kim, a horticulture specialist and active member of The Garden Club of Palm Beach, guides the company in holistic landscaping and maintaining the ecosystems of their properties.
"Gen 1" owned and operated Frisbie Group alone until 2013, when Robert's daughters, Katie Frisbie Crowell and Franny Frisbie Criddle, joined the company after cutting their teeth in the Northeastern real estate industry. They started Frisbie's "Gen 2."
"Our grandmother Frances, who lives in Palm Beach, used to remark daily about how lucky she was in her life, and that practice of gratitude has permeated through the subsequent generations," says Katie. "We are incredibly fortunate to work together as a family, pursuing exciting and impactful opportunities, all within the context of this remarkable and beautiful community. I'm grateful for every day."
In 2016, Katie's husband, Cody Crowell, joined Frisbie Group, overseeing investment strategy and placemaking. He was followed a year later by Robert's son Rob, who works on investment strategy value analysis and placemaking, and Rob's wife, Ashley, who provides advertising and communications expertise. Then, Robert's youngest son Richard, Dave's daughter Michaela Frisbie Facchinei, and Dave's nephew Philip Trapani III came aboard.
"Working together as a family affords us a unique degree of sustained collaboration where we build off of one another's strengths and creativity," says Franny. "Whether playing a role that is highly visible or more behind-the-scenes, everyone contributes with their individual skill set and original perspective."
The family-first concept started with the brothers' own upbringing. "Our parents were all about family," says Robert. "We had dinner every night where our dad told us not to marry until we were 30, and that blood is always thicker than water. We were taught to take care of our brothers and do more for others than for ourselves."
Dave remembers that his father also believed everyone in their sphere should be treated unselfishly—and that included community. "Given our multigeneration love for and commitment to Palm Beach, it's more important than ever that our community thrives," he says. "As our fourth generation [grandchildren] are now growing up in this fantastic place we call home, it is incumbent upon us to think about how to protect and preserve our town in everything we do."
The Frisbie love affair with the Palm Beaches started in the early 1990s when Dave, who was a vice president of Hines Interests during the 1980s and managing major downtown revitalization projects around the country, became smitten with the Sun Belt. After looking at Texas and Florida, he predicted that in the future, the Rust Belt was going to fade and the Sun Belt would shine brighter. He left his Chicago base and moved to Palm Beach County, where he had vacationed as a child in his grandparents' Delray Beach home.
"I thought Palm Beach was the highest quality location with finite supply, and [it] entrusts an architectural commission to protect its unique aesthetic," he says. "I also saw much potential in West Palm Beach, so we acquired a dozen downtown properties on Clematis Street."
He primed the thoroughfare for repositioning and rapid growth; but since it was at a critical mass of "urban renewal," he had to enlist help from the local government, working with then-mayor Nancy Graham. He also had to attract the interest of national retailers like Tommy Bahama, Banana Republic, Ann Taylor, Z Gallerie, and Starbucks. And he needed to bring a significant residential component so there would be people to shop in the stores and dine in the restaurants.
"We renovated, revitalized, and brought residential above the stores as a trend to go back to the inner city because downtown West Palm Beach was ripe for development," says Dave. Among his West Palm Beach projects was the 1 and 101 North Clematis mixed-use complex on the water. For his efforts in the city, The Palm Beach Post included Dave on its list of the twentieth century's 100 most influential leaders.
Dave says that for each project Frisbie Group takes on, consensus is key. "As long as we all agree, we take properties that others overlook and make them better. If even one of us disagrees—and that includes 'Gen 2'—we don't do the project. We never fight, and we handle differing opinions with free and open communication. We love collaboration."
In fact, for the Flagler Drive efforts, the Frisbies will employ the same strategic methodology that they used for Clematis Street. This includes working closely with the local government and existing institutions—the Norton Museum, Palm Beach Atlantic University, and nearby churches—to expand on the effort already in place to further improve and optimize the area's potential.
For building, they are partnering with Dave's former company, Hines Interests. They've hired world-renowned Robert AM Stern Architects to create thoughtful design for the high-end, luxury residences. The project will translate to proportionately higher taxable values and greater revenues to support City of West Palm Beach initiatives like pension funding, infrastructure, first responder needs, and other improvements.
"We sit around the table and ask ourselves what can we do for the future of Flagler Drive," says Rob. "We are reimagining the campus around the Norton and the college. We are looking at life in the twenty-first century and thinking of driverless cars, sustainable buildings, coastal resilience, solar power, water purifiers. We care more about quality design than the bottom line."
Through leading by example and putting others first, Frisbie Group's collaborations help them gain new perspective. "We research to understand trends, and when we invest we look at the lifestyles we can create," says Cody. "The secret to our business is to maintain family ethics, putting everyone else above ourselves. We have vertical integration—our projects have fingerprints from all involved."
Such camaraderie was made even greater with the completion of Via Flagler, when Frisbie family members bought four of the six multimillion dollar residences within the stunning Italianate, Spanish Revival, and Mediterranean-style buildings. Dave and Suzanne, Robert and Kim, Rob and Ashley, and Katie and Cody each live in one of the four residences. Friends of the family have bought the other two.
The residences are linked by meandering courtyard vias, making it easy to gather for dinners—Dave and Suzanne's table seats 18. "Grandchildren often run from one residence to another and enjoy playing on the swing hanging from a gumbo limbo tree in Kim's native garden," says Dave of their new homes. "We are having an awfully good time."
For the Frisbies, constant connection helps the creative process, fuels energy, and encourages all to dream big. "Our greatest experience working in real estate investment has been the ability to evolve as a family," says Dave. "It is exciting and fulfilling to witness the growth of the next generation and observe the positive community aspects of our efforts."
Facebook Comments