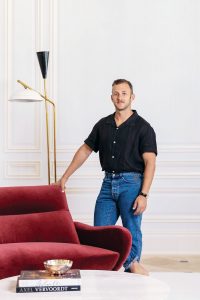 Originally from New York, interior designer David Lucido descended upon Palm Beach last fall to oversee the buildout of the restaurant Le Bilboquet—and has been back and forth between his apartments in Chelsea and West Palm Beach ever since. Before starting his own firm, Lucido studied visual communications and architecture at Washington University in St. Louis then designed for a private estate, overseeing residential projects around the globe as well as yachting and aviation work. He also served as design director for the Mercer Hotel in Soho. Because he now spends most of his time in Palm Beach, working on residential and hospitality projects in the area, he's actively house-hunting here alongside his partner, Ori Harpaz, and their beloved Jack Russell terrier, Gunther.
CURRENT STATE OF MIND Optimistic. I'm very excited about the new people and work opportunities on the horizon since relocating to the area. Palm Beach is such a lovely community that has really embraced me.
COFFEE ORDER Iced coffee with oat milk from Celis Produce
SIGNATURE ACCESSORY My gold vintage Cartier Tank watch with a black leather band. It's so timeless and understated.
WARDROBE ESSENTIALS Black leather mules by FEIT, dad jeans, and oversized T-shirts by John Elliott
FAVORITE PALM BEACH BITE Le Bilboquet's Cajun chicken
SIGNATURE DRINK In New York, a vodka martini with extra olives; in Palm Beach, The Ivey.
IDEAL LAST MEAL My mom's spaghetti and meatballs. There's nothing like a home-cooked meal.
SHOPS LOCAL AT On Antique Row, Sold Gallery and Ponce Berga (they're at the top of their game for twentieth-century design). Church Mouse on Palm Beach is a not-so-well-kept secret for perfectly pressed second-hand designer clothing.
KARAOKES IN THE CAR TO The whole Jagged Little Pill album by Alanis Morissette ('90s forever).
BINGE WATCHES I'm constantly binging The Real Housewives of New York City and I'm not shy about it.
MOVIE HE'S SEEN MORE THAN 10 TIMES Beetlejuice. It's dark, silly, and stylish, and the sets were very ahead of their time in postmodern design.
ASTROLOGICAL SIGN Leo
MORNING ROUTINE Early-morning walks with my dog followed by coffee and time on my iPad before heading to work out.
PRODUCT HE CAN'T LIVE WITHOUT Clinique for Men face bronzer is very necessary during a New York winter.
FITNESS ROUTINE CrossFit at El Cid Fitness
HIS HAPPY PLACE Tel Aviv, Israel, where my partner is from. We visit friends and family every summer and it has everything I need: sunny beaches, Mediterranean food, and rich culture.
HOW HE SPOILS HIS PET We basically split every meal 50/50.
NEXT TRAVEL DESTINATION Japan has always been a major source of inspiration in my work and wardrobe. A design-centric trip is very much in order.
NEVER FLIES WITHOUT My iPad and Apple Pencil. I can sketch with the downtime and never waste a sheet of paper.
IN HIS BEACH BAG Bain de Soleil Orange Gelée sunscreen, which is now discontinued, so please let me know if you have any.
NEXT GOAL To work as creative director of a boutique hotel, touching on all things design. I want to curate the most exceptional guest experience.
WORDS TO LIVE BY Stay consistent in whatever you do.
Facebook Comments